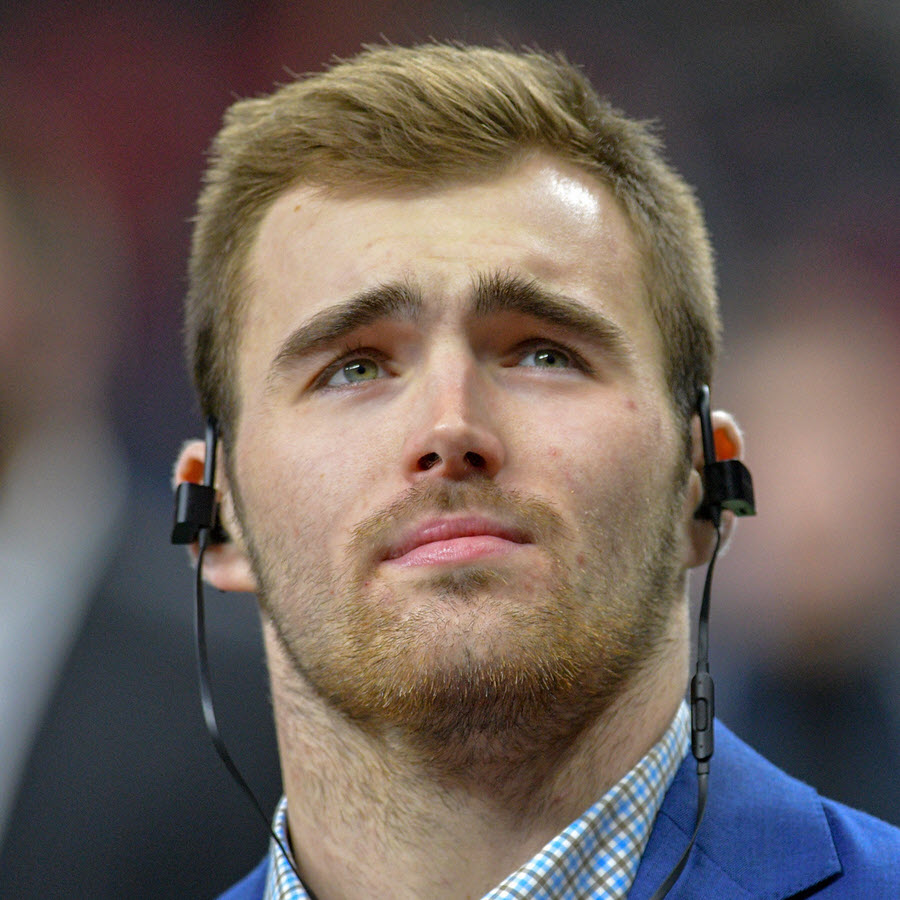 One of Kirby Smart's favorite mantras since arriving in Athens is, "Pressure is a Privilege." In 2019, the Dawgs will face a tremendous amount of pressure with expectations to bring home a National Championship for the first time in 39 years. The development of the following players during spring practice will play a significant role in the Dawgs achieving their ultimate goal.

10. Adam Anderson
There may not be a more versatile athlete on the team than Adam Anderson. At 6-5, 225-pound, Anderson has a lightning quick first step as a pass rusher and has the athleticism to run with receivers and tight ends in coverage. However, during spring practice he must prove he can set the edge in the run game. His development as a three down linebacker is crucial to the return of the Junkyard Dawg defense.

9. Channing Tindall
In 2018, it was clear the Bulldogs missed a human eraser at middle linebacker. Roquan Smith played middle linebacker to perfection in 2017 and the UGA defense was borderline elite because of his consistent high-level performance. Tindall brings the same tremendous physical ability and excellent instincts and with a strong spring will be ready to make his mark on Saturdays.

8. Jamaree Salyer
Salyer arrived in Athens as the highest ranked offensive guard in the country and appeared destined to be an instant impact player. It did not come to fruition, but unlike other five-star recruits, Salyer kept his head down, kept working and believed in Coach Pittman. He has used the past 18 months to get in excellent shape and dive into the playbook. This spring Salyer has the opportunity to force his way onto the field this fall.

7. Tyson Campbell
Campbell is another five-star recruit who arrived in Athens in 2018 with massive expectations due to his lofty recruiting ranking and elite physical skills. Campbell got off to a solid start but his performance waned as the season progressed and culminated with him losing his job to Eric Stokes. Spring practice is huge for Campbell to rebuild his confidence and prepare to be a mainstay on defense in 2019.

6. Richard LeCounte, III
The stars were aligned for LeCounte to breakout as an impact player for Georgia in 2018. He started solid, made the occasional spectacular play, but overall his performance was inconsistent. He has the traits of an elite ball hawk but his poor tackling made him a liability at key moments. LeCounte needs to work closely with Coach Warren to become a more reliable tackler and play with better technique.

5. Demetris Robertson
The Dawgs suffered significant attrition at wide receiver with the loss of Riley Ridley, Terry Godwin and Mecole Hardman. Robertson, a former five-star recruit must prove his commitment to blocking and a comprehensive knowledge of the playbook to earn consistent reps. These 15 practices are all about earning the trust of the coaching staff and if he does the sky is the limit.

4. Jermaine Johnson
After two seasons at Independence Community College, Johnson enters spring practice with the potential to be a one-and-done player at Georgia. His greatest trait is his ability to get after the quarterback and this spring he must prove he can do it against elite level competition in practice. If he proves he can consistently win one-on-one battles the Dawgs defense will shine on Saturdays in 2019.

3. Divaad Wilson
The Dawgs spent nearly 65% of their defensive snaps in nickel personnel last season, which makes the STAR position incredibly important on defense. The ideal player is both physical enough to fight off blocks and agile enough to cover speedy slot receivers. Wilson has the skill set to be elite and spring practice is the ideal time for him to lockdown the starting role.

2. Jeremiah Holloman
In 2018, Holloman showed glimpses of being able to take over a game on the outside. His combination of speed, strength, length and leaping ability makes him a nightmare matchup for opposing defensive backs. Spring practice is all about refining his craft so that he can live up to his potential as the first true number one receiver since the days of A.J. Green.

1. Jake Fromm
From the moment Fromm steps on the field this spring he must set the tone for the team. His leadership is every bit as important as Coach Smart's. That is the blessing and the curse of being a "franchise quarterback." If he competes and performs at an elite level for all 15 practices, the remainder of the team will follow his lead. It is up to Fromm to set National Championship level expectations just like Chubb, Michel, Carter and Bellamy did in 2017.