Watch a fullscreen slideshow
HERE
.
Click
HERE
for our mobile photo app.
These photos can be viewed, downloaded
HERE
.
Of the myriad of storylines surrounding this weekend's Bulldogs versus Volunteers game is that of the Ojulari's, who have one son who is a redshirt freshman outside linebacker on the UGA football team and a younger son who is still in high school but is committed to Tennessee currently.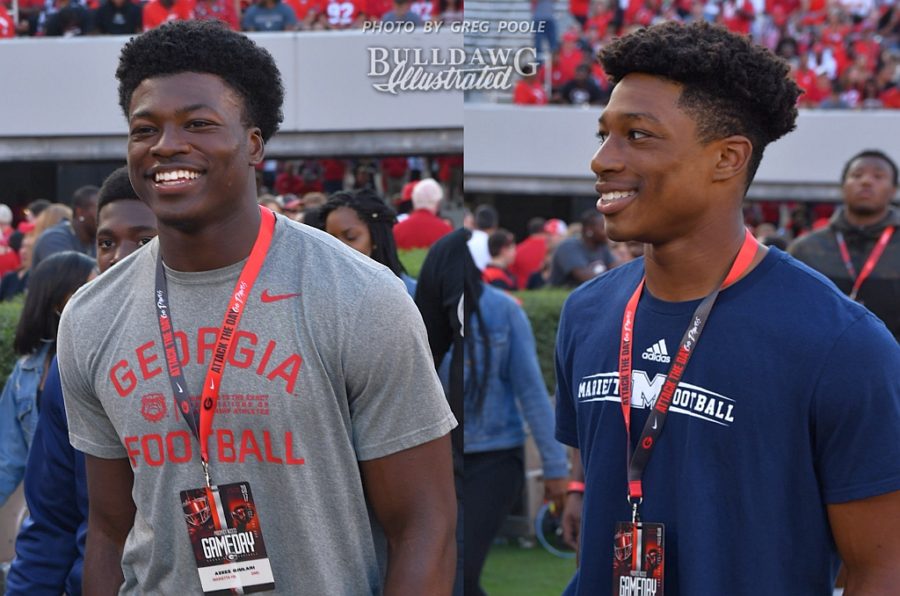 Azeez Ojulari was part of Georgia's 2018 recruiting class, signing with the Dawgs out of Marietta High School just down the road in Marietta, GA. His younger brother, BJ Ojulari, also attends and plays football for Marietta High School. BJ is a senior and a 2020 weakside defensive end prospect who committed to the University of Tennessee just a few weeks ao on August 16th.
On Monday, Azeez discussed his younger brother, who will be in attendance in Knoxville at the game this Saturday, and if they have talked about the game.
How often do you talk to your brother BJ about this weekend's game?
"Pretty much a lot. We talk every day," said Azeez. "We go at it. Come on man. Come on brother. Come be a Dawg, man."
Are you still trying to recruit BJ to Georgia?
I'm recruiting him for sure. I'm trying to get him here for sure," said Azeez. "They (Tennessee) have a good team too."
Is BJ going to be at the game this weekend and who will your family be rooting for?
"Yessir. I know he's going to be there," said Azeez. "I feel like they are going to support both."
Is one reason BJ chose to commit to Tennesee is because of his quarterback, Harrison Bailey?
"Yessir. Harrison Bailey is recruiting him hard. He's on him every day," said Azeez. " So, that's part of it."
Final thoughts on Saturday's game versus the Volunteers?
"It's going to be a good one. I know he's (BJ) going to be there, but I'm still trying to change his mind," said Azeez. "I know he'll be rooting for me and the Vols for sure, so we'll see how that plays out."