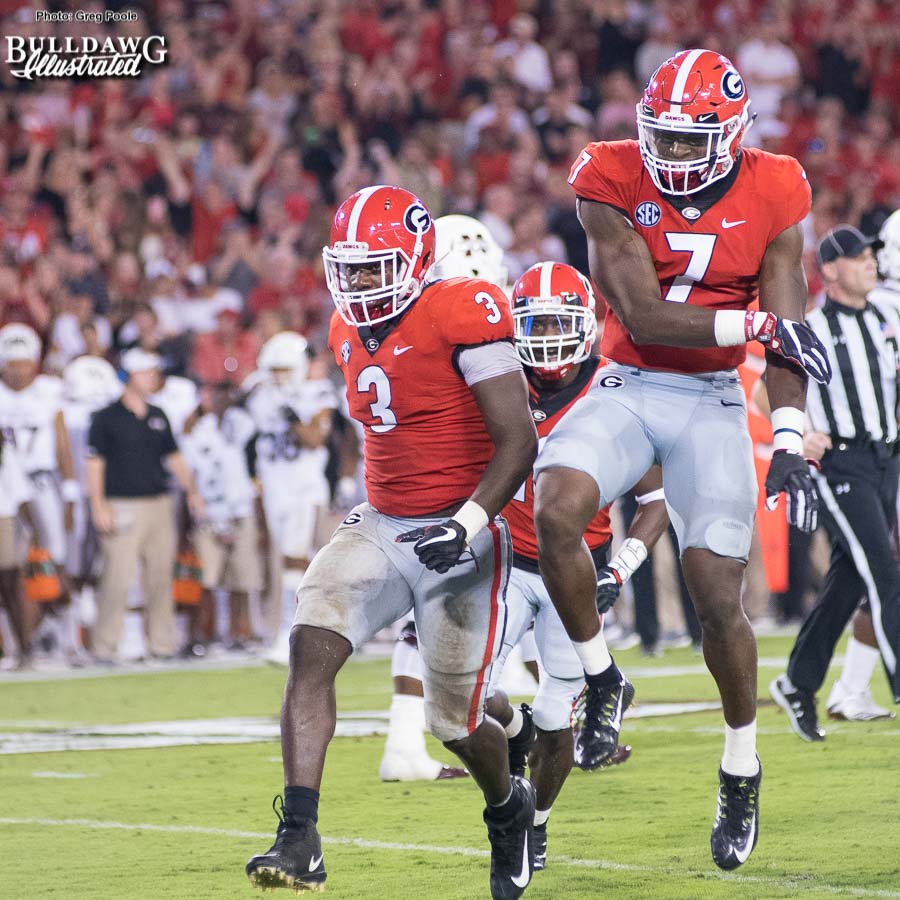 The UGA football team will head into the 2018 season without four of their five major contributors at the linebacker position and they will have to rely on multiple players to step up and fill the void left by these players.

Who is missing?
Roquan Smith will be the hardest man to replace in this Bulldogs defense as he played a huge role in the team's defensive success. Smith finished as the team's leading tackler and finished as the winner of the Butkus Award and the SEC Defensive player of the year. Smith is not the only Bulldog leaving though as inside linebacker Reggie Carter, outside linebacker Davin Bellamy, and outside linebacker Lorenzo Carter will also be missing from the Bulldogs defense.
Replacing such talent that accounted for 28% of the team's total tackles, 35% of the team's total tackles for loss, and 49% of the team total sacks is no easy task. However, the Bulldogs may be young at this spot, but they do have some impressive young talent returning.
Returning Bulldogs
At inside linebacker, the Bulldogs return Natrez Patrick, Juwan Taylor, Nate McBride, Tae Crowder, Jaden Hunter, and Monty Rice. Patrick, Rice, and Taylor all started at least one game last season and each have shown flashes of being able to help alleviate the loss of Roquan Smith.
Nate McBride was very impressive on special teams last season and should receive some strong looks at starting inside linebacker. Tae Crowder is a converted running back so he has the lateral agility and speed of Roquan and could provide a strong replacement for him as well. Patrick, Rice, and Taylor should be the favorites to take over at the two inside linebacker positions for now.
At outside linebacker, the Bulldogs return Keyon Brown, Walter Grant, D'Andre Walker, Robert Beal, and Jaleel Laguins. Walker and Grant received a lot of playing time last season, especially in third down and pass rushing situations. They should be the favorites to receive the starting jobs. Grant has been working in the STAR some, so he could have a role similar to Lorenzo Carter in certain situations.
I also think Robert Beal is one to watch as he is coming off a redshirt season and should put up a big fight for the starting job. Walker is the leader of this group, but that other linebacker spot will be a battle among the group.
Young Pups
At inside linebacker, the Bulldogs have Channing Tindall coming in and he should compete as soon as he gets on campus, but I could see one of the Bulldogs outside linebacker signees making the move to inside linebacker. Tindall is very talented and with that position seemingly being an open competition, he will fight to get involved, but it could be an uphill battle since he will be behind the guys who are already practicing with the team.
The Bulldogs also have a ton of young talent coming in at the outside linebacker position in Quay Walker, Otis Reese, Brenton Cox, Adam Anderson, and Azeez Ojulari. Cox is already on campus and has been impressive throughout spring ball. His early arrival should lead to him being a big contributor in his young Bulldogs career.
As for the rest of the group, I would not be surprised to see Walker or Reese make the move to inside linebacker and Ojulari is recovering from an ACL injury. If Ojulari recovers in time for fall practice he could fight for a role similar to what Walter Grant last season, but I believe a redshirt is likely in his future. Anderson and Cox should both be involved heavily this season and I like them to take those similar pass-rushing roles that Grant and Walker had last season.
Bottomline
This group is wide open and whoever steps up in practice will ultimately earn the job. I think it is safe to pencil in Natrez Patrick and D'Andre Walker as starting linebacker, as long as Patrick stays out of trouble, but the other two spots are wide open to everyone.
As of right now, I like Walter Grant and Monty Rice to earn the other two starting spots, but watch out for Robert Beal and Brenton Cox to make a push for starting time at outside linebacker. Juwan Taylor will also fight for the starting job at inside linebacker and I like Nate McBride to make a push for the position as well.
These two groups will be fun to watch throughout spring and fall camp and ultimately will play a huge role in the team's success.