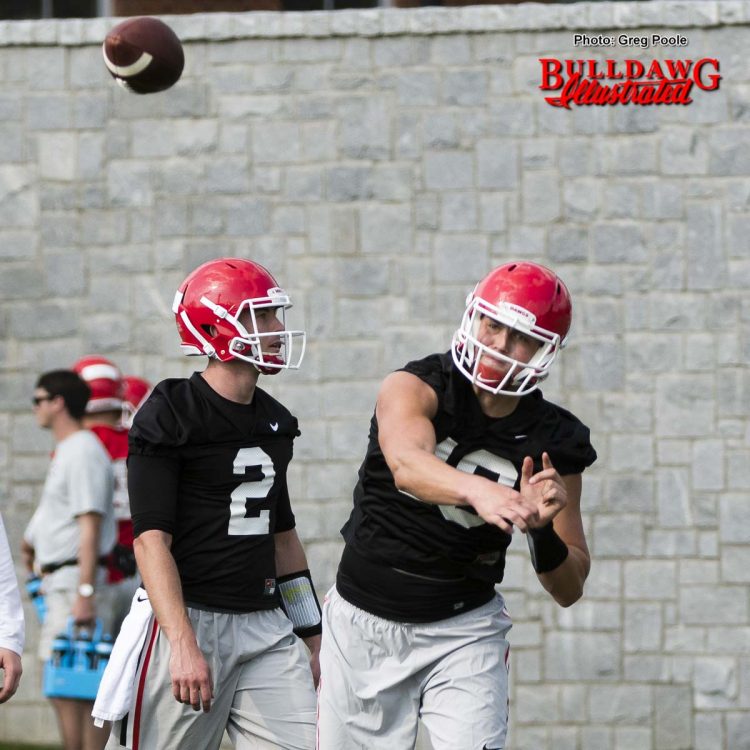 The UGA football team had a fast-paced tempo at practice and coaches and players had high energy and intensity.
On the offensive side of the ball, both Jacob Eason and Jake Fromm were impressive but in different ways. Eason showed off his leadership ability and often coached up receivers whenever mistakes were made or a pass was missed. Fromm made an outstanding deep pass to Jayson Stanley with freshman Richard LeCounte III in coverage. Both of these quarterbacks are doing what they need to do in the early stages of spring practice.
The offensive line for the Bulldogs was a mixed bag as they won some battles but also lost multiple battles. It is very early on so it will be interesting to see who makes up the Bulldogs starting five in this group on G-Day.
Nick Chubb seemed to be back to his old self as he was moving and cutting with no problem at all. He just seemed to have quicker motion and agility than the Chubb of last year and this should be an encouraging sign for the Bulldog faithful.
On defense, the defensive line was very impressive and they were getting great penetration all throughout practice. The one guy that really stood out was Jonathan Ledbetter as he was constantly causing problems for the offensive lineman opposite of him. If the Bulldogs have Ledbetter and Thompson to start off 2017, they could have one of the country's best defensive lines.
Lorenzo Carter also seemed to be taking on a leadership role as I overheard him encouraging defensive players, but he also helped up an offensive player after the play. Carter's leadership this early on is a great sign for what the defense will need in the fall.
Finally, the Bulldogs secondary looked very good as they found a way to pick off two passes for touchdowns in practice. Dominick Sanders and Richard LeCounte III both had pick-sixes and they should both be big-time playmakers for the Bulldogs' defense this season.
Recent Articles by Michael Pope


[pt_view id="b8629e37y8″]