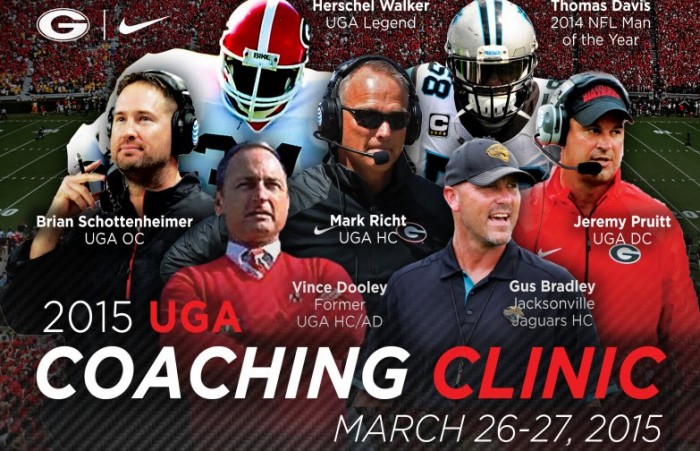 [break] Veteran NFL coach and current Jacksonville Jaguars' head coach Gus Bradley will be the featured keynote speaker at the 2015 University of Georgia Spring Football Coaches' Clinic scheduled for Thursday, March 26 and Friday, March 27. 
The event, held at the Butts-Mehre Building, will feature appearances by former UGA head coach and athletic director Vince Dooley, UGA legend and 1982 Heisman Trophy winner Herschel Walker, and 2014 NFL Man of the Year Thomas Davis of the Carolina Panthers, a former Georgia All-American.
Attendees will have the opportunity to learn directly from the UGA coaching staff including head coach Mark Richt, defensive coordinator Jeremy Pruitt and offensive coordinator Brian Schottenheimer.
The clinic will also feature several state championship coaches from across the state, including Rush Propst (Colquitt County), Kevin Kinsler (Northside), Jess Simpson (Buford), Hal Lamb (Calhoun), Danny Britt (Benedictine Military), David Daniell (Hawkinsville) and Mitch Jordan (Mt. Paran Christian).
[break] [break] Bradley previously was the Tampa Bay linebackers coach from 2006 to 2008 and the defensive coordinator for the Seattle Seahawks from 2009 to 2012
[break] [break] Coaches attending the clinic will experience Chalk-Talk Social, meet with SEC legends, question the Strength Staff and more. Coaches will also have the opportunity to watch two Georgia practices up close as the Bulldogs prepare for the April 11 G-Day Game at Sanford Stadium.
To register, or for more information, visit www.MarkRichtFootballCamp.com. Additional information may also be obtained from the UGA football office, 706-542-1515.