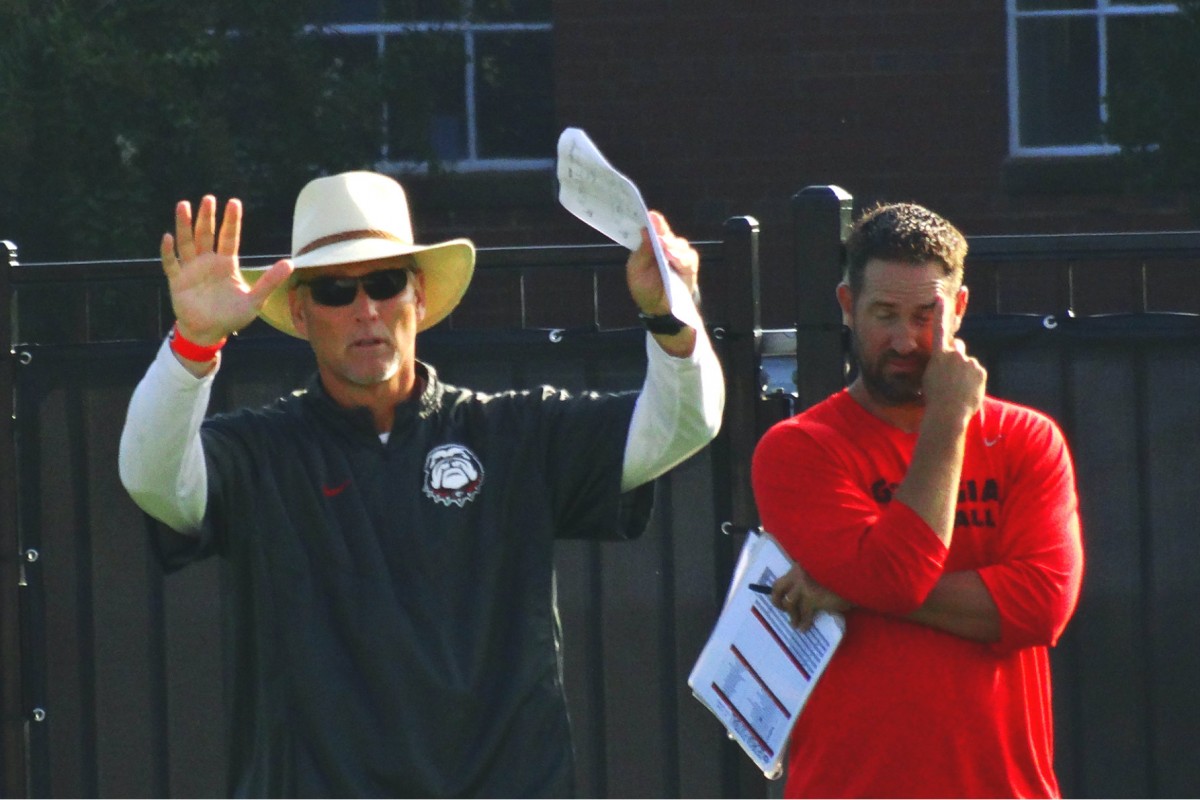 [su_spacer size="20″] We've heard from quarterbacks Bauta, Lambert, and Ramsey on competition for the starting QB as well as UGA Head Coach Mark Richt. Now, UGA's new offensive coordinator, Brian Schottenheimer, discusses the quarterback situation at day 14 of Fall Camp 2015.
[su_spacer size="20″]
Schottenheimer describes what he expects the quarterback(s) to do in his offense; that he expects them to do more than just be a "game manager:"
[su_spacer size="40″]
You want to see a guy that can move the team. Obviously, I think we feel very good that we're going to able to run the ball. We want a guy that can throw completions, but also, when the opportunity presents itself, to push it down the field and make plays.
[su_spacer size="40″]
We have good skill players; so, certainly they don't have to make the perfect throw every time. What I'm used to is consistent play at QB. I think that is what they've had here is a guy that goes out and takes care of the football.
[su_spacer size="40″]
I hate the word … I hate the term "manage the game." We're looking for a guy to go out and make plays as well. Certainly, there's going to be a lot of vertical elements to what we do, but at the end of the day, their job is to move the team and score points.
[su_spacer size="40″] Coach Schottenheimer is asked how the quarterback competition is unfolding and if he would like to know who his starter is by now:
[su_spacer size="40″]
We figured it would probably take some time…We'll make the decision when we feel really good about the decision. I think we're still a little ways away. Those guys know that every opportunity, every snaps important.
[su_spacer size="40″] Coach Schottenheimer is asked what he saw in Greyson Lambert that made him want him at UGA:
[su_spacer size="40″]
Obviously, the first thing that jumps out you is a guy that has some game experience. We were certainly looking to add some of that. A guy that graduates in 3 years from Virginia, we certainly know he's smart. You watch his film, and he made a lot of throws, a lot of plays. There was enough to go on that you felt good enough about adding a guy like that to the mix. He's done a great job picking up the system, but it's certainly long from over in regards to the quarterback battle.
[su_spacer size="40″] Schottenheimer is asked when the staff does name a starter, how much of a leash does that new starter get in terms of making mistakes:
[su_spacer size="40″]
You cannot ask a quarterback to play perfect. I've never believed in that. It doesn't matter whether you play the third string quarterback, which I've had to play some in the National Football League, you got to let those guys play. You got to let them know that you believe in them and trust them. Certainly if they make mistakes, which they will, you coach them and try to correct the error. You drive home the importance of taking care of the football and things like that.
[su_spacer size="40″]
Whomever lines up for quarterback for us is certainly going to have my trust, and I won't call the game a different way. I'm just going to trust them and expect them to go out and perform and lead the team.
[su_spacer size="40″]
Brian Schottenheimer talks about the quarterback competition and his expectations of the candidates
[su_spacer size="40″] To sum up, Offensive Coordinator Brian Schottenheimer is looking for a quarterback who is a play maker, who takes care of the ball, but doesn't expect his starter to be perfect. It also sounds like to me that from hearing from both Coach Mark Richt last Friday after the scrimmage and now Schottenheimer, that the quarterback race is far from done despite the rumors on social media and sporting chat boards that redshirt sophomore Brice Ramsey has already been anointed the starter.
[su_spacer size="40″]