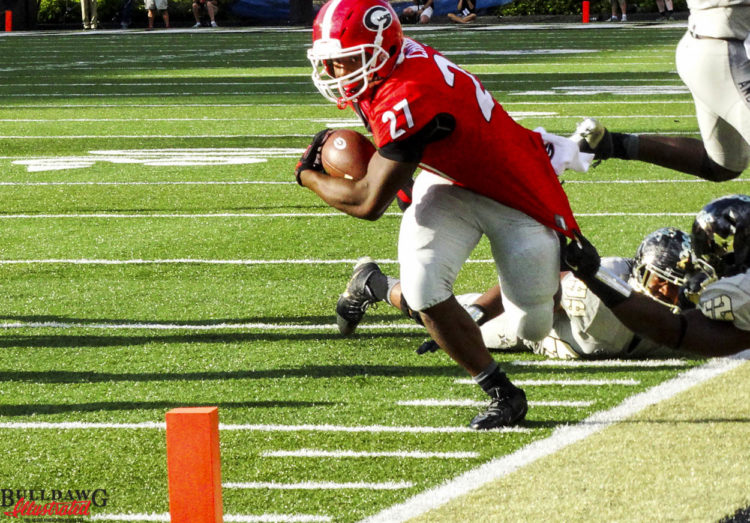 In two days, the season kicks off against the North Carolina Tar Heels.  So much of predicting the first few games of the season is based on what happened a year ago, and what you think has changed during the long off season.  So what do we know about North Carolina and Georgia?


The obvious thing I think we all know is North Carolina's rushing defense is/was terrible, and Georgia can have a potent rushing attack.   Last year, the Tar Heels gave up 3,463 yards on the ground on 675 carries, for about 5 yards per carry.  In the ACC, mind you.
One noticeable game last season was the bowl game loss to Baylor.  Baylor, if you'll remember, was down to something like their 10th string quarterback and had some single wing offense from the 1920's.   Baylor ran a mudhole in UNC to the tune of 645 yards (!) on 84  carries(!).  Those are video game numbers (RIP, EA Sports NCAA Football).
But according to Mark Twain, the Lewis Grizzard of his generation, there are lies, damn lies, and statistics.
Recognizing it was a bowl game, and that was a clear outlier, I took those numbers out.  Even without the Baylor game, UNC still gave up 2,818 yards on the ground last season, or 216 yards per game and 4.76 yards per carry, which would still be last in the ACC.
Looking through UNC's games one at a time, you notice that their defense did hold Miami to 99 yards.  Impressive, it seems.  But last season, Miami's rushing offense was held to under 100 yards on 5 occasions, and was held to under 130 yards 8 times.
Miami ain't Georgia, as Mark Richt will find out in short order.
If Nick Chubb is in fact able to run the ball at the same level he was able to prior to October 10, 2015, Georgia should win, and win easily.
But I'm not sure that Chubb will be at full strength.  I know what Kirby Smart,  the practice reports, and Nick Chubb himself have said. But you never can tell about these sorts of injuries.  Until game time, we just won't know.  It's one thing to be hit by a player wearing your school color.  It is another thing entirely to be hit by someone wearing a different color.
As Han Solo once said, "Good against remotes is one thing; good against the living is something else."





Some players come back fine from knee injuries.  Thomas Brown and Marcus Lattimore, who sustained knee injuries, rehabbed and returned in about the same time we are talking about for Chubb.  Todd Gurley is another great example, and he was torching it in the NFL ten months removed from hurting his knee.
But what about Kregg Lumpkin? Keith Marshall?  These great backs were never the same post knee injury.
If Chubb is able to get 20 touches and/or be 100%, Georgia should win by double digits.
But if Chubb isn't back to his old form, combined with Michel and Holyfield's injuries, I have serious doubts that Georgia will win Saturday.  Georgia is a team that will get better as the season progresses, and I think the Dawgs will win 9 or 10 games this season.  But UNC presents problems for us at this time I don't think we can overcome.
I think Georgia's defense is going to be really good in 2016.  I did an article about this on the old Grit Tree site.  But despite a solid defense, UNC is still going to get their points. Last season, they averaged 40 points per game, and 37 points per game against ranked opponents.   If UNC scores 30, do the Dawgs have the firepower to keep up?  IF Chubb ends up not being 100%, then I don't think we can.  Not combined with the uncertainty at quarterback.   If Georgia played UNC in November, I think it would be a different story.
So with that, here are my predictions for the rest of the season (subject to change as my mood changes):
North Carolina:  Loss (see above)
Nichols State:  Win (duh)
Missouri: Win (Missouri just doesn't have it)
Ole Miss:  Win (We are catching Ole Miss at a good time)
Tennessee:  Loss (Tennessee is cathing us at a bad time)
South Carolina:  Win (See Missouri)
Vanderbilt:  Win (Kirby won't allow to be upset by Vandy)
Florida:  Win (Must win game for Kirby)
Kentucky:  Win (See Vanderbilt)
Auburn:  Win (Auburn and the Gus Bus is overrated)
Louisiana-Lafayette:  Win (Duh)
Georgia Tech:  Win (Will be closer than it needs to be)
So despite my pessimism for the opening game, I think Georgia will have a fine season for Kirby's first season, and the Bulldogs will use the 2016 campaign to build on greater things in the very near future.