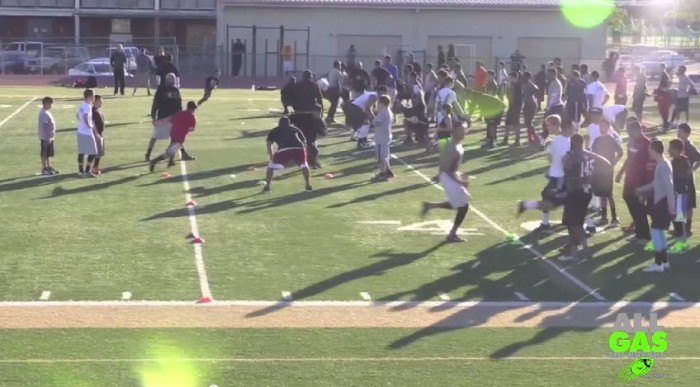 [break] Tis the season for college football recruiting-related organizations to hold combines around the country. High school athletes of various ages will gather in diverse locations to show off their skills in hope of landing a major college scholarship offer by participating in The Underwear Olympics (camps and combines where athletes complete in shorts).

[break] [break] How much do these combines, most of which charge fees for participation, actually increase the odds of being noticed by a college coach?
[break] [break] A recent Detroit Free Press article rips the recruiting industry that uses high school athletes as it raw material and suggests that the combines a valueless as recruiting vehicles for athletes.
[break] [break]
If you think college coaches pay attention to anything that happens at these combines or where the recruits are rated, you are delusional.The self-proclaimed recruiting gurus are the ones assigning stars, which has kids all over the country going out of their minds, obsessing over whether they will be a five-star recruit or a four star or a three star or — heaven forbid — a two star or lower.One of my questions: What did these recruiting gurus major in while in college to qualify them to rate kids? Astronomy?
If these recruiting gurus are so good at their jobs, why wasn't there a five-star recruit starting in the Super Bowl? Why were there only seven four-star recruit Super Bowl starters? According to 247Sports, 20 starters were two-star players or lower.
~~~
The most important thing parents and kids must understand is college coaches pay no attention to any of this garbage.
If you think college coaches check how many stars a kid has next to his name before they recruit him, you are mistaken.
[break] [break] The article scathing rebuke of the system that many of us pay a great deal of attention to and some of us pay actual U.S. currency for the tidbits gathered by analysts at these combines and camps.
[break] [break] I'm guilty.
[break] [break] [su_youtube_advanced url="https://www.youtube.com/watch?v=6CBQa0PD_zA" autohide="no"]