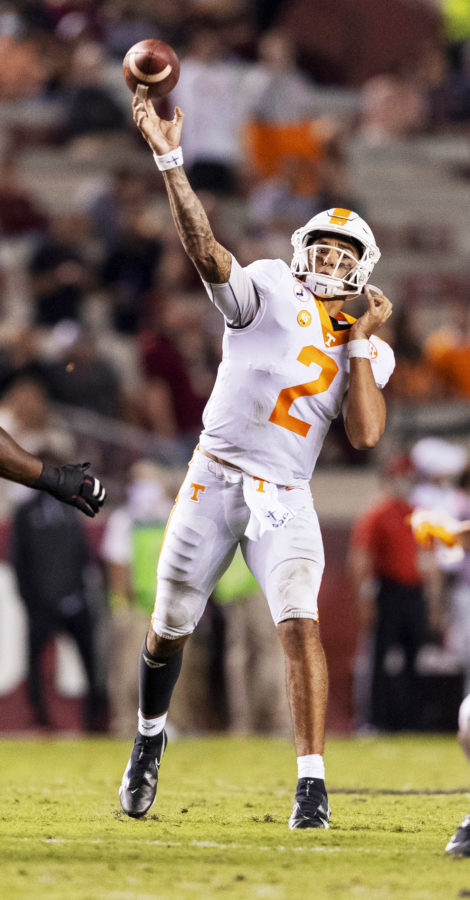 Jarrett Guarantono (QB, #2)
It looks like third-year head coach Jeremy Pruitt is sticking with redshirt senior Jarrett Guarantono as the starting quarterback so far this season. Guarantano has a ton of upside, but has proved to be extremely inconsistent at times throughout his career. In the season opener, he was 19 of 31 for 259 yards and a touchdown. Still, he has a lot to prove if he wants to retain that starting job every week. Last season, he threw eight interceptions and looked flat out sloppy at times. Although, this season he has looked a lot better in the pocket, and is more confident in his arm. He will face a stingy Georgia defense that will be looking to take advantage of him at every opportunity they get.
Eric Gray (RB, #3)
Vols' running back Eric Gray is a dual threat out of the backfield. Last season as a freshman, he rushed for 539 yards and four touchdowns while hauling in 13 passes for 115 yards and a score. He wasn't very productive in the Vols season opener against South Carolina, so look for him to try and take advantage of his skill set against the Bulldogs. The 5-foot-10, 200-pound sophomore is very crafty in the backfield and can be elusive. He is very comparable to Georgia running back James Cook. Tennessee should look to capitalize on his abilities as they try and stun the nation by upsetting the Bulldogs.
Trey Smith (OL, #73)
Trey Smith is one of the best returning offensive linemen in the SEC as he was named to multiple preseason watch lists. The 6-foot-6, 330-pound senior is very athletic for size and is the Vols' top pass-protector. Coming into this matchup, Smith has 14 consecutive at left guard. In 2019, he earned All-SEC First Team honors after returning from a career-threatening injury. He also captured the Jason Witten Collegiate Man of the Year Award and winner of the inaugural Fritz Pollard Trophy. He deserved those accolades because he didn't allow a sack at all last season. Smith has proven to be a workhorse for the Vols' offensive line, but he will face a stout Georgia defensive line that will be hungry.
Henry To'o To'o led the Vols last season as a freshman in 2019 with 72 total stops, five tackles for loss, two pass deflections and one forced fumble. He has already proven himself to be one of the best linebackers in the conference, but has the potential to be one of the most talented in the country. To'o To'o earned Freshman All-American honors from several organizations. His total tackles in 2019 ranked second among SEC freshman and fourth among FBS freshman. He recorded his first-career interception and returned it 32-yards for a touchdown in a season-opening win at South Carolina. To'o To'o also finished with six tackles and a quarterback hurry against the Gamecocks. He might be a problem for the Bulldogs if their offensive line doesn't hold up.
Darel Middleton (DE, #97)
Henry To'o To'o (LB, #11)
Darrel Middleton became a key contributor on the Vols' defensive line making an immediate impact in his first season. The Oak Ridge, Tennessee native spent his first two seasons at East Mississippi Community College before signing with the Vols in December 2018. Last season, Middleton appeared in 13 contests with starts. He finished with 28 total tackles, two tackles for loss and one forced fumble. The 6-foot-7, 305-pound senior looks to pump up those numbers in 2020. Middleton is a speedster for a big man. Tennessee's defensive line also features senior defensive end Aubrey Solomon. Look for the duo to try and stop Georgia's run-game on Saturday. They will also try to get into the backfield and disrupt the quarterback as well.
Brent Cimaglia (PK, #42)
Brent Cimaglia is one of the best returning kickers in the SEC and has proven before why he's one of the nation's most elite. He is a 2020 Preseason All-SEC First Team selection by several publications. Cimaglia has made 42 of 55 career field goal attempts (76.4 percent) that ranks second-best in school history. His 42 made attempts ranks eighth in Tennessee history. After the season opener against South Carolina, he was a perfect 73 of 73 on PAT attempts. He has tallied 199 career points and is closing in on the top-10 in school history. The coaching staff will be looking to him to help make a difference this season as the Vols try and upset the Bulldogs.