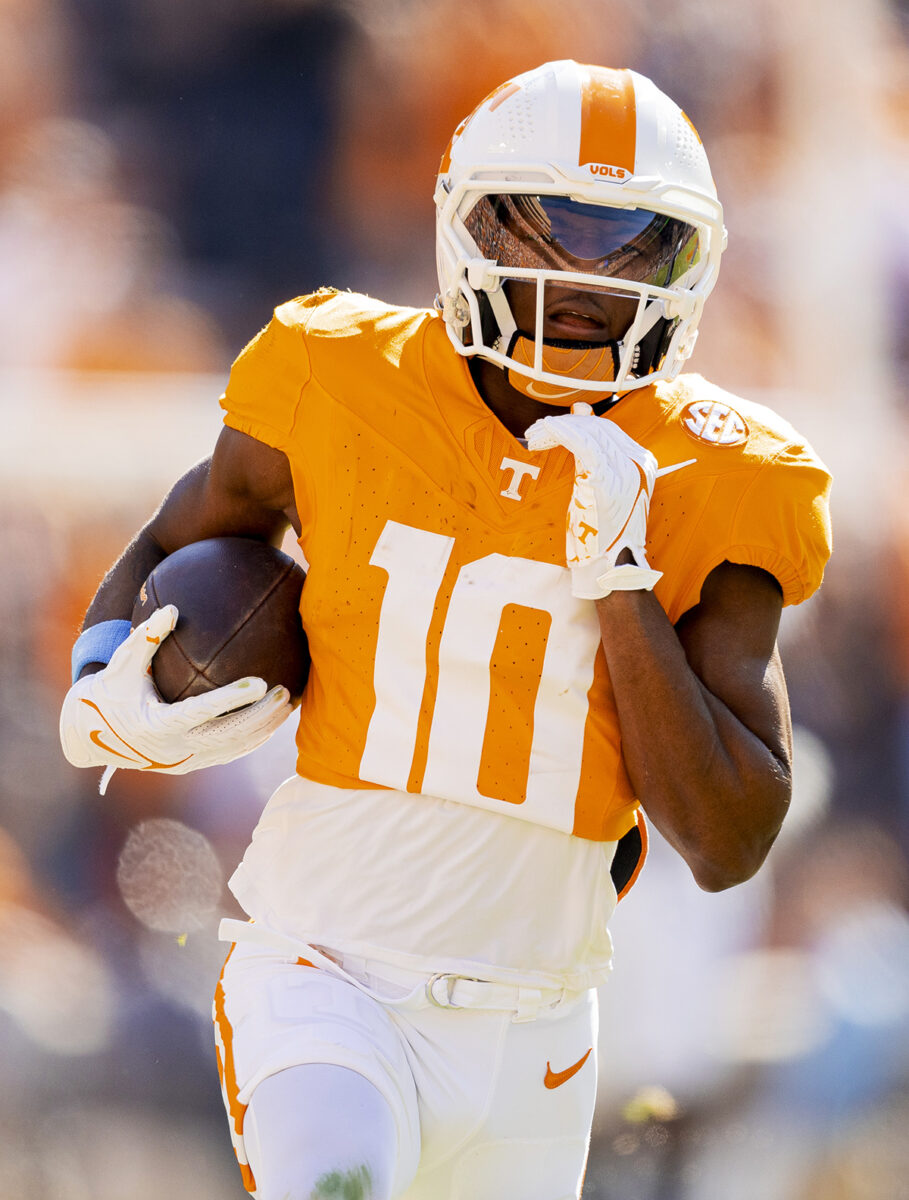 Joe Milton (QB #7) – If you wanted to build a quarterback in a lab, Joe Milton is pretty much what you would get. He checks all the boxes when it comes to size, being 6-5 and a hefty 235 pounds. Plus, he has an absolute cannon attached to his shoulder that most folks are calling an arm. Adding to the fact that he can run—he's done so almost 70 times this season, averaging 4.4 yards per carry—you've got yourself a legitimate threat at the quarterback position.
Squirrel White (WR #10) – For starters, all you have to say about this young man is that he was running 4.3 forty-yard dashes in high school. And once you get to college, you usually get better, so needless to say, the Volunteers have a wideout with elite speed coming out of their corner. The Vols have taken advantage of this, having made White their leading receiver with over 600 yards on the season off of just forty-nine receptions. One thing to note is that his longest play this year went for 83 yards, so the Dawgs need to be wary of that speed moving forward.
Jaylen Wright (RB #0) – Efficiency is the name of the game when it comes to Jaylen Wright and the way he runs the football. He's making the most out of every single one of his carries, and he has the numbers to speak to it too. Averaging a whopping 7.2 yards per carry, he's the leading running back in the Southeastern Conference in yards per carry and has the second-highest average in the whole conference, right behind LSU's quarterback Jayen Daniels. Kirby Smart said last year not to be deceived, and that Tennessee really is a running team, so controlling Jaylen Wright is going to be a big step in defeating the Vols in Knoxville come game day.
Elijah Herring (LB #44) – Talk about a guy who just gets around all over the field; Elijah Herring has amassed 64 tackles so far this season, and you can attribute that to his brutish size at the position. He's a six-foot-three, 238-pound off-ball linebacker with the ability to move. This guy gets to where he needs to be, and the numbers back him up. He's only a sophomore getting starting-level playing time with the Vols. The talent's there; we'll just have to see how it lines up against the likes of Georgia.
Tamarion McDonald (DB #12) – This senior defensive back has definitely learned how to use his size to get to the ball. His 6-2, 208-pound frame got him six pass deflections last season and has led him to four on the season to this point—and an interception. He's been in this system for a while, and you can just tell because of the way he's getting it done in the tackling game too. He's a top-five tackler on the team with 40 tackles on the season.
James Pearce Jr. (DL #27) – Here comes the Big Kahuna—literally. 6-5, 242-pound makes for quite the man, and that's exactly how James Pearce Jr. has been playing in 2023, having reached the quarterback eight different times this season. That statistic has him second in the SEC (in quarterback sacks). He plays primarily on the edge, so he'll have his try against the likes of Amarius Mims and Earnest Greene. The Pearce versus Mims matchup may be one to keep an eye on, given the size that the two bring to the table. Mims has some height on him, but Pearce should prove to be a good test for this Georgia offensive line.
---
When it comes to great basketball players for the Volunteers, at the top of the list is Hall of Famer Bernard King, a three-time All-American & three-time SEC Player of the Year.
The most decorated baseball player in Volunteers history is Todd Helton, a two-way great and Tennessee quarterback, who had a.316 career average in 17 years with the Colorado Rockies.
In the first seven seasons of the legendary General Robert Neyland's coaching tenure at Tennessee, he guided the Volunteers to an incredible 61-2-5 record from 1926-1932.