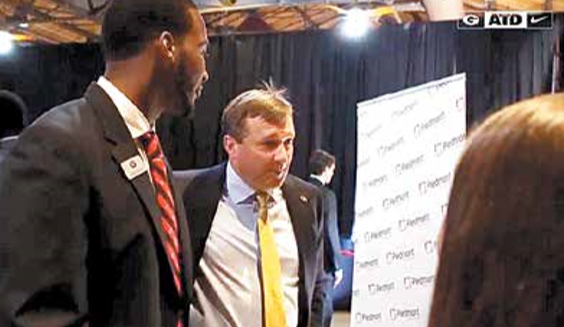 Ask the average Georgia fan what "The Georgia Way" is and you are bound to get many different replies.
Some would surely opine that The Georgia Way is what Kirby Smart's Bulldogs did on the football field in the 2017 season … run roughshod over 13 opponents including an SEC Championship win over Auburn, an historic double-overtime win over Oklahoma in the Rose Bowl and then coming within one play of capturing the national championship against the Alabama Crimson Tide.
And while the success of such a storied season most certainly is a character builder among the Bulldog teammates in the sense of unity, teamwork and coming together to play for a single cause, the University of Georgia's new The Georgia Way program extends way beyond the actual playing field when it comes to leadership, career development and outreach for the student-athlete.
In January of 2016, the university's athletic association launched its new website, www.TheGeorgiaWay.com, in which it explained the purpose and goals of the new program.
Leigh Futch was Georgia's Director of Compliance before being recruited by Georgia's administration to build The Georgia Way from the ground up. One of the first areas she tackled in her new position was figuring out how to better prepare student-athletes for what's next after the final whistle has blown — whether that's right after they graduate or after a 15-year pro career.
"In an area of college athletics that's largely unmeasured and unstandardized, the University of Georgia Athletic Association has decided to dig in and take action," Futch said. "Spending nearly six months identifying the gaps in student development for our student-athletes, we have created a new, comprehensive career development program aimed at preparing the student-athletes for success after college athletics."
"The multi-year program will integrate student development throughout each stage of the student-athlete experience and track the student-athletes' progress from the first day they step on campus," said Futch. "Our goal: to meet each student-athlete where they are and prepare him/her for life after college, regardless of what this may entail. Integrating and reconnecting with the UGA Alumni is another pillar of the program. It is our hope that alumni will engage with our current and former student-athletes. We plan to tap into the valuable insight that our graduates can bring: sharing where they are in their careers, the reality of transitioning out of athletics, and the importance of networking."
Futch, now Athletics Director of Student Development at UGA, emphasized that the career development pillar of The Georgia Way is a priority with the Athletic Association and the UGA administration.
"We see the importance of helping the student-athletes while they are at UGA, but it's just as important for us to ensure they are taken care of afterwards," she said. "Our goal is to create exceptional experiences for a lifetime. We're working on changing the mindset of the student-athlete and, ultimately, how career development is approached. With help from the Bulldog Nation, we are confident that we can make a significant impact in the lives of our current and former student-athletes."
With The Georgia Way program the student-athletes are given the opportunity to work with businesses in the career fields they may be interested in once they receive their diploma from UGA.
If the dream is to play running back in the NFL, Futch wants that player to fulfill that dream and also be prepared for life when their NFL career comes to an end. The work she does on a daily basis is critical to making sure the players maximize their off-the-field opportunities at the University of Georgia.
If the dream is something like becoming a financial advisor, running a dairy farm or becoming a neurosurgeon — whatever Bulldogs long to see themselves doing once their playing careers are done — she helps those dreams become a reality.
That's the mission of The Georgia Way and its career development program, believed to be the only four-year mandatory program of its kind in collegiate athletics.
"Life after athletics sometimes happens a little sooner than we would like," Futch said, "so we wanted to make sure that from the time they hit the door at Georgia, we are exposing them to resources that will help them for the rest of their lives."
Georgia head football coach Kirby Smart says The Georgia Way concept is very different and very unique.
"It's not just life after football," he said. "It's what you're doing while you're here to prepare for life after football. The value we get from it is our players are well prepared when they leave. I've always felt like the best thing we can do to set our players up for success after football is what we do while we have them here. So, to have these football players here and to have a curriculum that's mandated and each player gets to go through it, they're much more prepared when they enter the job market and the workforce. It's really the No. 1 thing we can do for our players to make sure they have success."
But as Futch is quick to point out, The Georgia Way program involves much more than the career development pillar.
"Many times, when people hear about 'The Georgia Way' they associate it with just our career development department," she said. "But, the other pillars do go hand-in-hand with career development, as leadership development and community outreach are both great ways for our student-athletes to build their resume while they are here on campus. We like to say that The Georgia Way is all things that the Athletic Association offers to student-athletes that are outside of athletics and academics. While career, leadership and community outreach are our three main pillars, there are other services like Sports Nutrition, Behavioral Medicine, etc., which fall under personal development."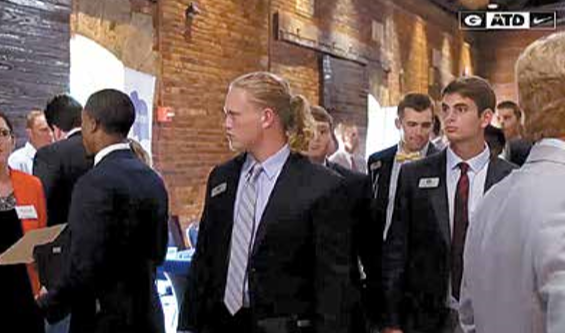 Kelvin Williams, a former UGA football letterman who played offensive tackle for the Bulldogs from 1997 to 2000, is one of the university's alumnus who has worked closely with The Georgia Way program in his role as CEO of the Boy Scouts of America/Flint River Council, assisting Georgia's student-athletes with gaining interviews with prospective future employers.
Williams, who resides in Fayetteville, presides over the Boy Scouts troops in a number of counties just south of the Atlanta perimeter. "From my standpoint it's been more or less of a mentorship with The Georgia Way," said Williams. "We've had a couple of guys interview to work with the Boy Scouts and one of the things that makes my position so special is that I work with so many corporations that involve people that I can call. I can call Chick fil-A and say, 'Hey, I've got a guy who's interested in Chick-fil-A' or I can call Georgia Power … any of these industries out there. I have a lot of friends in corporate America that I can call on to help those guys get placed where they want to be."
Williams said in the past he's mentored Kenarious Gates, a member of the Georgia football team from 2010-13 and Donte' Williams, a member of the Bulldogs basketball team from 201114. "Kenarious interviewed with the Boy Scouts of Northeast Georgia," Williams said. "He had a chance to interview with them — he was just trying to find his way. A lot of these guys are just trying to find their way, girls and guys. My wife Wynema, she's in the health care business and we kind of tag team it together . We do the different events, we go together and she uses her perspective from the health care business … that's what we bring to the table when it comes to that, just having different areas and different focuses of each career perspective that these girls and guys are looking to go into."
Williams says former Georgia coach Mark Richt sort of planted the seed for The Georgia Way concept when he and the football staff used "The Georgia Way" as a slogan that referred to the Bulldog players who do the right thing.
"I think Coach Richt kind of started this program and Kirby just took it to another level," Williams declared. "For me, being a former player, I get it. This program is really important to me. It's like I told Leigh Futch, I said football is great and it brings a big crowd and all that stuff but at the end of the day when the lights go out these guys and girls, they've got to move on from sports because 99.9 percent of us are going to work and it's about time we have an emphasis on that, and this is what The Georgia Way is doing.
"It always perplexes me," said Williams, "that only one percent of us go on to play professional sports and the emphasis should be on the 99 percent going to work and getting professional work skills … the emphasis has always been kind of backwards."
One Georgia student-athlete who is most appreciative for his involvement in The Georgia Way and its career development pillar is Aaron Davis, the Bulldogs' four-year starting defensive back from Locust Grove, Ga.
Davis said the program has simply been invaluable in his experience at the university both on and off the football field and in helping him chart his future path when he leaves Athens.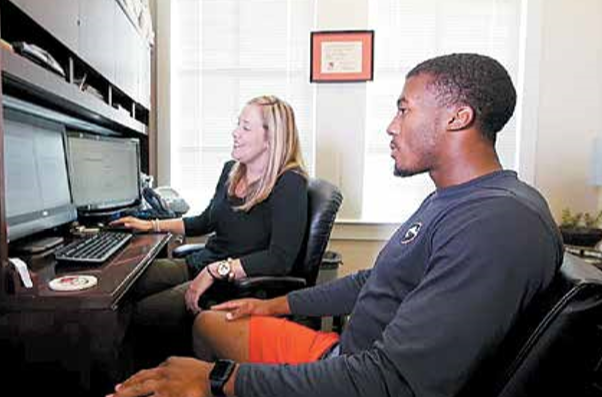 "Just being a student-athlete here I pretty much decided to get involved with The Georgia Way and some other extracurricular activities to help better me as a good athlete, and part of it was me joining a student-athlete committee," said Davis. "In my sophomore, maybe my junior year, I didn't know too much about it but I was looking for things I could do so I got in contact with some of the player personnel people that are on the football team and they were like, 'hey, we can nominate you for this. We see what you're doing in the classroom, we see how you conduct yourself so we feel this would be a good opportunity for you.'
" And once the nomination went in, I was able to get into both programs, the student-athletic committee and I also joined L.E.A.D, which is our leadership academy," said Davis. "Those were the two programs I was in that I felt were the most important to me and enabled me to take advantage of The Georgia Way the most and it took off after that."
Once he entered the program, Davis said the door swung open for many newfound opportunities.
"I just saw the opportunity The Georgia Way had there for us like going to business ventures, like in Atlanta when we met a whole bunch of the top companies around Georgia," he said. "They just offer so many different things you can do as far as helping you build a resume and portfolio.
Davis said he was grateful to get an internship with the NFL Players Association. "I was able to go there, to Washington, D.C., and spend an entire week at their offices and learn about all the different departments and different opportunities they have up there and all the things they do for NFL players," he said. "So that was probably the biggest thing I had. I did an internship like every summer since I've been at Georgia and I was able to do that being coordinated through The Georgia Way. I had an amazing time there, met a lot of different people and came away with some great contacts and networking. I learned a lot of different skills and things I didn't actually know about but something I was definitely interested in."
Davis said he also has witnessed many of his Bulldog teammates benefit from their participation in The Georgia Way. "Just from my experience I pretty much think that everyone has been pretty willing to get some of the benefits from the program," he said. "Pretty much every student-athlete has used it in some way, especially the football team. Oh, one hundred percent, it has helped me plan for my future. Just being able to meet all these higherup people, these people who can offer me a position once I'm finished with football and even if they can't hire me, they know even more people who might have opportunities for me so just being part of that definitely sets you up for your future."
Davis, who would like an opportunity to make an NFL team and will be participating in Georgia's Pro Day before the NFL scouts on March 21, credited a number of people in The Georgia Way program for making his successful journey through UGA possible.
"I can't say just any one person helped me through this; rather, there were a lot of amazing people such as Heather LaBarbera, Leigh Futch, Robert Miles and Jonas Jennings," he said. "Jonas really helped me out, he was heading our player personnel for the football team. Really, all of them played key roles in helping me get involved."