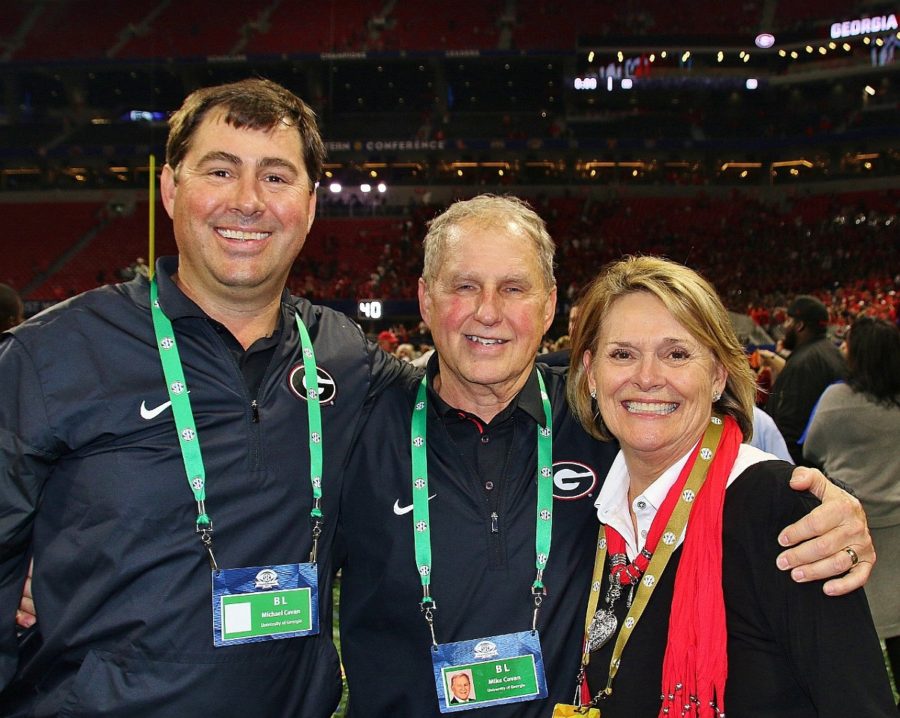 We have jacks of all trades and pocket aces, but the backbone of that royal flush we are looking for is the queen of hearts. In the world of football, a coach can recruit good players, train them to be even better, and teach them to be fine men, but who is behind the scenes guiding these coaches? Their lovely wives. BI publisher Vance Leavy and I compiled 21 questions for Mrs. Becky Cavan, wife of Coach Mike Cavan, to answer. Enjoy as she kindly walks you through the truths of being the supporting coach's wife she is and always has been.
Hometown and why it was special?
Duluth, Georgia. In the early 50s population was 2,500. We knew everyone and walked everywhere!
College and why it was special?
UGA '70 BS Spanish. My college roommate, Brenda, arranged a blind date with Mike. Our first date was Feb 4, 1967 and we never dated anyone else. I guess you could say "It was love at first sight."
Life before being a Cavan?
I graduated one weekend and got married the next! It was June 14, 1970. During the summer I went back for my teaching certificate. I waited on tables at the Georgia Center and went to class in the afternoon.
We (Bulldawg Illustrated) have spoken with a few folks about you, including Mary Beth Smart, and something that comes to the forefront is your giving nature. Can you tell our readers what you enjoy giving back to the most and why?
Well, I enjoy people for one, and have been so blessed in my life that it seems natural to want to give back a little of what I've been given. It goes without saying, I love to share my garden. I'm always potting up something to give away, have been known to dig up something on the spot for a friend to take home! Community bible study has been a part of my life for 17 years. There are areas there for every woman to give, to serve, to receive and be blessed by studying God's Word together. Our church, Cornerstone, has a tremendous outreach program, not only locally, but around the world. And we are blessed to help support that.
Speaking of the Smarts, what have you relayed to them the most, since you have decades of experience of seeing the inner-workings of college football and the demands that it brings to a family?
Goodness, I'm not sure I have anything to add that she hasn't already heard before. Mary Beth and Kirby are so well grounded in all aspects that matter the most. She keeps things going at home and with Weston, Julia and Andrew, which allows him to focus on football. I like to think they complement each other well. They complete each other, if you will.
What has it been like to be by your husband's side through his playing, coaching, fundraising and administration jobs through the years?
His playing days, especially 1968, were so much fun! SEC Champions! We'll skip '69 and '70 for now. But we always take the good away from the bad and remember that! Great teammates and they're still close. Coaching here was great as well. We had a good and close staff. Did a lot together, and there are still several of us here in Athens.
Do you have a favorite town or city that you lived in because of Mike's career?
Since he only coached at three places, I can honestly say all of them became favorites, mainly because of the people we met. Valdosta State, our friendship with all the Lastingers, an ideal town to raise a family, so it will always be a favorite. East Tennessee State in Johnson City, Tennessee was the furthest north I had ever lived and took me a year to get over the winters! But what beautiful scenery. We were especially close to Fred Warren, the men's golf coach. SMU in Dallas was a big positive simply because my sister lives there and Mike's brother lives about two hours East. Never thought in a million years coaching would land us in Texas with family!
Dallas for the SMU head coaching job had to be fun, even though the hand dealt to the football program (NCAA death penalty a few years earlier) was so insurmountable … what was it like?
On a lighter note, Mike used to say that coaching there was akin to being in a gunfight! The big difference was he was the only one with a knife! The Death Penalty dealt such a blow that it still hasn't recovered. And it wasn't just the Death Penalty, but let's just not go there. In any situation one may find, there is always something positive you can take away and keep forever. He hears from several of the players and the coaches from those years and they gave it everything they had. The good times there outweigh the bad times, and the older we become they fade away and only the good remains. Best not to dwell on what might have been.
As the coach's wife, you build a relationship with the players. Any specific players stand out that you think of like your own children?
Gosh, there are a lot! As a position coach, you're much more involved with your players on an intimate level, and we'd often have the running backs over for a meal or get together.
What are you most proud in how Mike has handled his lifetime of giving back to the game he loves?
Well, I think if he could not still be in coaching, what better place than here at UGA in Athens involved with the football program? He loves being with the players and coaches.
What is the largest reward of being a coach's wife?
Watching a team evolve, come together as one. Coach Bryant said once, "when a team comes together and has one heart beat, then you know you've got a team!" Of course, bowl games are fun for the wives, maybe not so much for the coaches until we win. Then afterwards, they can celebrate. And definitely the bond that comes with other coach's wives and those men and women who work in the athletic department as well, brings a feeling of family and togetherness.
Your garden at your home in Athens sounds like a showstopper … what is your current favorite plant and flower there and why?
I have two! Peonies and Hydrangeas. Peonies, because once they're established, they will live for years with little care, and Hydrangeas because they are just "so southern!" My mother's bridal bouquet was a hand picked bunch of big blue mopheads from the yard.
Do you have help keeping the garden in top shape or do you do most of the maintenance?
Gosh, yes. I have a service that keeps the front and backyard looking neat and tidy, but I take care of all the beds and the vegetable garden, and my plant hospital. And I have to mention our dear friend, Miguel Marcos, who can literally do anything and has helped us for 17 years!
Ok, you knew I would have to ask about Herschel? What was that entire experience like for you and your husband?
Oh Yes! I knew you would! Mike had met Herschel as a sophomore in '78, so he spent a lot of time in Wrightsville. The positive here is the friendships he made with several of the people, which we still hold dear today, Bob (now deceased) and Mary Frances Newsome, and Ricky Snell among many. There were no motels there, but Bob had a cabin in the woods and offered it to Mike whenever he was in town, and that offer was extended to the several UGA coaches, who happened to be in town to help with the recruiting of Herschel. The rest of the coaches from the other schools, who were there to recruit Herschel, had to fend for themselves … and the nearest hotel was not close to Wrightsville! This went on for three years, off and on. Yes, I grew weary of it. By Easter of 1980, Mima and Michael were 2 and 5. Did I mention that signing day was usually the 10th of December back then? If it had not been for the friendship of other coach's wives in the same boat, it would have been lots more difficult! There were several of us with children the same age, and we often got together at one another's house or park with children in tow. Debbie Whittemore, Susan Greer, Toni McDuffie and Brooke Wisdom, come to mind. That was a lifesaver! Debbie and Charley and Susan and Steve are still here and close friends. Toni (Wayne, now deceased) lives in Tallahassee.
The story goes you joked with your Mike that you hoped No. 34 sat on the bench for taking so much of your husband's time recruiting Herschel. When he hit the field in the second half versus Knoxville, was Herschel's immediate impact a personal point of pride to you after seeing the amount of energy your husband (and the rest of Georgia coaches) spent bringing him to Athens?
When I read this question, I pulled up the Georgia-Tennessee game with Larry Munson play by play. I know I've watched it a ton of times (probably not as many as the 2019 Rose Bowl … an ongoing joke in our house) … but it still thrills me to see Herschel run over Bill Bates (later on they would be teammates for the Cowboys…and that reminds me of Nick Chubb and Baker Mayfield). It seems I have often put my foot in my mouth during my life and this was definitely one of the all-time biggies. I think everyone heard about me spouting off about that. Here Mike was chomping at the bit to put Herschel in the game, and I was saying "Leave him be!" Talk about youth being wasted on the young!!! Well, it was not until the second half that he got to play and the rest is history. The minute he ran over Bill Bates and scored I told anyone who would listen, "It was all worth it! It was all worth the waiting until April for Herschel to commit to UGA and sign on the dotted line." Herschel … I was wrong and beg to be forgiven!! That 1980 season was just the most fun ever. Each week there was a feeling that somehow, someway we were going to win another game and another, then another until the National Championship on Jan 1,1981. And a little side note, our record for 1980, 81, 82 was 33-3, SEC Champs all three years, Natty 1981 and played for it in 82.
You have two children … what would you say is their number one attribute from you?
Being adaptable to change, and finding the positives in every situation. My daughter, Mima, says that I have used the phrase "Bloom where you're planted" a lot in our lives.
And what is the number one attribute each has gained from their dad?
Being yourself in any surroundings and once you begin something, see it through to the end. MIchael and Mike both have a competitive nature, and a great sense of humor.
When you get to spend time with your two grandchildren, what do you enjoy doing the most with them?
Annabelle Grace, 7 1/2, loves anything hands on, horses and baby animals. She knows, when she comes here, she can make slime. Charlie, 13, loves football, and being with Mike, especially if it involves watching practice. Their parents are Mima and Derek Walley.
What would you say has been the most special part of Mike's current job as Special Assistant to the Head Coach (Kirby Smart)?
Being involved day to day with coaches and players as well as being in contact with so many former players and members of the Bulldog Nation.
Three quick hitters …
– Favorite book? I have two fav books…The Shellseekers by Rosamind Pilcher and The Mitford Series by Jan Karon
– Favorite quote? Bloom where you are planted…
– Favorite movie? To Kill a Mockingbird
Finally, any parting advise for a young lady that might be dating (and eventually marrying) a Division One football player, who more than likely will spend the rest of life working in the wonderful game of football?
Get ready for the ride of your life! Football has been our life for over 51 years, and really, for all of those years we've been blessed for Mike to do what he loves to do; work with young men, coach, be involved with a team of outstanding coaches and young men. I like to think that marriage can be compared, somewhat, to football. Both require teamwork to make it work, and one needs to be in tandem with the other, picking up where one leaves off. It's never 50-50. One always gives more at times. Then it is the other's turn. I like this quote, "There's no limit to what you can achieve if you don't care who gets the credit." Enjoy the journey and make lots of memories. Then you can tell them over and over when you're our age and laugh as though you've never heard them before! And a final note, I'd like to share a favorite verse of mine. Proverbs 3:5-6. What a comfort to know that I don't have to understand everything that goes on in my life, just trust and have faith that God knows what He is doing!