The legend of Buck Belue is one for the ages. Not only a quarterback, but a stud baseball player as well; not just an athlete, but now a radio talk show host. He truly is one who wears many hats. Benjamin Franklin "Buck" Belue is a native of none other than Valdosta, Georgia. His birthplace is filled with success as many of you know: Title-Town, USA. In the great town of Valdosta, Buck grew up watching the Valdosta High Wildcats, dreaming of one day playing on the same field the guys ahead of him did. His freshman year, he had the opportunity as the starting quarterback. For all four years, Buck Belue was the starter for the Wildcats, the only person to do so in VHS football history. Following his outstanding high school career in football and baseball, Belue came to Georgia where he lettered in both sports all four years. Here, as the starting quarterback, he led the Dawgs to the 1980 National Championship and four amazing seasons on both the football field and the diamond. So here you go, the moment you all have been waiting 60 pages for is finally here… Buck Belue.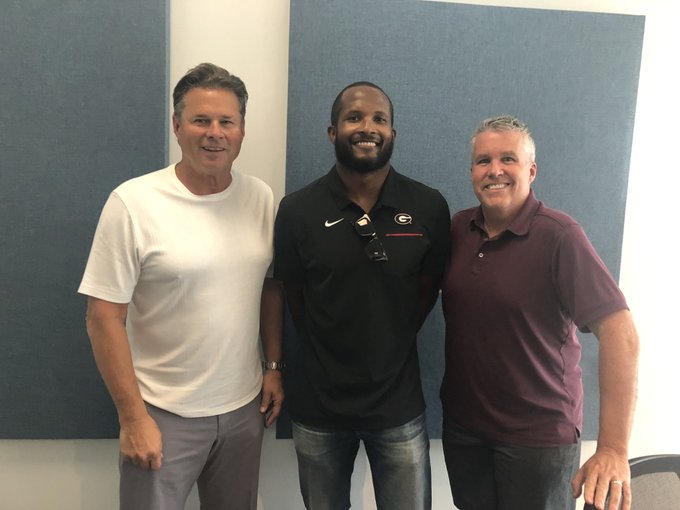 Growing up a Wildcat
It was a blessing to play on that field, but it also raised the bar. When I got there, success was a given, so winning state championships was expected. I was blessed to be around those great players and coaches, those winners. To win, we had to work hard, and life lessons like these I learned on the field at Valdosta High are ones I will hold onto forever.
Why Georgia?
I was a huge college football fan and still am. I did not miss the Michigan-Ohio State game, USC-UCLA, and so on. I enjoyed watching Arizona State sling it around back in its heyday, and I was anxious to take a look at these schools; however, none of the schools like these had ever had a two-sport athlete, and they did not want to start with me. This definitely narrowed down my decision, and it ultimately came to Florida State, Tennessee, and Georgia. By this time, it was an easy decision. My dream was to play for UGA, and luckily, I had the opportunity to pursue both football and baseball.
Coach Dooley
Growing up, watching the Dawgs on TV and seeing them play in person once a year when my dad used to take me up to a game, I observed Coach Dooley, and I could tell he was really serious about winning, which was an interest of mine as well. Also, after the recruitment process and him promising me permission to play baseball as well, I realized his trustworthiness. Coach Dooley watched my baseball games and just did everything he said he was going to do, and I had a lot of respect for him as a coach but also as a person.
Being a two-sport athlete
Well, the obvious answer is the time. There was never a lot of free time for me. It was what I signed up for and what I wanted in college, but it still posed as a major challenge. Then there was trying to be the best I could be in both sports. Working out, practicing, and playing was all I did, and I had to do it for both sports, so just giving my all in both facets was grueling but definitely something I enjoyed.
Belue to Scott
It came down to if you were going to do something for that team, the time was now, so it was time to get the ball to Lindsay Scott. He has that game-breaking ability and just what we needed at that moment. The play call gave me four receivers, but from the beginning, I knew I had to get the ball to #24, so that is exactly what I was thinking.
Favorite game
Obviously the national championship win sticks out. In addition, 1981, my last game in Sanford Stadium, we reclaimed the Southeastern Conference title for the second year in a row after defeating Auburn on the home turf. It just meant so much to me. The things me and those guys did on the field the previous four years were just special.
What to tell the team for this Notre Dame game?
Lay it all on the line. Play smart, play tough. Do not give in, and keep the faith. But also do not take this opportunity to beat a historic team like Notre Dame for granted. This is a cool experience but keep your head on a swivel and ten toes to the ground.
Georgia in one word
Special. There are people from all walks of life. The academics are top notch. Athens setting is wonderful; a wonderful place for a college student to learn and grow. It is a little slice of Heaven at the Arch.
2019-20 Dawgs
It looks like they have the ingredients to take the team and the fan base on a College Football Playoff ride. At the end of the day, this is what everyone wants here at this University, and they have put themselves in a position to accomplish amazing things this season.