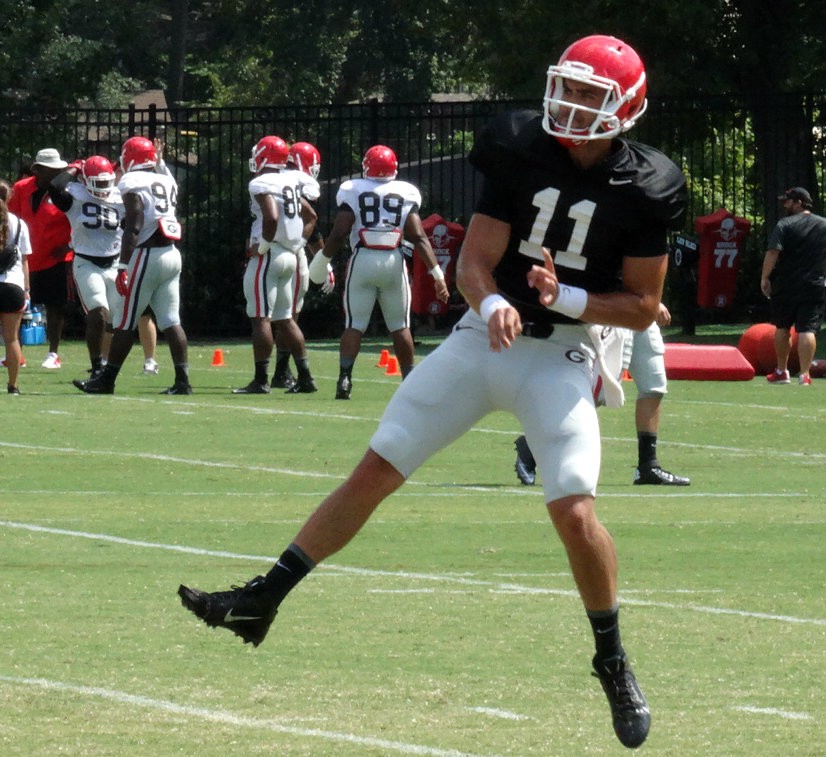 [su_spacer size="20″] The University of Georgia's head football coach Mark Richt held their game week presser on Tuesday. Afterwards, he talked with the media, and of course one of the questions on everyone's mind was " why did Mark Richt name Greyson Lambert the starting quarterback?"
[su_spacer size="20″]
I can't start three at the same time. Part of it is all this. If I waited to the day before the game or if we told somebody and then it got out on Thursday, then it's a big zoo for 2 days. I wanted the zoo to be over today. That is why we did it yesterday. Hopefully, by the end of the day, it will be old news, and we can go about our business.
[su_spacer size="40″] Coach Richt was asked whether or not he had found peace regarding his decision about the quarterbacks. Last week, after the third scrimmage, he had stated he had not found peace.
[su_spacer size="40″]
I do. I will say that it was a very difficult decision. Did one man separate himself by a great distance over the other two. No. That didn't make it bad. To me all three of them performed well. Coach Schottenheimer and I spent some time this weekend watching every single snap by each quarterback in every scrimmage and trying to find some answers there. When it was done, we just said we've got three pretty good players. … We felt like we have some good players and it was a tough call.
[su_spacer size="40″] Coach Richt and his Offensive Coordinator Brian Schottenheimer seemed to have found the "peace" they were looking for over who the starting quarterback will be. Richt certainly looked more relaxed than he was during Fall Camp. Some fans might think that the junior transfer from the University of Virginia, who has only been at UGA since the latter part of July, being named the starter over two players who have been at UGA for 2 years in the case of
Ramse
y and 3 years for
Bauta
is not a good sign for those two or Georgia's quarterback situation. I disagree.
[su_spacer size="40″] While it may be coach speak by Richt, and it is certainly not in his nature to throw a player under the bus or speak ill of them, I still think it is very telling that he stated and has stated throughout Fall Camp that the quarterback race has been a close and hard fought competition. That each of the quarterbacks has had good practices and moments, and they each have also had some bad practices and moments. I don't think it is smoke and mirrors when he says all three are good. I take it as a good sign that there is depth at the QB position.
[su_spacer size="40″] And that is important. Remember Ohio State last year; the team that won the College Football Playoff National Championship? They did so with their third string QB because of injuries to the other two.
[su_spacer size="40″] Plus, I give
Greyson Lambert
credit. He is a smart guy who graduated from Virginia in less than 3 years. That is not an easy task and especially so for a student-athlete. Lambert transferred into Georgia and worked his tail off winning over the coaches and his teammates. That is a postive for me.
[su_spacer size="40″] Of course, he has to walk the walk come Saturday versus ULM, and as Coach Richt mentioned earlier in Fall Camp, the starter might not have as long of a chain as in the past if he starts making too many mistakes. Regardless, this Dawg fan hopes number 11 channels his inner Aaron Murray and puts up some good numbers on Saturday. If Lambert is successful, so will Georgia be on offense.
[su_spacer size="40″]
Mark Richt: Why Name the QB Now
[su_spacer size="60″]