[su_spacer size="20″]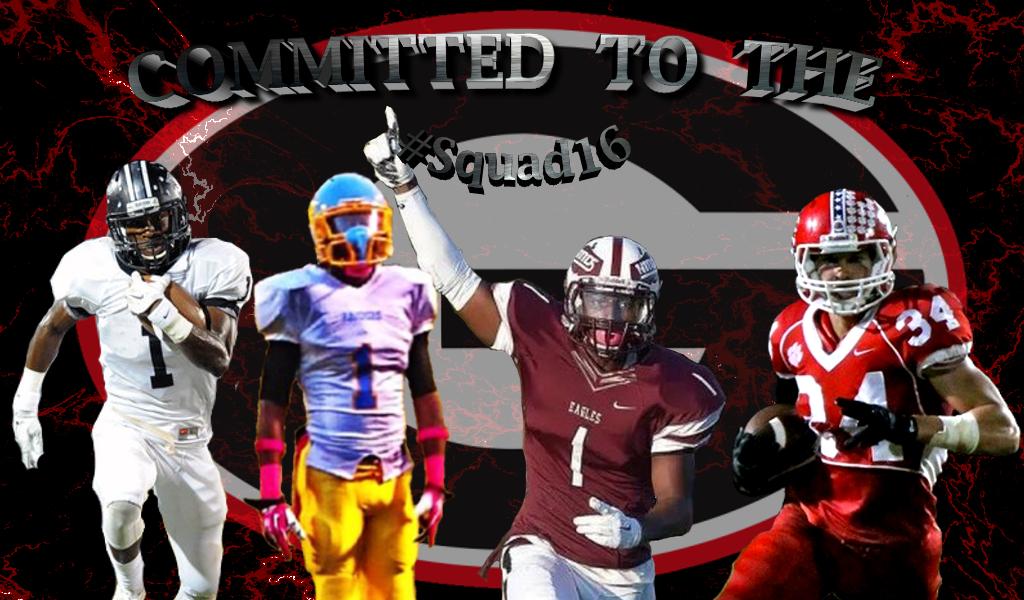 [su_spacer size="40″] On Wednesday, heralded 5-star wide receiver prospect for the 2016 class, Kyle Davis, announced he would be committing to Auburn over Georgia and Tennessee. Last week, on Thursday, Georgia also missed out on 3-star 2016 wide receiver prospect and speedster, Grant Holloway as he decided to commit to Florida to run track. Not only that, but the Bulldogs also had 2016 wide receiver Davion Curtis decommit and flip to the University of Texas. So, where do the Dawgs stand for the 2016 class at wide receiver? Who's committed; who's on the radar; and who is likely to commit and finish out Georgia's 2016 receiver class?
[su_spacer size="20″]
CURRENT WR COMMITMENTS
[su_spacer size="40″] The Dawgs currently have 4 wide receivers committed for the class of 2016:
[su_spacer size="20″]
Darion Anderson
[su_spacer size="10″]
Randrecous Davis
[su_spacer size="10″]
Javon Wims
[su_spacer size="10″]
Charlie Woerner
[su_spacer size="40″]
Darion Anderson
is a 6 foot 1 and 170 lbs prospect out of Warner Robins, GA and plays for the Houston County Bears. He has great hands and is a very physical receiver for his size and is strong for his size. He is very competitive, attacking the ball while it is in the air or when battling for the ball against defenders. Needs to work on his route running like many high school receivers do and will need to add some bulk to his frame to absorb the punishment that playing a season in the SEC brings.
[su_spacer size="40″]
Randrecous Davis
is the shortest of the Dawgs' current commits at receiver for 2016 at 5 foot 11 and 180 lbs, but don't let his size fool you. Davis is a play maker with the football in his hand whether he is at receiver, carrying the ball from the backfield or returning kicks and punts on special teams. He could very well be a slightly bigger version of the "Human Joystick." He also maybe the most polished route runner out of Georgia's committed receivers and remaining targets. One area that Davis will need to work on is blocking.
[su_spacer size="40″]
Javon Wims
is a 6 foot 4 and 215 lbs JUCO receiver from Hinds C.C. out of Raymond, MS. Wims has prototypical NFL size and plays strong and physical. He will fight for the ball in traffic and is adept at defeating defenders who try to jam him at the line of scrimmage. He is raw however and will definitely need to refine his game and route running playing in the SEC, but he does have the physical traits that make him a difference maker in 2016.
[su_spacer size="40″]
Charlie Woerner
is a 6 foot 5 and 230 lbs prospect out of Tiger, GA where he plays varsity football at Rabun County. He is built like a TE more than a WR, but make no mistake; he is a receiver and has great hands. He is a match-up nightmare for defensive backs due to his size.
[su_spacer size="40″]
Will those four stay committed to UGA and sign with the Dawgs come NSD 2016 on February 3rd?
[su_spacer size="40″] I think so. Of course if there are any coaching changes, we could see some shake up here, but at the moment, this group of 4 is likely to stay together through NSD and be in the red and black for the 2016 season.
[su_spacer size="40″]
REMAINING 2016 WR TARGETS
[su_spacer size="40″]
Which receiver prospects are left on the board for the Bulldogs?
[su_spacer size="40″] Georgia's main target is McEachern's
Tyler Simmons
. The 5 foot 11 and 195 lbs receiver is highly regarded by Georgia's coaches. While he might not be as highly touted by the national recruiting sights, Simmons is a heck of a football player. He consistently catches balls with his hands and has speed to burn. His ability with the ball in his hands, to make plays and defenders miss, is not hard to see when watching his tape. Where Simmons needs to be coached up and worked on is his blocking and route running.
[su_spacer size="40″] Simmons is set to make an announcement either on Christmas Day or shortly after on his birthday which falls on December 30th. My prediction is that Simmons will commit to and sign with Georgia over Alabama, California and Texas A&M.
[su_spacer size="40″]
Tre Nixon
is another target left on Georgia's board. Nixon is a 6 foot 1 and 170 lbs receiver out of Melbourne, Florida and plays for Viera High School. Explosively fast who plays football like he was born to be a receiver. Nixon was supposed to make an announcement sometime in October, but that time period has come and gone. Along with UGA, Auburn, Florida, Ole Miss, Penn State, Tennessee and Texas A&M are all vying for Nixon's abilities. Nixon would be a big pick up for Georgia; however, Penn State leads for this speedy receiver's talents at the moment.
[su_spacer size="40″] Georgia also recently offered another JUCO WR,
Derrick Willies
, who plays for Trinity Valley C.C. out of Athens, Texas. Willies is very similar in body type to current JUCO WR commit Javon Wims at 6 foot 4 and 210 lbs. Of the two JUCO receivers, I think Wims is the more talented of the two. Willies is currently committed to Texas Tech since May of 2015, but he has taken a number of visits to other schools in November. I think Willies will either remain with Texas Tech and if he does flip, I would not be surprised if he flips to a program like Oklahoma or possibly Vanderbilt.
[su_spacer size="40″]
Demetris Robertson
is a 6 foot 1 and 175 lbs 2016 athlete who projects at wide receiver or safety at the collegiate level. As talented as he is, he will need some work and coaching to be an every down impact at WR, but the talent is there. His recruitment is wide open at the moment with Alabama, Stanford, UGA and Notre Dame in the mix. If he qualifies for Stanford academically, I believe he will head west.
[su_spacer size="40″]
Keith Gavin
is another state of Florida prospect that Georgia has an offer out to. The 6 foot 3 and 220 lbs receiver is a physical imposing player at receiver. Gavin is not a speedster though, but he doesn't need a lot of separation to make a catch as his size enables him to often over power smaller DBs. Alabama, Florida State, and UGA are all possible destinations for Gavin, but I think he will end up at either Bama or the Noles.
[su_spacer size="40″]
Binjimen Victor
is one of several D1 prospects out of Coconut Creek, Florida. He is also another 6-4'ish receiver, but is not as big as Willies, Wims, or Woerner as he is right around 173 lbs. Victor is talented but will need to add more bulk and work on getting stronger to be competitive at the next level. He also is raw when it comes to his route running, but he does have the frame and size along with great hands to be a successful college receiver.
[su_spacer size="40″]
PREDICTING THE 2016 WR CLASS FOR GEORGIA
[su_spacer size="40″]
So who do the Dawgs finish out the 2016 recruiting class with at wide receiver? How many receivers do the Bulldogs end up signing?
[su_spacer size="40″] I believe Georgia will finish with adding
Tyler Simmon
s to the current group of Anderson, Davis, Wims and Woerner, which would give the Dawgs five wide receivers for the class of 2016. But…
[su_spacer size="40″] Yes. There is a "but" here. If Georgia were to somehow be able to flip
Kyle Davis
or if
Demetris Robertson
decided to stay in the Peach State, the Dawgs would make room for either player and take 6 receivers. Make no mistake though, Tyler Simmons is Georgia's main target at WR at the moment.
[su_spacer size="120″]