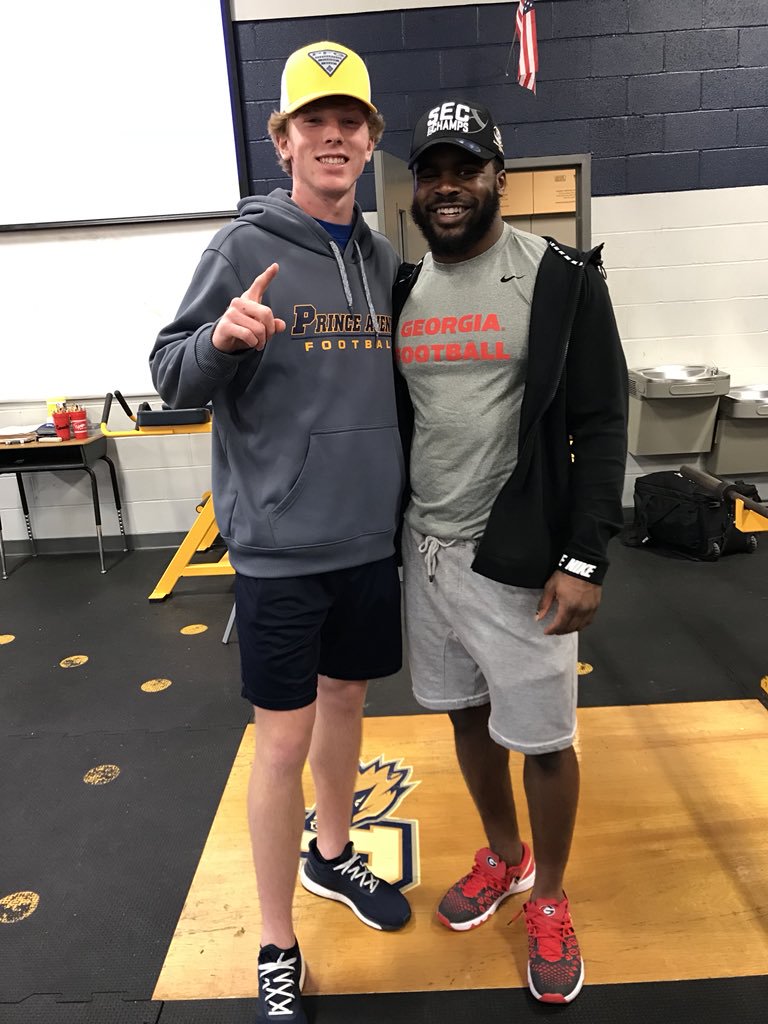 Daily Dawg Thread
TODAY'S FEATURED PROSPECTS
Brock Vandagriff
CLASS: 2021 
POSITION: PRO QB
HT, WT: 6-2 185
SCHOOL: Prince Avenue Christian School
CITY, STATE: Bogart, GA
STATUS: Undeclared 
# OF OFFERS: 5 offers 
UGA OFFER:  Yes, May 8, 2018 
NEWS:
Brock Vandagriff is a 2021 6-2 185-pound pro-style quarterback from Bogart, Georgia. 247Sports doesn't have rankings out for the 2021 class, but this one will be a name to remember. Vandagriff holds five offers from Auburn, Miami, Michigan, Georgia and Tennessee. The latest to offer him was Tennessee on June 9. Georgia offered on May 8 after he visited. I know its three years until he has to make a decision, but Vandagriff will be one of the biggest 2021 recruits out there, and he's a local kid.
On his Twitter, he posted an invitation to the the Elite11. He attended the UNC quarterback camp last weekend, and I expect him to be on campus this summer for camp at UGA too. Justin Fields went out to Prince Avenue to work with some of the team on June 4. Vandagriff won the 2018 QB MVP for the Rivals 3-strip camp too. I expect Georgia to stay on this one until he commits to them. The Bulldogs don't need to overlook this quarterback, he's a stud and only a rising sophomore.
Highlights – 
Tyler Buchner
CLASS: 2021 
POSITION: PRO QB 
HT, WT: 6-2 200
SCHOOL: The Bishop's School
CITY, STATE: La Jolla, CA
STATUS: Undeclared 
# OF OFFERS: 12 offers 
UGA OFFER: Yes, May 15, 2018
NEWS:
Tyler Buchner is a 2021 6-2 200-pound pro style quarterback from La Jolla, California. Like I stated above, there aren't any rankings for the 2021 class yet, but this is another quarterback to keep  your eyes peeled for. He currently holds 12 offers with the latest coming from Nevada on June 12. San Diego State offered June 9. Buchner pinned his USC offer to his Twitter, which makes me think he likes them the most right now. Alabama and the Bulldogs offered on May 15.
At one point, he was a lacrosse prospect that was committed to Michigan, but has decided to take a look at college football too. He hasn't said that he wants to play both, but with offers for both from Michigan it must make it appealing. According to his twitter, hes a part of the QBCClass18 with QB Collective, a group that develops quarterbacks. Georgia may not have a dog in the fight with this one since its lacrosse team isn't a scholarship group, but you never know when there's three years to go.
Highlights –
---