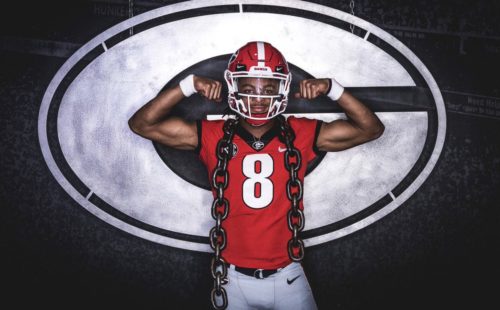 Daily Dawg Thread
TODAY'S FEATURED PROSPECT: Peter Parrish
Peter Parrish is a four- star 6-1 200 pounds dual-threat quarterback from Phenix City, Alabama. According to the latest 247Sports composite rankings, he ranks as the No. 9 DUAL and the No. 13 prospect in Alabama. Last season, he completed 102 of 160 passes for 1,454 yards, 17 touchdowns, and 4 INT. On the ground, Parrish carried the ball 88 times for 697 yards and 14 touchdowns. According to his 247Sports profile, he runs a 4.66 40-yard dash, so he's pretty quick.
Parrish currently holds 21 offers with the latest coming from Pittsburgh on June 1. Missouri offered on April 20, the Gators offered back on March 30, Kentucky on Feb.22, Georgia Tech on Feb 14, and Mississippi State on May 5, 2017. Parrish has some credible offers and is a top 10 dual-threat quarterback for the 2019 class. He was in Athens again on Thursday after he visited back in March. Georgia hasn't offered the quarterback yet, but after talking with him, it seems he's building the right relationship with the staff to eventually get that offer.
Peter Parrish Interview
Q: How is the overall recruiting process going for you?
A: "The overall recruiting process is going great!"
Q: Do you have any schools in the running where you'll take your official visits?
A: "I do have several schools in the running for official visits, but I'm going to release that at a later time."
Q: What do you think of Georgia?
A: "Georgia is a great school with awesome leadership. Coach Smart knows what he wants and has a special plan for his team."
Q: How hard are they recruiting you? And what are some things they are telling you?
A: "We've communicated through this recruitment and the coaching staff said that they are looking for a 2019 quarterback. They let me know how important the position and timing is. They let me know how important the position and timing is."
Q: How close do you feel like Georgia is to offering you?
A: "Can't really say how close Georgia is to offering. They have to review film and we'll go from there."
Q: Who's your primary recruiter and what did they think of you?
A: "My primary recruiters are coach Johnson and coach Coley. I got great feedback from them."
Q: So what do you think of coach Coley and coach Johnson? What stands out to them about you as a player?
A: "They're very serious about the program and were hands-on throughout the camp and gave top of the line coaching. Business was business and that was known. At the same time, because we've been communicating for a good while, we've built a relationship. I feel comfortable going to either one of them with anything."
Q: What are the key factors that will go into your decision?
A: "Key factors in my decision will be whether or not a college has a great business school, stability because you want your coaches to be there for at least the next four years, a successful record and a winning attitude, and as a quarterback it's important to take a look at my protection/ receivers. I want to go somewhere where I feel comfortable and can call home while I'm in college and possibly after."
Q: Any top schools? if so who?
 Have you decided when you'll commit to a school and when?
A: "I have top schools and will be making a decision soon. There's no exact date yet, but real soon."
Q: How did your visit to Georgia go on Thursday?
A: " I enjoyed my visit to Georgia. The coaching staff had a great workout laid out and I was able to watch practice after camp. Georgia ball is my kind of atmosphere."
Q: What other places do you plan on visiting?
A: "I have visits to Florida Stae and Tennessee coming up in the next few weeks."
Q: Anything you want to tell Bulldog Nation?
A: "UGA's got something special cooking up in the pot for the Dawg."
Peter Parrish Film
---