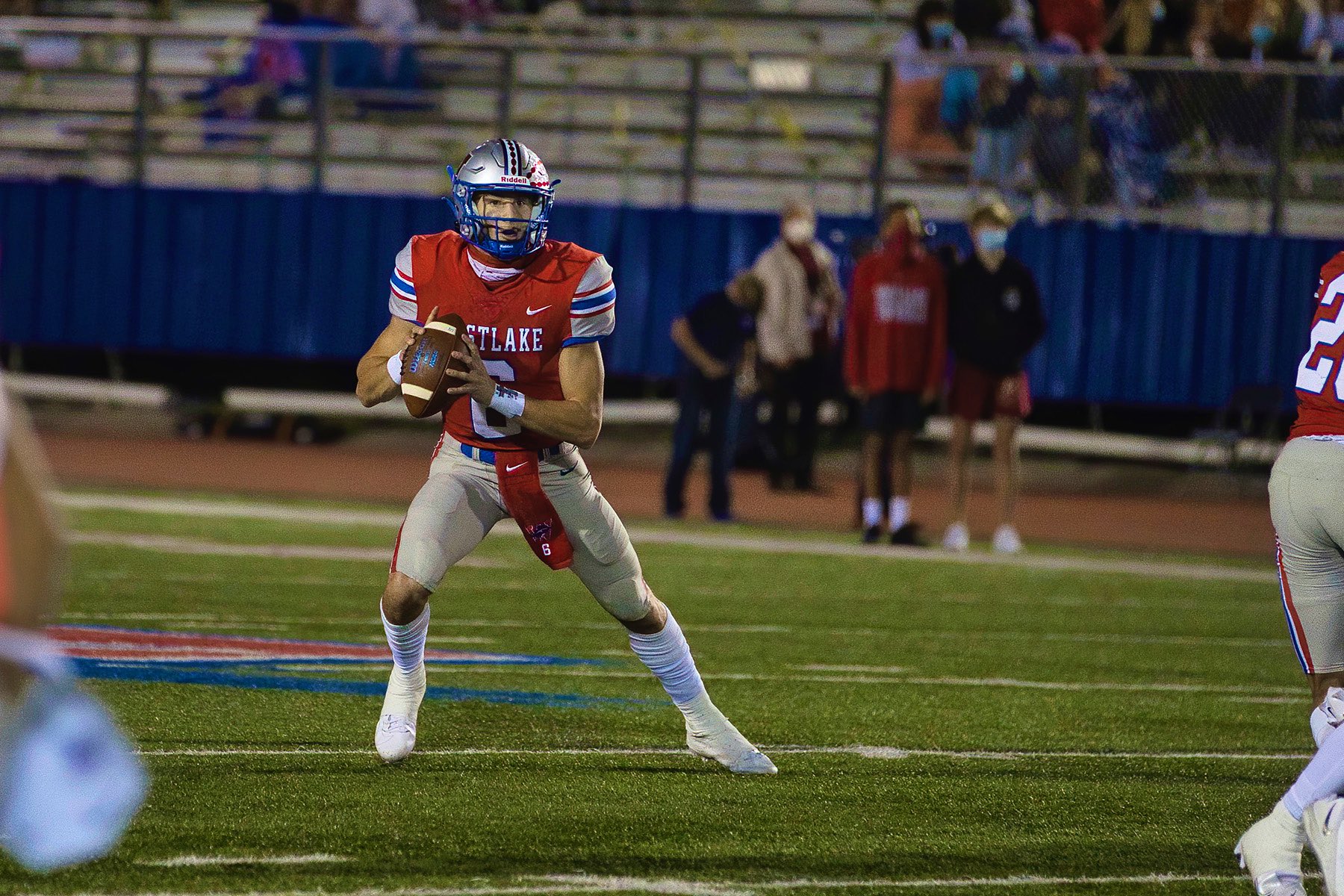 In today's college football, especially in the Power 5 conferences, to be a contender you have to constantly stockpile talent at the quarterback position. Each signing class must have 1, maybe 2, signal caller that has the potential to start and to be the face of the program. Georgia has yet to land a commitment at the quarterback position in the class of 2022, but they've definitely identified some of the best and brightest prospects in the country and are heavily recruiting and communicating with a select group. Cade Klubnik is part of that group that Kirby Smart, Todd Monken, Buster Faulkner, and the Georgia staff are targeting. Yesterday, Klubnik lead a comeback win in the Texas 6A Division I state semifinals to give Westlake High School an opportunity to play for the state championship next week.
Klubnik and Westlake have been dominant in every sense of the word in the 2020-2021 season. Just how dominant? When Cade and his teammates fell behind in 21 – 17 to North Shore with just over 4 minutes to go in the 4th quarter of yesterday's semifinals, it was the first time Westlake had trail THE ENTIRE SEASON! Often teams that have been prohibitive favorites all season and have not been tested wilt when pressure is applied in the playoffs. That was not the case for Klubnik and company. Adversity came and they met it, greeted it, and defeated it. Klubnik helped engineer a 69 yard game winning touchdown drive that he capped off on a 1 yard bootleg touchdown run.
Once the season concludes for Klubnik, expect the recruitment to kick in to overdrive. Klubnik told me in a previous interview that he'd like to be committed to his school of choice by April. If Klubnik does commit under 3 months from now, he'll be positioned to rally a class around it. The Texan has a strong arm, is more than capable of hurting opposing defenses with his legs, and is a man of strong faith and exudes leadership. Todd Monken and Buster Faulkner have stayed in touch with Klubnik and the staff has communicated they are very high on Klubnik's poise and ability to deliver the ball accurately from both within and outside the pocket.
Winning a state championship in high school football anywhere is a great accomplishment. Doing it in 6A in the state of Texas, is an even greater one! Klubnik is used to the bright lights, the pressure, the expectations, and the physicality that would be stepped up a notch at the next level. In my opinion he's one of the top quarterbacks that Georgia could bring in 2022 of the targets they've been recruiting. Wherever he commits, Klubnik is looking to do so with a state championship ring in his possession.