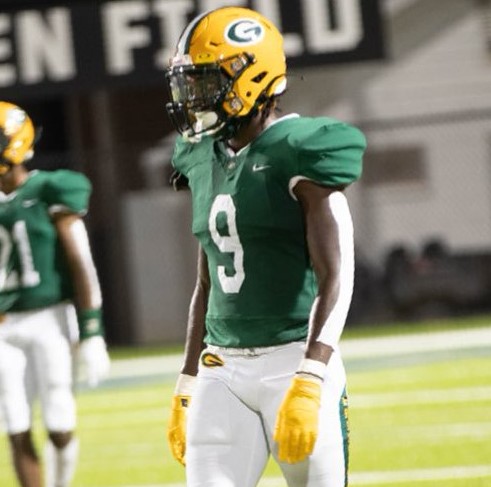 Donovan Westmoreland has had a September to remember. Since the 7th of this month, Westmoreland has 11 offers. 9 of those offers are from Power 5 schools, 4 coming from SEC programs in Tennessee, Mississippi State, South Carolina, and the University of Georgia. The Georgia offer was extended on the 16th by Coach Tray Scott and it was a meaningful and gratifying moment for the 6'3″ 205 pound outside linebacker from Griffin High School in Georgia.
Westmoreland jumps off of the screen when watching his film. The size that he posses and the tenacity that he plays with is undeniable, especially considering the caliber of opponents that Griffin goes up against. I was fortunate enough to have spoken with Westmoreland recently and got to know more about him, his background that lead to the recruiting frenzy that he is currently amidst, and specifically his relationship with UGA.
Born and raised in Griffin, Georgia, Westmoreland grew up one of three children. He and his siblings were raised by their, to quote Donovan, "amazing mother," Keisha Miller. Miller and her children are very close and Westmoreland credits this bond to the love and encouragement she provided while bringing them up all on her own. For Donovan, often times that meant his mother helping guide him and teaching him to work through adversity and at the same time being his number 1 fan.
Westmoreland grew up playing football, dabbled in basketball in middle school, but was mainly focused on the gridiron. "I started to begin running track in 8th grade… so it could help with my speed. I started taking football serious in 8th grade when I won the linebacker of the year award at Born to Compete (Youth Football), and it showed me that I had potential and motivated me that if I took football even more seriously, I would be able to play on Sundays," said Westmoreland of when he first began dreaming of football at the next level.
Westmoreland described his recruitment by Georgia in detail. "They started recruiting me after Georgia Tech had offered me. They (the Georgia staff) looked at my film and they said they were amazed at what they had seen on tape. I was speechless when they offered me, because I couldn't believe it. I felt extremely blessed because a lot of people don't have the chance to get recruited by a amazing school like UGA. Coach Tray Scott had a good talk with and announced that I was receiving an offer from UGA."
Beyond blessed to receive an offer from University of Georgia ‼️🙏🏾🐶#Bulldogs @GriffinFB1 @CoachReid99 @TravionScott @GeorgiaFootball @coachchipstan @andrewsDBU @CMartin8199 @_Coach_O @RecruitGeorgia @ChadSimmons_ pic.twitter.com/v56em7H02d

— Donovan Westmoreland🙏🏾⚡️ (@_DonovanLee_) September 16, 2020
The outside linebacker from Griffin is focused on continuing to work hard and desires to keep a "grind mentality." Also, Westmoreland is a student of the game as he makes a point to continuing, "learning something new everyday to better myself and my team. So it fair to say that any real developments in his recruitment will likely take place after his junior year is complete.
Westmoreland gave strong indication that Georgia is and will be in a "good spot" as his recruitment moves forward. The Peach State product has excellent size at 6'3″ 205 pounds and is what Kirby Smart often refers to as a "striker". The young man plays with passion and brings the wood when he arrives at the ball carrier. Stay tuned for more developments on Westmoreland's recruitment hear on Bulldawg Illustrated. You can follow Donovan on Twitter via @_DonovanLee_.