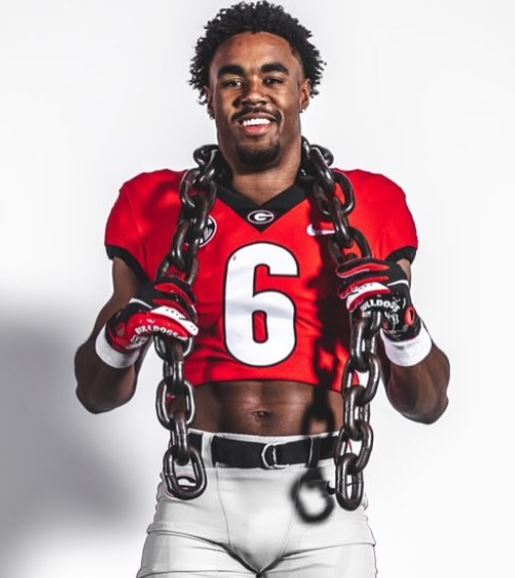 As a kid there is the excitement of Christmas Eve. It's the night where all of your hard work of researching the newest and coolest toys, subtling hinting them to your parents, and exhaustingly revising and perfecting your list for Santa comes to a crescendo. As an adult that passionately covers college football recruiting, the day before National Signing Day, or the new-age early signing period, today has that same type of feel.
It's also time for me to give my 2021 Bulldawg Illustrated Projections (or B.I.P.s). Disclaimer, even with the recent De'Jahn Warren drama, from what I've been told, I think all 20 current verbal commits sign with Georgia. Also, I'm going to end any suspense on Korey Foreman, he's not coming to Georgia. So now, let's focus on the last 3 to 4 spots that the Dawgs have remaining and the targets in play for them.
XAVIAN SOREY JR. – 4 STAR LB – IMG ACADEMY – NICEVILLE, FL
Bulldawg Illustrated Projection = GEORGIA, Confidence = 95%
For a while now we at Bulldawg Illustrated have been feeling confident about Sorey landing at Georgia. In the summer, I would have told you that Sorey leaned Florida. However, the product on the field is important. Georgia, despite losing 2 game this year, has continued to show at the linebacker position that Georgia develops athletes at linebacker. Glenn Schumann and Dan Lanning are tenacious coaches on the field and prospects tell me genuine recruiters as well. Georgia has invested time in Sorey and made it known how big of a priority he is to the class. I believe Sorey Jr. signs with Georgia tomorrow.
TERRION ARNOLD – 4 STAR SAFETY – JOHN PAUL II CATHOLIC – TALLAHASSEE, FL
Bulldawg Illustrated Projection = FLORIDA, Confidence 60%
Arnold are Sorey are very close. They, several times and very publicly, in the past have indicated a desire to play together. However, there seems to a ton of momentum from the Gators here. Despite losing to LSU this past weekend, Arnold still got the experience of taking in a game in the Swamp. Arnold has flirted with Alabama as well. Of course, Arnold is not signing until February, but things seemed to have cooled between he and Georgia significantly. At this point, if Georgia brings in another defensive back in the offseason, I'd expect it to be through a grad transfer.
MAASON SMITH – 5 STAR DT – TERREBONE HIGH SCHOOL – HOUMA, LA
Bulldawg Illustrated Projection = LSU, Confidence 70%
Big Maason Smith has turned into an absolute legend down in the bayou. Smith's recruitment in Louisiana has been as high profile and closely followed as any in recent memory. The community ties that Smith has are strong. LSU laid a ton of groundwork early. Tray Scott and company were so confident that Smith was headed to LSU after the won the National Championship, Georgia actually backed off recruiting Smith for a while and it was Smith who had to reach back out to Georgia. The chaos at LSU and a renewed push by Georgia, Dawg commits, and the coaching staff has helped Georgia gain ground for sure. At the end of the day, I believe LSU and representing his home state means too much to Maason. I'm sure the Dawgs will do everything they can all the way up to 4:30ET on Wednesday to convince him however.
DONOVAN EDWARDS – 4 STAR RB – WEST BLOOMFIELD HS – WEST BLOOMFIELD, MI
Bulldawg Illustrated Projection = GEORGIA, Confidence 65%
To be clear, there is work left to be done hear. Michigan holds a special place in the heart of Edwards, but Dell McGee and the the Georgia backfield have simply made this a business decision for the versatile back. McGee is an incredible closer and builds relationships with HIS guys over a long period of time. In the COVID world where play on the field has been what coaches have done their talking with, Edwards has had to be impressed with what Kirby Smart, Todd Monken, and Dell McGee have been able to pitch him in terms of running back use. Multiple 100 yard rushers in games, 4 backs scoring touchdowns in games, 4 backs carrying the ball more than 7 times in games, and backs burning linebackers and defensive backs for touchdowns in the passing game has all shown how beneficial it can be to be a running back at RBU. The burden is shared, plays are there to be made, and Georgia puts guys in the league. If Edwards does sign with Georgia, they'll unquestionably have the most talented backfield in America in 2021, regardless of the decisions of James Cook and Zamir White to stay or go pro.
JIMMY HORN JR. – 3 STAR WR – SEMINOLE HS – SANFORD, FL
Bulldawg Illustrated Projection = GEORGIA, Confidence 80%
When Georgia goes after a player of relative obscurity such as Jimmy Horn Jr. so late in the recruitment process, they really want to bring that player in. Case and point, Ladd McConkey in 2020. McConkey was, and is, a lightning quick, playmaking receiver and Georgia realized his talent and decided the potential they saw in him was worth an offer and even and in-home visit to help seal the deal. Rest assured, if COVID restrictions were not in play, Kirby Smart and Cortez Hankton would be in the living room of Jimmy Horn Jr. and his parents this week. Horn Jr. can absolutely fly and would add another speedster in the slot to go along with Arian Smith and a likely returning Kearis Jackson. It's always possible that numbers become a problem here, but at this time I believe Georgia is in great shape and very much so wants Jimmy Horn Jr. to be a part of the 2021 class. I believe the feeling is mutual!
BYRON YOUNG – 3 STAR OLB – GEORGIA MILITARY COLLEGE – HEMMINGWAY, SC
Bulldawg Illustrated Projection = GEORGIA, Confidence = 55%
Georgia has steadily been in communication with Young for a few months. Young is the type of edge player that Georgia likes in their defense. Young plays with energy and good size and athleticism at 6'3″ 240 pounds. Auburn is another contender here, but who knows what the impact of Gus Malzahn getting fired the week of signing day will impact things. For now DC Kevin Steele is trying to hold their class together. The Dawgs were relatively early to the party in terms of offering the JUCO edge player. Young has picked up offers from Texas, Ole Miss, Missouri, LSU and more since the Georgia offer. With Dan Lanning being directly involved with outside linebackers I like UGA's chances, but there is a lot that can happen in this recruitment.