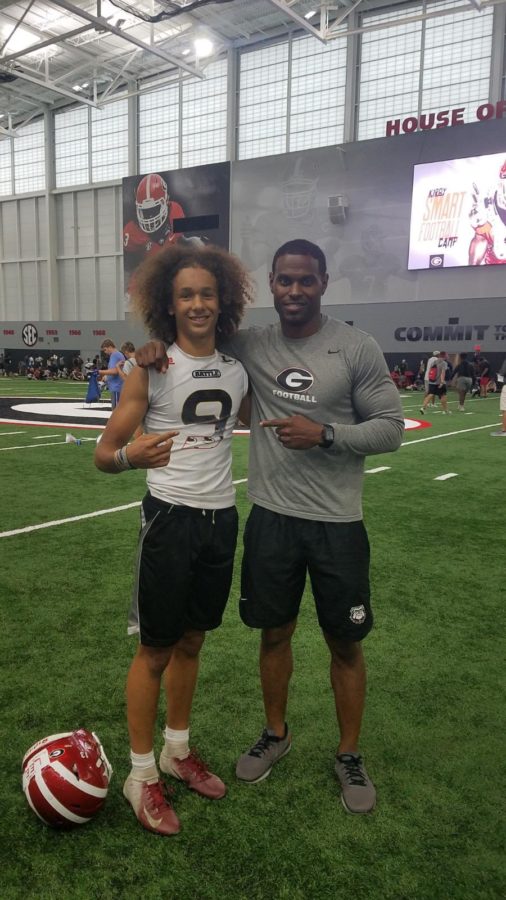 Recently on Bulldawg Illustrated, we have showcased many tremendously talented prospects in the class of 2023. Among all of them, Cayden Lee is one of the fastest rising stars in the class. The Hillgrove High School wide receiver is turning heads, especially in the SEC, with his quickness and natural route running ability.
What a blessing to receive an offer from my HOME state!! The University of Georgia!!! Humbled and Hungry! @TEwracademy @KirbySmartUGA @Coach_Hankton @ChadSimmons_ @UgaRecruitNews @GeorgiaFootball @CamNewton7v7 pic.twitter.com/DAiSq7r43b

— Cayden Lee WR @Hillgrove (@Cayden_X_Lee) April 9, 2020
Cortez Hankton and the Georgia Bulldogs offered Lee back in April of this year. Recently I caught up with Lee, another protégé of Terrence Edwards's TE WR Academy, to check in on his season and his recruitment.
Lee on Hillgrove's touch schedule to start the season (Norcross & McEachern)
"I feel like Norcross. We were figuring out what we were because we didn't have spring, we had a whole new coaching staff. So we didn't really know where we were as a team, because we only went against each other. So I feel like that was more of like, a figuring out, what's our strengths and weaknesses? And then the McEachern game. I feel like we, like, picked up a little bit of a rhythm and then started doing that."

**Hillgrove lost against Norcross. Lee contributed to a win over McEachern with 5 receptions and a TD**
Lee on the recruiting attention he's receiving as a whole and his offer from and relationship with UGA.
"It's been surreal. It's been a really exciting time for me and my family. The moment when Georgia offered was great because I was getting an offer from my home state on my mom's side of the family. It's really good. It's big. It was big for my family. I just feel like I have a good connection with them (Georgia). I actually talked to Coach Hank in a couple of weeks ago. Everything with him is going good. And I'm loving the vibe and the energy right now."
Lee on watching Georgia's offense under Todd Monken and their game versus Arkansas.
"I was actually watching their game a lot. I was slipping in between games, but I feel like Georgia's offense was just figuring themselves out because they had a new quarterback. Then they found their strength. I feel like they went to half time, they talked it over and they knew what was working. So they just started hitting the guys like Pickens and Jermaine, and it started working for them."
At 5'11" 175, what are Georgia's coaches and other colleges telling Lee they like about his game?
"They're telling me they like how I'm able to get in and out of my routes. I'm able to run short routes and deep routes, and when the balls in the air, they like how I'll go up and fight for the ball. I'm not just the biggest out there, but they like that I'll actually fight for the ball in there."
Lee on the impact training with Terrence Edwards has had on him and his game.
"That's my guy! Me and Jermaine (Burton) train over there. Terrence, he has had a huge influence on me. Sometimes he calls me completely unrelated to football just to check up on me, see how my grades are things like that. But football wise, he helps me with things off the field. Like just studying receiver, studying DB's leverage and just different things like that."
Lee on what he's learned from Jermaine Burton (similar in stature).
"So at first one of the conversations I had with Jermaine, I was like, you are like me. So you're not the biggest guy, do you wish you were taller? And he said no. I feel like I'm a good size, and I feel like people doubt me because of my height. And then he just sort of talked about that and how it can work to your advantage. And he talked about the benefits and the things that you should work on because you're not the tallest thing. And I feel like he's doing really good where he is right now. And I'm very proud of them."
Cayden Lee obviously has some tremendous men in and former players in his life to learn from. As far as the timeline and decision making for Lee's recruitment, he indicates that most of the schools are on an even playing field right now with COVID restricting visits. He's right now focused on building relationships with the coaching staffs and evaluating programs and schools.
I did ask Lee what the deciding factors in his recruitment are ultimately likely to be. Lee responded, "I am looking to play ball at a school that values me and my education. Somewhere that has a family environment and that I can contribute to the team immediately." With the combination of Lee's talent, the tremendous mentors he has, and his desire to compete, if wouldn't be surprising to see him follow in the footsteps of Burton and make an indelible impact immediately wherever the decides to play at on the next level.
Make sure to stay tuned for the latest on Lee and all recruits here on Bulldawg Illustrated and you can follow Cayden personally on Twitter via @Cayden_X_Lee.