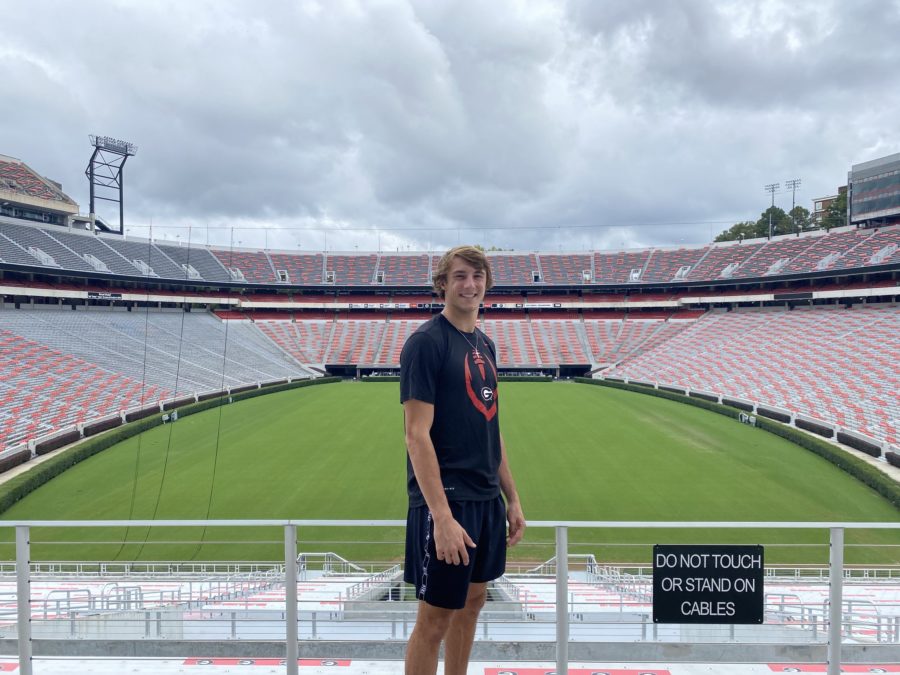 Everyone who has any knowledge of high school football in terms of the national landscape knows that Texas is as big and as serious as it comes. Georgia has a wealth of talent in its own right and the Dawgs have traditionally held serve at home, going back decades. Under Kirby Smart, UGA has really expanded its recruiting footprint and a couple of years ago it seemed like Georgia was passing over some sure fire gets in the Peach State to go sign coveted 4 and 5 star prospects from all across the country. Florida and California have both been kind to Georgia football when it comes to producing Dawg playmakers, but in the 2022 & 2023 classes, Georgia appears to be focusing hard on the Lonestar State.
For today, we'll stick to the offensive side of the ball. We all know that Georgia has their 2021 QB in Brock Vandagriff. The 5-Star UGA signee lead his team to a State Championship yesterday, and will be rehabbing his knee to repair a torn PCL he played with all year once he arrives at Georgia. However, Georgia is still on the look out for their 2022 quarterback. In today's game you have to bring in a talented QB in every class. Cade Klubnik from Westlake High School in Austin, Texas, could very well be that guy. He visited UGA on his own during the COVID restrictions in late October, shortly after Georgia offered the 2022 gunslinger. Klubnik has a strong arm and is capable of making play with his legs when the defense dictates. He's in frequent communication now with Todd Monken and Buster Faulkner.
Every quarterback likes to have great running backs to turn and hand the ball to. Whether its Klubnik or another quarterback in the 2022 class, having running backs like Jaydon Blue and Reuben Owens II would be a luxury. Blue, a 4-Star in the class of 2022 out of Houston, is simply beyond his years in his physical stature (5'11" 210) and his skill set. Blue is a patient, yet powerful runner and he's dangerous out in space when thrown the ball out of the backfield. Currently he's yet to officially narrow down his recruiting, but Georgia is believed to be well positioned with the Klein Cain High School standout.
In the 2023 class, Rueben Owens II (a.k.a. The Black Unicorn) is an extremely versatile and extremely drive back. Owens II is the type of back that has proven he can handle a heavy load. Also, he's a home run hitter. If a defender takes one false step, or miscalculates their angle just slightly, then Owens II is going to make them pay to the tune of 6 points. Owens II will be narrowing down his recruitment soon and a commitment to one o his top schools could be occurring relatively soon. Georgia already has a commitment from Treyaun Webb in the 2023 class, a combo of Webb and Owens II would be a great foundation for the 2023 class.
Finally, Brenen Thompson is a do-everything speedster form Spearman, Texas. Thompson just dropped a Top 12 not long ago, of course Georgia made the cut. Todd Hartley is among the coaches recruiting Thompson, which is significant given Hartley's track record of pulling in big time prospects from the southwestern and western part of the United States. Thompson played quarterback for his high school, but similar to Mecole Hardman, this high school quarterback has elite speed running a 4.37 40-yard dash and a 10.2 100-meter dash. Also like Hardman, Thompson is likely to play receiver and, or cornerback at the next level.
At this point in time, Georgia is right in the thick of each of the aforementioned prospects' recruitments, if not at the top. Texas, LSU, and Oklahoma are always the largest competitors for targets out of the Lonestar State. Landing at least 2 of these 4 prospect in the next couple of cycles could go a long way toward creating a rich Texas to Georgia pipeline for the Dawgs.