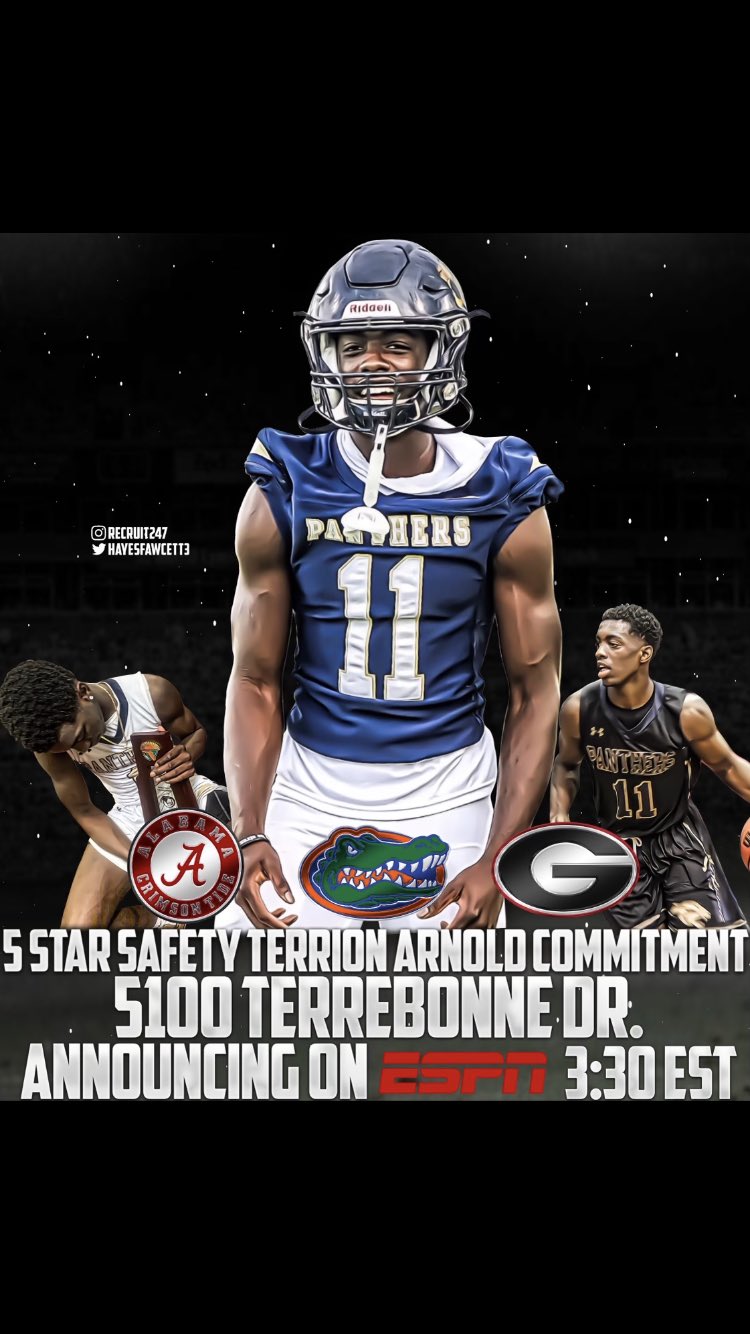 February 3rd used to be the Mecca of college football recruiting days. The traditional National Signing Day has now been largely subdued due to the prevalence of high profile prospects graduating high school mid-year during their senior year and enrolling early at the college of their choice. However, there are still some holdouts that need the extra time at their school academically and, or they simply enjoy their high school experience and want to wait on the later date to put ink to paper. Among these, big decisions still loom for several prospects in the 2021 class.
4-Star Safety Terrion Arnold is the recruit that the Georgia staff and the rest of the college football world will have their eyes on. Indications are that no school, not Alabama, Georgia, or Florida, has been given any word on the final destination of Arnold. Kirby Smart, Dan Lanning, and Scott Cochran will likely be doing a pitch job all the way until the announcement goes live today. Alabama has been the trending pick for Arnold for a while it seems, but word is that the Dawgs have made this a near coin flip decision for the talented Safety from the Sunshine State. Everyone will see how the recruitment finally plays out today on ESPN at 3:30pm. 3:30pm is when the coverage on Arnold begins, with a decision not likely to occur until closer to 4:00pm.
It's not all about the 2021 class however on this traditional National Signing Day. Big time Texas Defensive Tackle prospect in the class of 2022, Bear Alexander, is scheduled to let the world know today where he intends to play his college football today at 1:00pm. Tray Scott and the Georgia Bulldogs have been recruiting Bear consitantly since June of 2019 and it appears that the hard work is going to pay off. The long lasting relationship between Bear and the Dawgs is apparently just beginning. Several recruiting services are putting in their predictions of Bear to UGA and if you simply look at his avatar on Twitter now, it just happens to be the logo that UGA's recruitment department has made for him. The Dawgs are making custom logos for recruits now in preparation for Name, Image, and Likeness down the road. Apparently the big 5-Star Bear from Denton, Texas, liked his very much and it seems that Alexander will be the first commit for Georgia in the 2022 class from outside the Peach State.
As of now, these are anticipated to be the only 2 decisions that will be made that Georgia is involved in. However, Kirby Smart is typically known for surprises on signing day of any kind. Is it possible that Kirby flips a 2021 unexpectedly? Maybe a transfer decision is announced, or a 2022 or 2023 prospect decides to use the backdrop of National Signing Day as a backdrop for a surprise commitment. We will have all of this covered here today on Bulldawg Illustrated.