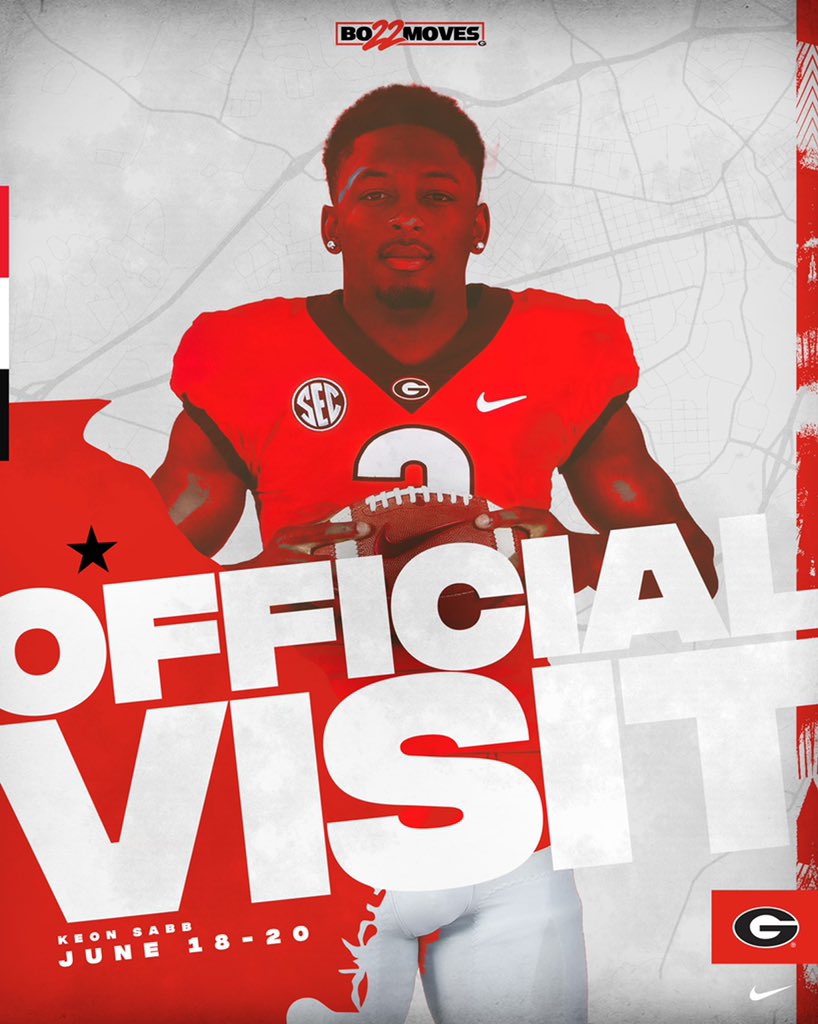 On the heels of Georgia Football emerging as a favored destination for IMG safety Kamari Wilson, another elite Crusader safety, has given Dawg faithful something to ponder. Keon Sabb, a 5-Star just like Wilson, will be making an official visit to the Classic City the weekend of June 18-20. If you read the Dawg Daily Thread regularly and listen to the RBU Podcast, then that weekend will sound familiar to you. The third weekend in June is also when Georgia's top offensive line target, also from IMG, Tyler Booker, makes his way to town. In a recent interview, Booker specifically told me that he intends to bring Keon Sabb with him wherever he ends up going to school. Needless to say, Booker and Sabb being on campus for the same official visit weekend are promising for the Dawgs.
Georgia Visit @IMGAFootball pic.twitter.com/HhhdcIu7lQ

— Keon Sabb (@keon_sabb) April 13, 2021
As Jeremy Johnson of the Athens Banner-Herald and myself talked about on the 2022 Mock Class 1.0 episode of the RBU Podcast, the IMG to UGA pipeline has been ramped up full force in the Kirby Smart era. Smart identifies well with the players down there, and there are tremendous similarities in how the programs are run in terms of football operations. IMG players are well prepared for the next level. Georgia brought in 3 IMG players in the 2021 class alone in Marlin Dean, Xavian Sorey Jr., and Lovasea Carroll. Players like Nolan Smith and Warren Brinson are from IMG as well. However, as impressive as all of those players are, there would be no more significant or more talented trio of prospects that the Dawgs will have signed from the powerhouse program in Bradenton, Florida, than if they were to land Booker, Wilson, and Sabb.
At 6'2″ 200, Keon Sabb is physically imposing and is more than capable of playing in and around the box when needed to assist in stopping the run. Also, Sabb is very skilled. During his high school career, Sabb has displayed agility, ball skills, and quickness while playing defensive back, receiver, and on the hardwood in basketball. Very little occurs on the gridiron that Sabb is not at the very least adept at, and in most areas, he excels. Any combination of current Dawg 2022 commit Malaki Starks, and Kamari Wilson or Keon Sabb would easily be the most talented duo in the defensive backfield of any recruiting class in the country. Signing all three would be revolutionary and would set the Dawgs up with unparalleled talent and depth in Georgia Head Coach Kirby Smart's position of expertise.
The month of June is going to be nuts! Stay tuned here on Bulldawg Illustrated for all the latest news and notes on Keon Sabb and all the highly coveted IMG prospects that Georgia is pursuing.