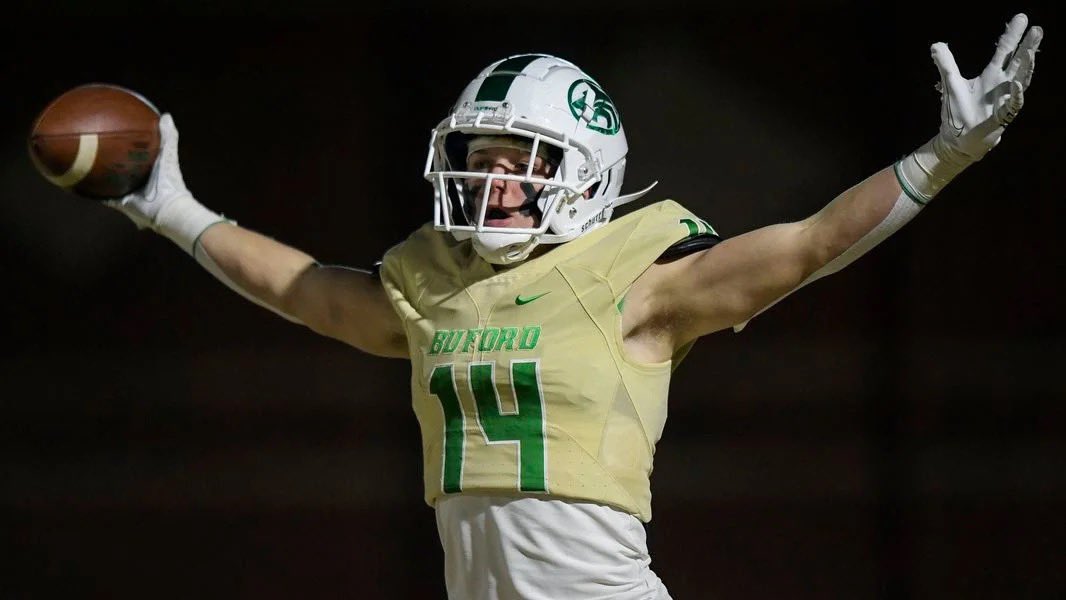 Growing up in the 90's and early 2000's, one Georgia player's performances that vividly stick out in my mind because of the level of tenacity and the pure love of the game with which he played was none other than 3-time All-American Defensive End David Pollack. Pollack attacked the game and played every single snap in such a way that his effort and "motor" became the standard for Dawgs that would follow after him. Yesterday, Georgia offered an Athlete in the class of 2022 that plays the Safety and Wide Receiver positions with a rare tenacity that I've seldom seen since the days of Pollack.
Jake Pope is a 6'2″ 190 pound prospect from Buford High School in Buford, Georgia. Anyone that knows high school football in the state of Georgia knows the historic level at which the Wolves of Buford perform. Year in and year out Buford is winning and, or contending for state championships and Jake Pope has been a big part of the last 2 consecutive titles for the storied program.
While I am uncertain of the verified 40-time that Pope would run on a laser, his game speed is unquestioned when you watch his film. Pope flies to the ball on defense and even made the game winning stop against against Lee County in overtime of the state championship to cap the 2020 season. At receiver, Pope displays tremendous route running ability and is more than capable of getting behind the secondary to make plays down the field. Pope is listed on national recruiting sites as a safety in some spots and an Athlete in others. Just from observing the output of his junior season, I honestly could see Pope playing on either side of the ball at the next level, but it's likely he'll end up at safety.
It was a heck of a 7-day period for Pope. Alabama, Georgia, and Auburn all have offered the Peach State product since January 20th. It seems that this recruitment is just getting started and will continue to explode now that Pope's very impressive junior film has been released and coaches have had time to evaluate it. One interesting note, Pope and his family are close to another high priority target for the Dawgs. Oscar Delp, 2022 Tight End out of Cumming, Georgia, that stars at West Forsyth High School is friend with Pope and their mothers are close as well. Recruiting is all about relationships and Georgia certainly wouldn't mind bringing in a combination of Delp and Pope in the 2022 class and continuing to dominate the state of Georgia in terms of securing talent with their home state. So far, all 6 of the Dawg commits in 2022 are from Georgia and the additions of Oscar Delp and Jake Pope would send UGA skyrocketing toward yet another top tier class under Kirby Smart.