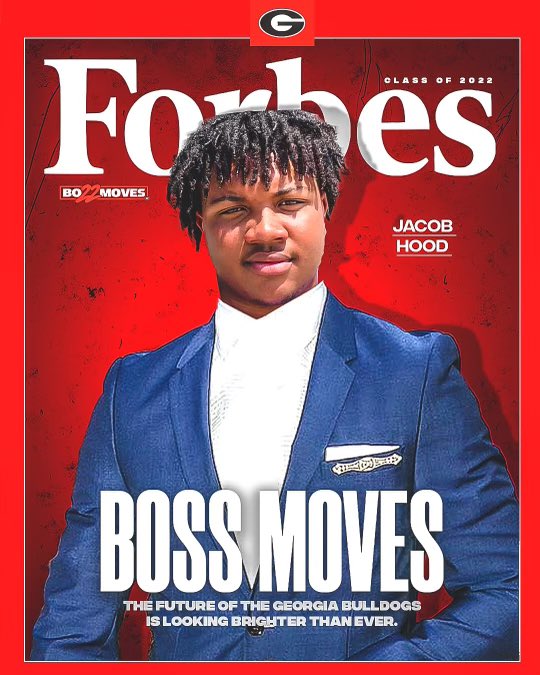 The Georgia Bulldogs football program is no stranger to having monstrous sized young men in the trenches. This is particularly true on the offensive side of the ball. Isaiah Wilson, Ben Cleveland, and Amarius Mims all come to mind immediately for human beings that are just massive and both bigger and more athletic than a human being probably should be allowed. Matt Luke finished off the recruitment of Amarius Mims successfully in the class of 2021. Luke also had a lot to do with flipping Devin Willock (6'7″ 340) in the 2020 class from Penn State to UGA within 8 days of his being hired by Kirby Smart. Willock had a great year for the Dawgs developing and was mentioned several times in press availabilities by Smart as a player to watch for in the future. Now, it seems that Matt Luke, Kirby Smart, and the Georgia staff have the next giant they're coveting locked in their sights, and there is mutual interest. The target I'm referring to is the 6'8″ 340 pound Jacob Hood.
Hood is an offensive tackle from Hillsboro High School in Nashville, Tennessee. The massive prospect recently narrowed down his recruitment to 6 schools and Georgia made the cut. Baylor, Tennessee, Georgia Tech, LSU, and Mississippi State are also in the mix. How high Hood actually is on UGA's board is unknown. There is still some work that Hood needs to do in the weightroom to continue to reshape his body and develop even more, but there is absolutely no doubt that Hood is capable of moving opponents against their will and also getting out in space and blocking when asked.
The Dawgs have yet to land a commitment from an offensive lineman in the class of 2022. UGA is absolutely loaded with talent at the tackle position for the next couple of seasons at least. Hood, admittedly, is what Kirby Smart would likely describe in a press conference as a developmental guy. Hood has a high ceiling for sure, but there is no doubt that a year to mature and grow in the Georgia strength and conditioning program, coupled with their nutrition plan, could easily have the tackle prospect more around 325 to 330 with even more lean muscle and flexibility. It will be interesting to see how this recruitment plays out and if the Nashville native makes the relative short ride down to Athens once COVID-19 restrictions on recruiting are lifted off of on-campus recruiting by the NCAA. While we wait on that, enjoy the highlights below of this abnormally large human just mauling his high school counterparts.