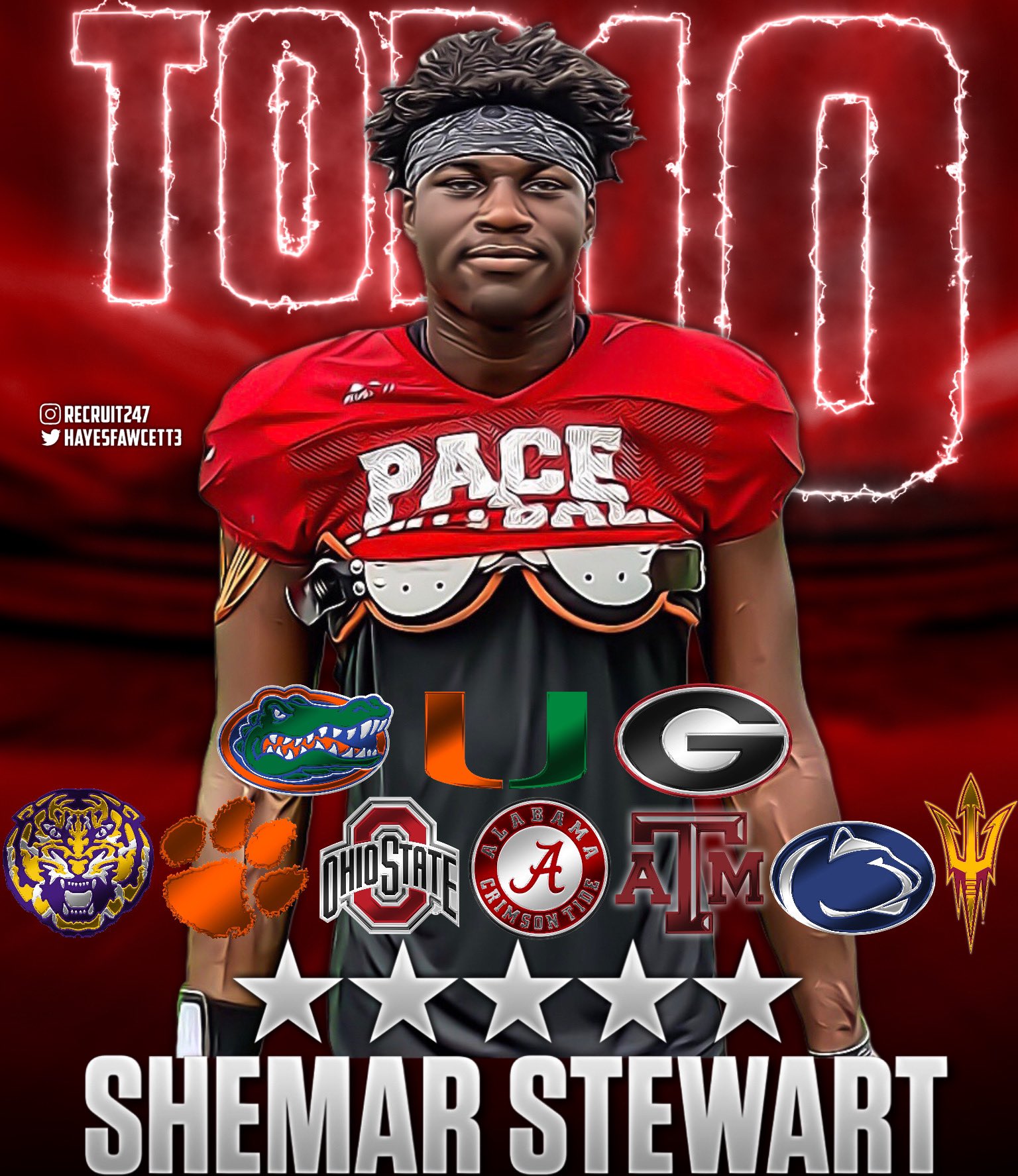 I recently reached out to the coaching staff at Monsignor Pace High School in Miami, Florida, to inquire about the recruitment of 5-Star Defensive End and the number 5 overall ranked player in 2022, Shemar Stewart. The 6'5″, now 266 pounds, edge rusher has kept his recruitment very close to the vest. Other than some very dated predictions online, there has not been much information flowing out about the South Florida prospect. In talking to the Recruiting Coordinator for Monsignor Pace, Moe Marquez, I learned that not only is the University of Georgia still very much in the thick of things in the recruitment of Stewart, but they also have a secret weapon, so to speak, in this high profile recruitment.
In the conversation with Coach Marquez, it was made quite clear that Shemar Stewart's recruitment still has a ways to go. The 5-Star is not really doing a ton of talking right now, not more than he really has to with coaches and recruiting staff members. "Shemar hates Zooms and phone calls. He's really looking forward to the COVID dead period being lifted. He is a face-to-face type guy and really is looking forward to getting to some of these schools," said Marquez. When asked if Georgia was one of the schools that Stewart was still talking to, even though begrudgingly virtually, Marquez replied in the affirmative and named a bright spot for the Dawgs. "Oh yes, Georgia is very involved. They've been great to communicate with. The main guy that is going to get the job done if it is Georgia, is Coach BGA (Defensive Graduate Assistant Bryant Gross-Armiento). He is a South Florida guy, he relates very well to Shemar. Coach BGA talks the way we do, he knows the area, and that is something that makes Shemar very comfortable." Marquez went on to say, "in terms of Georgia, having a coaching from this area, like Coach BGA, is the smartest thing a program can do."
Coach BGA, a former player and graduate assistant at Wake Forest, can prove crucial in South Florida for the Dawgs. After moving on from James Coley, UGA's connection to the Miami area and some of its recruits was diminished to a certain extent. A young, energetic, relatable, and knowledgeable Coach like Gross-Armiento is exactly what is needed to break up the monotony of what I call COVID recruiting. As a 30-year old man, I have a tough time making it through the workday with incessant Zoom and Microsoft Teams meetings; I can't imagine the challenge this type of communication is for 16, 17, and the 18-year-old prospect that has been stuck in a holding pattern. The freshness and genuine connection with a Coach like BGA have to be welcomed.
Length, leverage, and athleticism are all terms that come to mind when watching the film of Shemar Stewart. Now, the hybrid defensive end/stand-up edge player is working on getting, "bigger and stronger" according to Coach Marquez. As stated before, the 6'5″ rising senior has bulked up some and is now up to 266 pounds. Georgia certainly knows how to utilize ultra-athletic edge players. Azeez Ojulari is projected by many to be a first-round pick in the NFL draft this year after leading the SEC in sacks for the Dawgs in 2020. Also, Nolan Smith and Adam Anderson are poised to have big years for UGA this coming season. Shemar Stewart would fall in line nicely with this run of dominant athletes on the edge. It sounds like the Dawgs will have a chance to get Stewart on campus for an official visit before his commitment is made and that is a big positive for Georgia. There is no program that thrives in on-campus recruiting more than Georgia Football.