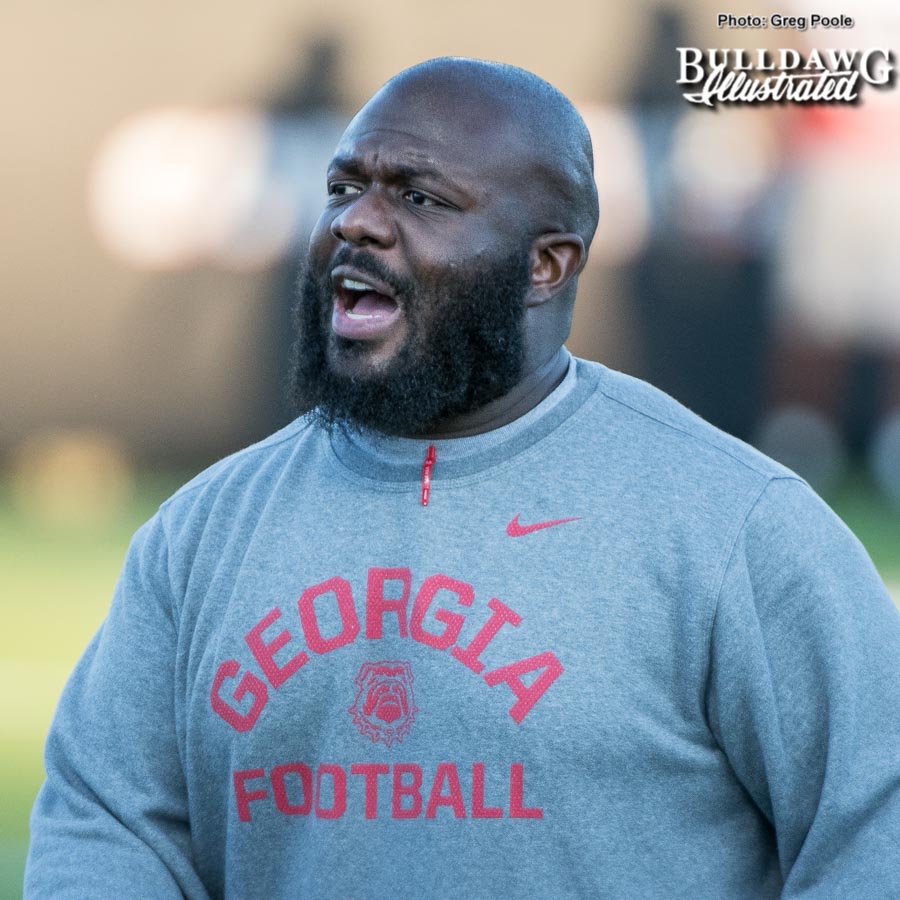 Georgia will need to load up on defensive line prospects in the classes of 2022 and 2023. The Dawgs are set to lose a ton of talent after the 2021 and 2022 seasons upfront and will have to replenish accordingly. That responsibility falls largely upon Tray Scott. Of course, the entire coaching staff and support staff help across all positional groups, but the defensive line coach approaching his 5th season with the Dawgs is the point person. I've recently spoken with a group of defensive line offerees of UGA, and those interviews will be published in the coming days here on Bulldawg Illustrated. A little heads up, one common thread weaved throughout is a strong relationship with Tray Scott built on genuine interest and care, and relatability.
"Coach Scott cares about you as a person and not just a football player," one high-profile defensive line prospect recruit recently told me. That, or something extremely similar, has been expressed to me by easily 10 prospects I've covered in the last 2 years that have had Scott as their main recruiter. The student-athletes that I talk to about their recruitment are often brutally honest in assessing how programs and their coaches approach their respective recruitments. Two coaches, I've yet to hear anything less than glowing reviews about are Georgia's Todd Hartley and Tray Scott. Hartley got a raise this past offseason after pulling in whales at the tight end position over the last 2 cycles and helping close the deal on several other major talents. With the haul that Tray Scott is about to produce in 2022, he's the next in line to get paid if Kirby Smart wants to continue the staff continuity he's enjoying from 2020 to 2021.
After the 2021 season, the Dawgs will lose 4 to 5 defensive linemen to the draft, including the 3 big interior guys that elected to return to Athens for the upcoming season in Jordan Davis, Devonte Wyatt, and Julian Rochester. So far Georgia has 4-Star prospects Tyre West, Darris Smith, and Bear Alexander committed in the class of 2022. Mykel Williams and Christen Miller are both being recruited by the Dawgs very heavily as well and Tray Scott recently offered Aaron Bryant out of Southaven, Mississippi. I would expect the Dawgs to add some combination of 2 of those 3 prospects to their 2022 class. Of course, there is Jeremiah Alexander out of Thompson, Alabama as well. Should the former Crimson Tide commit decide he wants to play for any program in the country, a spot will be made for him.
Looking ahead to 2023, Georgia already has a commitment from one of the premier defensive line prospects in the Peach State in Seven Cloud out of McEachern. They are working hard to land UGA legacy Justin Benton. So, it's fair to say that there is a huge amount of talent available to secure for the Dawgs in the next 2 recruiting cycles. If the work that Tray Scott has put in during the pandemic by investing in getting to know these recruits personally and on a level beyond football pays out, well expect Tray Scott to become of the top defensive assistants in the country by reputation and production in short order.