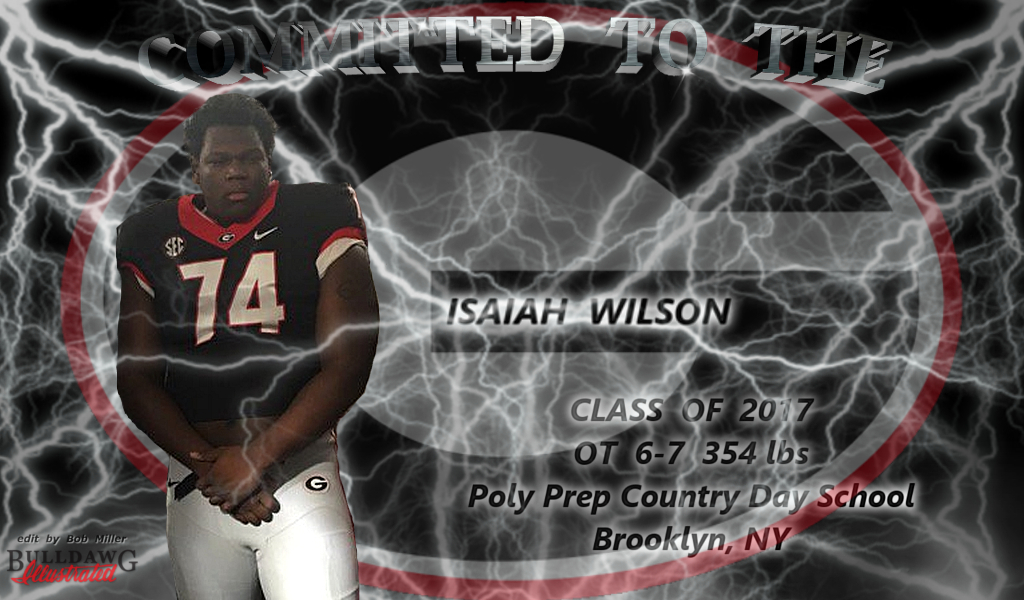 Georgia Head Coach Kirby Smart and his Offensive Line Coach Sam Pittman emphasized from day one that one of their goals in making and transforming the Bulldogs into a championship caliber football team was to get better and bigger up front on the offensive line. And they have done just that this recruiting cycle by adding a sixth o-lineman to the 2017 class with 6 foot 7 and 354 lbs Isaiah Wilson's commitment to UGA.

The Poly Prep Country Day offensive tackle has over 29 scholarship offers including Alabama, Clemson, Florida State, Michigan, and Ohio State, and his recruitment has been a battle between Alabama, Georgia, and Michigan. In the end, he chose the Bulldogs for the opportunity to come in and compete for playing time sooner than later with their need for offensive tackles.
Isaiah Wilson is ranked as a 5-star prospect out of Brooklyn, New York by three of the four major recruiting services which include 247Sports.com's and ESPN along with Rivals. He is ranked as a 4-star prospect by Scout. Wilson is considered one of the top ten offensive tackle prospects in the 2017 class, and he is a Top247, top ESPN300, Rivals100, and Scout 100 player.
Wilson is very impressive from a physical standpoint, and he moves extremely well for a player his size. He has quick feet and explodes off the line of scrimmage at the snap of the ball. That speed and quickness combined with his size and length makes him an ideal candidate as an offensive tackle at the next level. As with most o-linemen coming out of high school, he'll need to work on his pass protection skills and his technique, but he has the potential to be a 4-year starter.
He'll join the rest of the 2017 offensive linemen; offensive tackles D'Antne Demery and D'Marcus Hayes along with Andrew Thomas and offensive guards Netori Johnson and Justin Shaffer, in Athens in June after graduating high school.
Isaiah Wilson's Highlights:

2016 game vs. Christ the King High School – CLICK HERE

2016 game vs. Fort Hamilton – CLICK HERE

2016 game vs. Hudson Catholic High School – CLICK HERE

2016 game vs. Valley Forge Military Academy – CLICK HERE

Game Day Sports Stars Highlight and Interview – CLICK HERE

2015 Junior Season Highlights – CLICK HERE