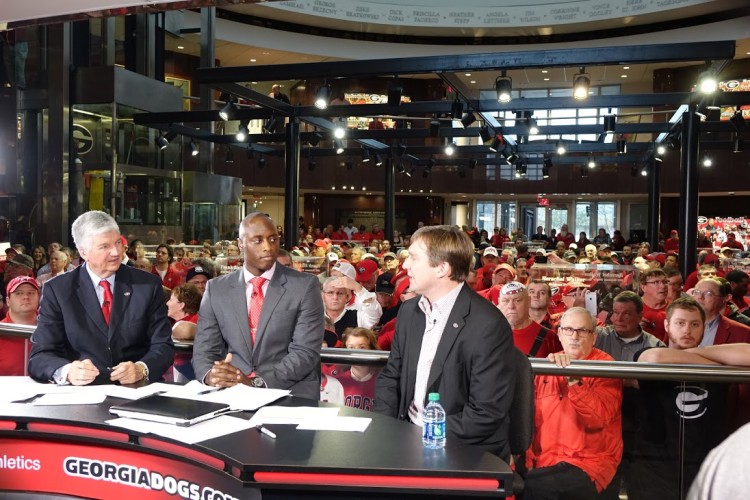 Yesterday, Jon Solomon of CBSSports published an article contending that SEC schools have not been hurt by the recruiting caps put in place by the conference in 2011. Far more interesting to UGA fans, however, are Solomom's numbers reflecting Georgia's recruiting history.
During the period from 2007-2011, the SEC's oversigning era, UGA and Vanderbilt competed for the smallest average signing classes in the conference.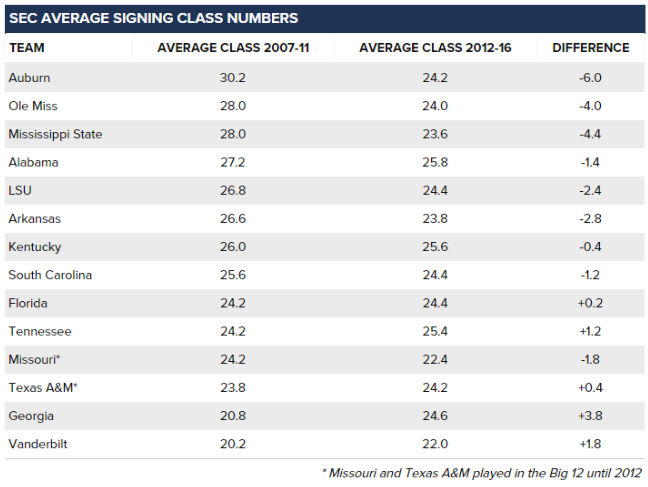 Using Solomon's numbers, Auburn signed 151 recruits in the same 5 year period that UGA inked 104. Assuming that Auburn, Alabama, Ole Miss and LSU were, at least, as accurate in their recruiting evaluations as Georgia, the Bulldogs put themselves in a very difficult position as those players began to fill the depth chart from 2009 to 2013. For example, the 2012 team that played Alabama to the final whistle for the SEC Championship did so with 68 scholarship players. An extra 17 recruits might have given UGA enough depth to slow the Bama running game in the second half.
Coach Richt changed his recruiting practices and began taking full classes toward the end of his tenure. If that change had included an emphasis on offensive linemen, he might still be in Athens – but that is a different subject.
[su_quote style="modern-light" cite="The Telegraph" url="http://www.macon.com/sports/college/sec/university-of-georgia/bulldogs-beat/article30119298.html"]
"I've coached offensive football a long time," Richt said last week. "I don't want to make anybody mad at Florida State, but we didn't have dominating offensive lines, but we had some great skill people that were able to make some great plays. If you have a bunch of linemen that know what to do, and can stay coordinated and get their hat on the right guy, and fight like mad, you can neutralize a defender for long enough for a great skill guy to get on by, or get the ball off, whatever it might be.
[/su_quote]
Coming from many years as a key assistant to Nick Saban, Kirby Smart certainly will be looking to fill every available scholarship, even if one or two slots remained open for 2016.