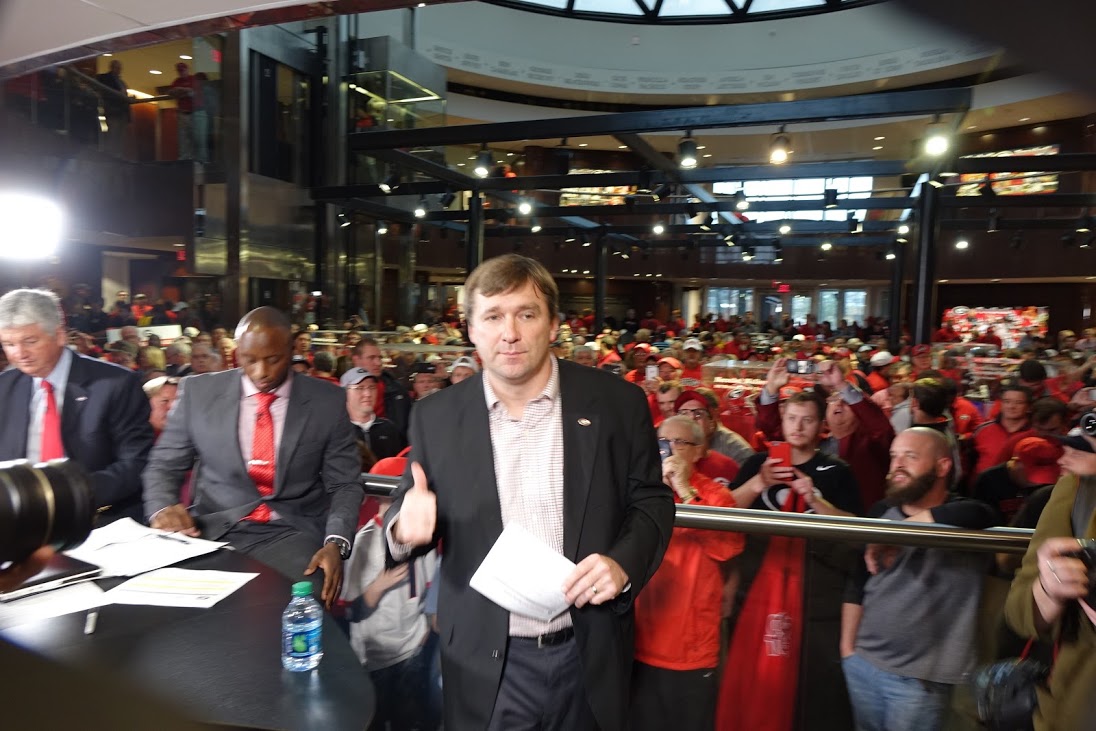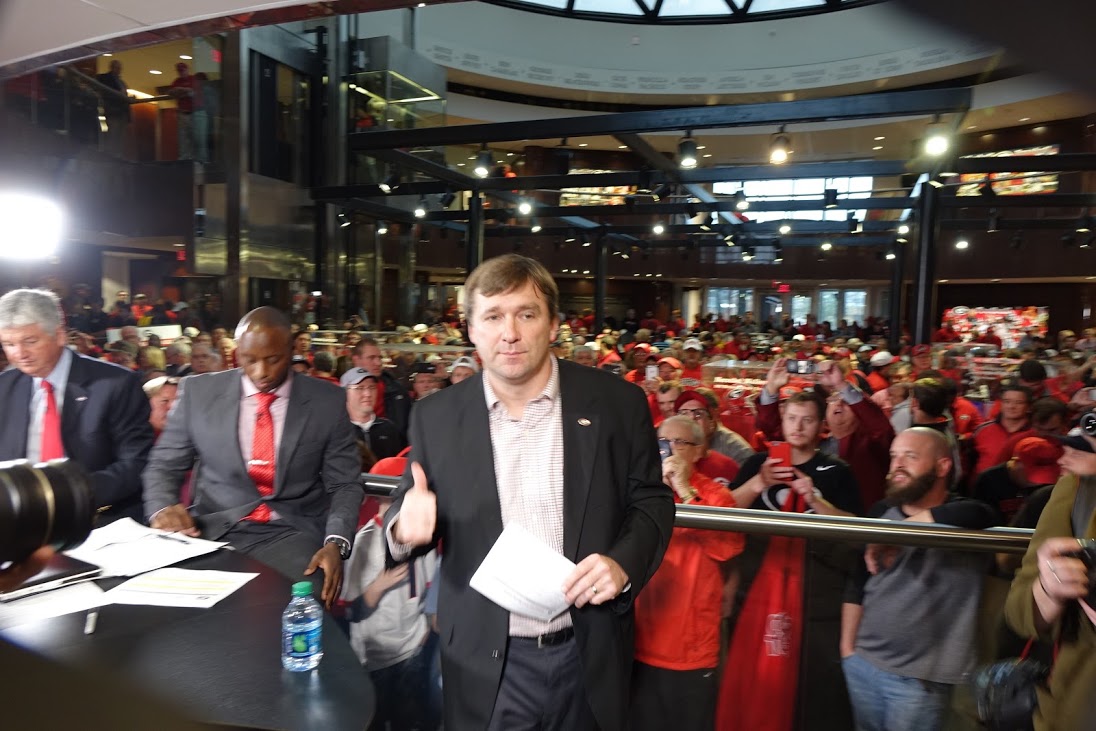 What are Bulldawg fans supposed to do almost a month after the end of the college football season and Georgia's bowl game? Why talk some recruiting of course. Here is a recap of the Wednesday night live recruiting chat on Bulldawg Illustrated with Lucas Rogers, Michael Pope, Savannah Richardson, and Rick Pope who fielded questions from fans on everything from who's visiting UGA this weekend, to how many prospects they think Georgia will sign and who they will close out the 2017 class with on NSD. And that is just the tip of the iceberg.
Georgia has 23 committed for the 2017 class so far; how many will the Bulldogs finish with once NSD is in the books?
Lucas: "26-27"
Michael: "I'll say 27."
Rick: "My guess is 27."
Savannah: "27 I believe. However, if for some reason more transfer out, maybe UGA will go the JUCO route after NSD."
With the general consensus among you that Georgia will finish with around 26 to 27 signees for 2017, who are those remaining three to four prospects that the Bulldogs will pick up between now and the end of NSD?
Lucas: "Right now, UGA looks good with Ameer Speed and Jamyest Williams. Will they take both in the class is the question. As of right now, I think Bryant commits to Georgia, but I will need to see how this Auburn visit goes for him. So then you've got Nico Collins and Larrell Murchison who all favor Georgia right now IMO. Be crazy to see how they make this work."
Michael: "The new commits will be Ameer Speed, Markaviest Bryant, Jamyest Williams, and Nico Collins… not feeling great about Solomon."
Rick: "I actually think this is the case to be honest. Could be wrong and maybe, but I feel Georgia gets Aubrey Solomon, Nico Collins, Markaviest Bryant, and either Jamyest Williams, Ameer Speed or Eric Stokes Jr. at CB."
Savannah: "These are who I think have a big possibility to sign with UGA: Aubrey Solomon, Nico Collins, Markaviest Bryant, Jamyest Williams, and Ameer Speed."
What about 2018 RB Zamir White? (from member B Stanley)
Lucas: "I believe Clemson leads at the moment. He always liked Georgia, so they are definitely not out of it. It is close IMO."
What are your thoughts on 2017 d-lineman DeVonte Wyatt? Does he stay committed to Georgia or flip back to South Carolina?
Lucas: "I believe he stays committed."
Rick: "I'm thinking he flips, but we add Solomon."
Savannah: "Depends on how this weekend goes. If somehow, some way, Georgia can get Solomon to come and visit, he (DeVonte Wyatt) very well may flip."
Of course, Tedarrell Slaton is visiting with the Bulldogs this weekend. What are Georgia's chances with Big "TD"?
Lucas: "20% IMO. Don't think it happens. I believe he is Florida bound."
Rick: "I think if we had the room, he would be a Dawg, but we miss because I don't think there is room to take Slaton."
Savannah: "I don't think it will happen. I believe Slaton may be a "B" or "C" option but not a real push."
If Georgia did get Tedarrell Slaton, would he play on the offensive line or defensive line, what position? (from member BroDawg)
Rick: "If he comes (to Georgia), it's as a DT my opinion."
Savannah: "Defensive line for sure."
A number of fans are concerned about Markaviest Bryant. He visited LSU last week and by all reports had a good visit, but the real concern is with Auburn as he visits them this weekend. How are things with "Big Cat?" Is either Auburn or LSU a real threat to poach him from the Peach State?
Lucas: "They are definitely a threat, yes; but Georgia leads right now. Just have to survive this Auburn visit. BTW, if he does come to Georgia, thank (Kevin) Sherrer, because he will be one of the biggest reasons."
Rick: "Both schools are threats, but he's all Dawg unless the 'bag man' visits."
Savannah: "Auburn IMO is the only big threat. I think that UGA has a really good shot at landing this talented guy. He likes the early enrollees and the other recruits a lot, and they seem to talk a lot. I think that if Coach Kirby Smart can get in one more visit before NSD, he is all Dawg, but I think he is all Dawg regardless."
Should fans be concerned about Bulldawg WR commit Mark Webb Jr. and his official visit to Penn State this weekend at all?
Lucas: "Do not believe so. I'd be surprised if he went elsewhere."
Michael: "I don't believe so. (D'Andre) Swift coming (to Georgia) should be enough to keep him committed."
Rick: "Not at all."
Savannah: "No. I don't think so. He is all Dawg, and he is just taking a visit to take one."
If Ameer Speed doesn't pick the Dawgs and Jamyest doesn't flip, will Georgia offer Eric Stokes? (From member Russell Miler)
Lucas: "Already offered him, but yes. They'd take him IMO."
Rick: "I believe Georgia take him."
Savannah: "Georgia's already offered him. Would they pursue him? Probably so."
Bulldawg Bob: "He's been offered, but he doesn't have a committable offer till a spot opens up if that makes sense."
Let's say one or two (signees) don't qualify academically or we don't fill a slot or two; will there still be a JUCO or graduate transfer (like Catalina) the Bulldogs can recruit after NSD? (From member B Stanley)
Savannah: "I don't think there will be transfers like Catalina unless UGA is desperate. I think that there is a plan in place that the program will abide by."
Bulldawg Bob: "JUCO d-lineman Brandon Henderson is on deck if that happens and so is cornerback Eric Stokes, Jr."
So what will be Georgia's biggest NSD "heart breaker?" (from member B Stanley)
Lucas: "As of right now, it seems like it will be (Aubrey) Solomon. If Kirby can actually convince him to take this visit this weekend, then I will retract that statement (LOL)."
Rick: "Not enough spots."
Savannah: "It just depends on who you believe is the most important."
Bulldawg Bob: "I think for me, it will be tug at the old red and black heart strings if one or two of these young men currently committed are not able to qualify academically after NSD is said and done, but on NSD itself, it would be if Georgia doesn't finish with 25 or more signees."
Any new news with the class of 2018, 2019 or 2020 prospects?
Lucas: "I talked to John Emery, the 2019 RB out of New Orleans, Louisiana. He received an offer from Georgia just a few hours ago. Emery said he doesn't know much about the Georgia program, but he wants to learn about it. He also added that he always looked up to Todd Gurley. He is only a sophomore, but he has some pretty good highlights. Emery showed good power of pushing people into the endzone and breakaway speed to go for the home run TD."
Rick: "I talked with 2019 Texas WR Theo Wease and asked about a top 5 and his response was 'No order: USC, OU, Clemson, Ole Miss, A&M/Baylor/UGA". I also asked if he ever considered UGA before the True19 game, and Wease said 'yes' all the time because A.J. Green played at UGA; he's been compared to him a lot. Wease said he has kept in contact with Owen, Jashawn, Blaylock, and Jadon a little."
Will Georgia take 1 or 2 QBs in 2018? (From member Russell Miler)
Lucas: "2 IMO. Probably one dual threat and one pocket passer."
Rick: "At least one but I think they take multiple."
Bulldawg Bob: "I agree with Lucas Rogers. I think Georgia tries to take 2, but they are definitely going to sign 1 QB for 2018."
What about RBs next year? Since Georgia only took Swift … and Chubb and Michel will leave after their senior season, will the staff try to take 2 RBs in 2018? (From member Russell Miler)
Lucas: "Bulldogs will take 2 next year."
Rick: "Georgia will have Swift, Herrion, Holyfield, and Crowder could move back to tailback if needed; so, 1 to 2 … but the staff may tell Zeus he's the only one they will take in order to secure his recruitment."
Bulldawg Bob: "Like QB, Georgia's goal will be to take 2 RBs if they can."
Lucas, sum up how you feel about where Georgia stands for the class of 2017 right now headed into this last week before NSD on February 1st?
Lucas: "I believe this signing day is going to pretty wild. There are so many different outcomes that could happen, and I am not really sure what all will go down. Looks like Georgia has some valuable back up plans in case they do miss on some people. This class is already the best in Georgia history; so, no matter what happens, the class is amazing. It will be intriguing to see what happens this last week."
"So, right now, I am leaning towards the final class looking like Georgia will keep all commits currently and adding: Markaviest Bryant, Jamyest Williams, Ameer Speed, and Nico Collins. Obviously, that can all change, but this is what I see happening if signing day were today."
"I know people really want to know about Solomon, but I honestly don't know what he's going to do. When he de-committed from Michigan, it was known Georgia led, and then a few weeks ago Alabama led, and now Michigan supposedly does. So, in this next week, who knows what will happen with him. Don't like Georgia's chances right now, but I guess we can see what happens."
"If Kirby can get an in home with Solomon and momma, and convince him to be a Dawg, then take away one of the DB's or take away Nico (Collins) IMO."
Savannah, what about you? Sum up how you feel about where Georgia stands for the class of 2017 right now headed into this last week before NSD on February 1st?
Savannah: "I will say this. I think that UGA will have some surprises on NSD, but if they don't, either way, it is going to be memorable. Honestly, my favorite day of the year!"
By the way, we would like to invite all our fellow Georgia Bulldawg fans who enjoy the adventurous roller coaster ride that is college football recruiting to come to Athens, GA for National Signing Day on February 1st. Bulldawg Illustrated will be covering NSD all day. Greg, Savannah, Michael and I will be at Five Bar in downtown Athens along with the Original Signing Day Crew. Jeff Dantzler and Hamilton Culpepper will be at the Blind Pig Tavern downtown as well. We will also be providing coverage from the Butts-Mehre Heritage Hall where Kirby Smart will be holding an NSD press conference later in the afternoon. CLICK HERE for more information. We hope to see you there!