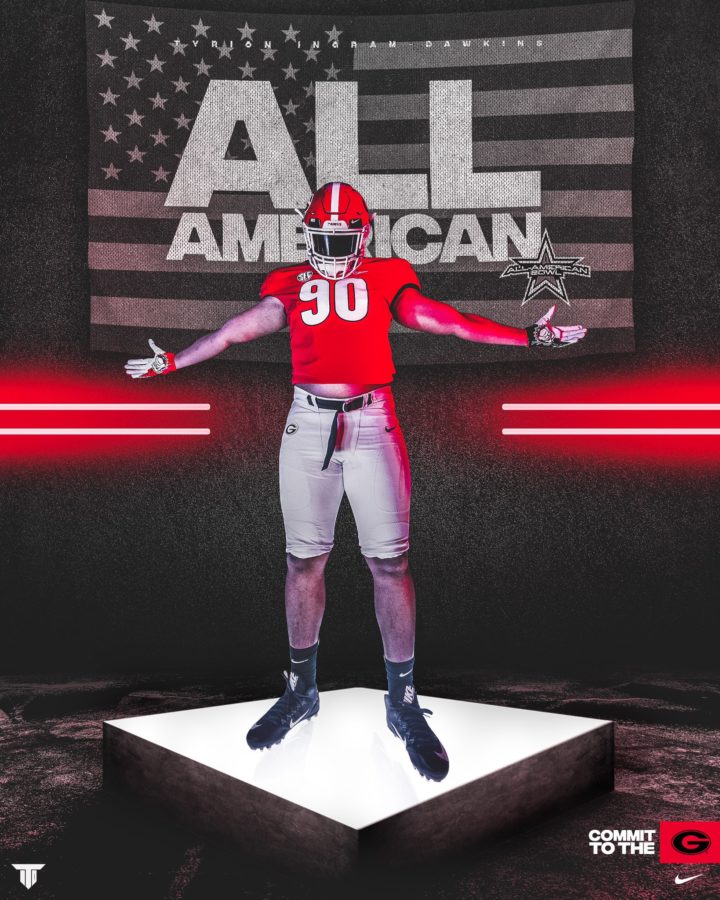 Tyrion Ingram-Dawkins, aslo commonly referred to as TID for short, has committed to the University of Georgia. This is a big pick up for Georgia literally and figuratively. In TID, the Dawgs are gaining the commitment of a 6'5″ 300 pound interior defensive lineman that will go a long way towards fortifying the depth along the defensive front as Georgia is likely to lose 4 interior lineman alone after the 2020 season. Malik Herring, Devonte Wyatt, and Julian Rochester are all set to graduate and Jordan Davis is likely to head to the NFL.
Not only is the Gaffney, South Carolina native welcome due to the depth he will provide, but he is a tremendous athlete and player in his own right. TID played basketball as well as football at Gaffney High School and has grown into an interior lineman, gaining over 40 pounds in the past calendar year, yet maintaining his athleticism and quickness. Ingram-Dawkins is constantly in the backfield of his opponents and his coaches will also utilize his athleticism and size on offensive from time to time by letting him catch a pass or carry the ball, especially in the redzone.
Tray Scott, whom recruit after recruit tells me is a truly genuine person and a great communicator, led the charge for Georgia in Ingram-Dawkins's recruitment. Scott did a tremendous job of fighting off TID's in-state Gamecocks, Mack Brown's resurgent North Carolina Tar Heels, and the Tennessee Volunteers. These three schools wanted Ingram-Dawkins badly and were incessant in their public recruiting of him via social media. Ultimately, Scott and the Georgia staff were able to convince Ingram-Dawkins that Athens was the best place for him to develop.
As far as the interior defensive line goes for the remainder of the 2021 class, Georgia is still likely to add at least a couple more. Ingram-Dawkins makes the second defensive tackle committed to UGA in 2021, with Marlin Dean having committed to Georgia (for the second time) back on September 4th. Maason Smith, Taleeq Robbins, and Jalen Williams are all three still being heavily recruited by UGA and signing at least two of the three would be ideal.