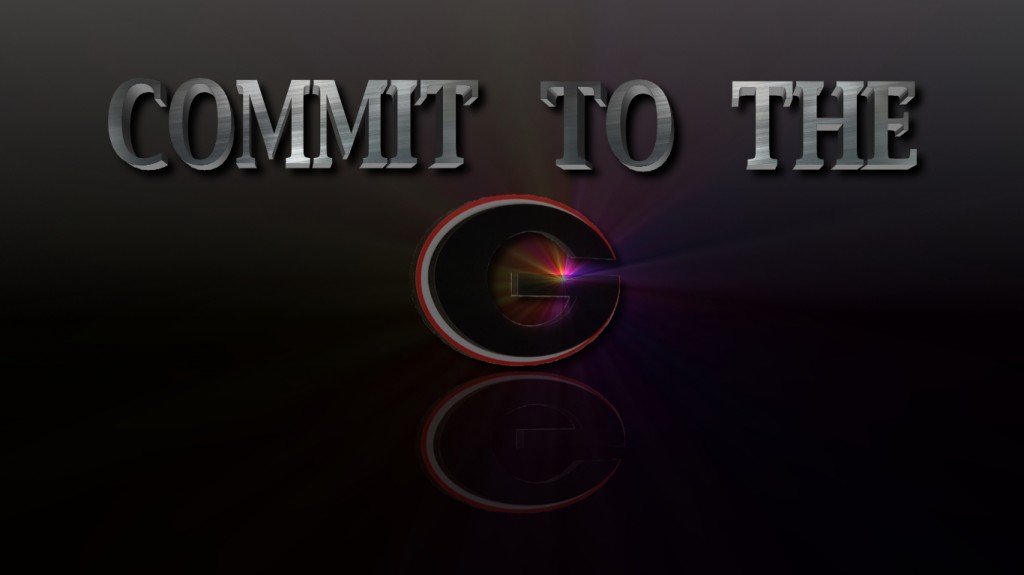 .
College football's National Signing Day is less than 3 weeks away. Where do the Georgia Bulldawgs stand with this year's recruiting class? UGA CFB Recruiting – 2015 Update – Jan 16 .
.
How many scholarship spots  do the Dawgs have available for 2015?
Answer: 27
.
How many commitments does Georgia currently have for 2015?
Answer: 26
As of today, Georgia currently has 26 verbal commitments for the 2015 recruiting class plus 1 transfer from UAB, senior ILB Jake Ganus.
.
Does Georgia have any early enrollees in this year's class?
Answer: Yes. (7)
In fact, those 7 EEs have already signed financial aid paper work and are enrolled in classes at UGA, along with Jake Ganus, the senior ILB transfer from UAB.
.
CLICK ON IMAGE TO ENLARGE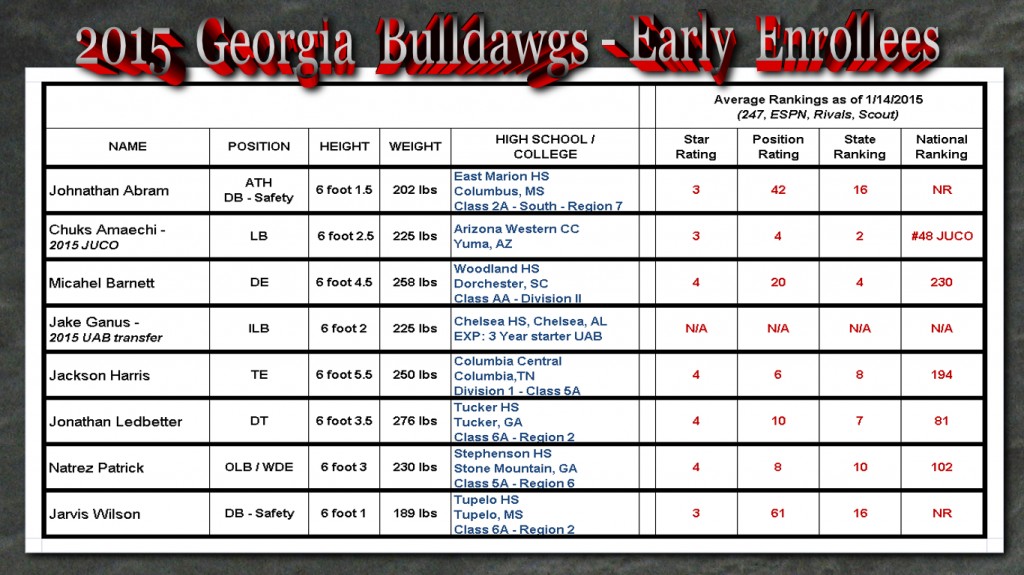 .
How many players will Georgia likely sign for 2015?
Answer: 30 to 31
.
How can Georgia sign more than the NCAA maximum of 25 allowed to division 1, FBS college football programs per year?
Georgia is allowed to back count up to 7 early enrollee scholarships for 2015; however, the University still has to abide by the maximum of 85 scholarship players on the roster rule.
.
How can Georgia sign 30 to 31? Won't that put them over 85 scholarships?
The NCAA is allowing an exception this year for schools that take UAB transfers. Schools that take an UAB player will be allowed to carry 86 scholarships in 2015 on the roster but only 84 in 2016.  If Georgia does end up signing 30 to 31 players for 2015, even with the plus 1 exception,  that would still put them over by 3 to 4 spots.
That means that 3 to 4 players currently on scholarship on the roster at UGA may not be come the end of Spring Semester before the start of the 2015-2016 academic calendar year. I expect there to be some attrition between now and the end of May. If there is no attrition, no spots that open up, then Coach Mark Richt and the University have the option of "gray shirting" players, but "gray shirting" is not something that CMR and Georgia normally practice.
.
What is a "gray shirt?"
.
.
Who are Georgia's current commitments for 2015?
There are currently 18 commitments on defense, and the other 8 are on offense. There are 5 defensive linemen, 5 linebackers, 8 defensive backs, 2 offensive linemen, 1 tight end, 1 running back, and 4 wide receivers committed to the Dawgs so far. Athlete Terry Godwin could play either on defense at DB or on offense at WR, but I have him listed at DB for the time being.
.
CLICK ON IMAGES TO ENLARGE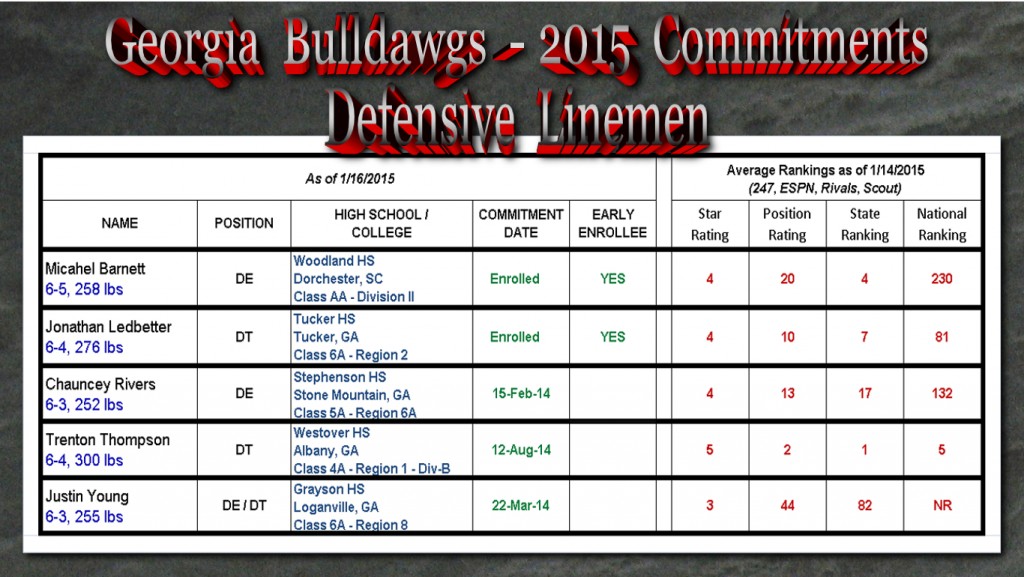 .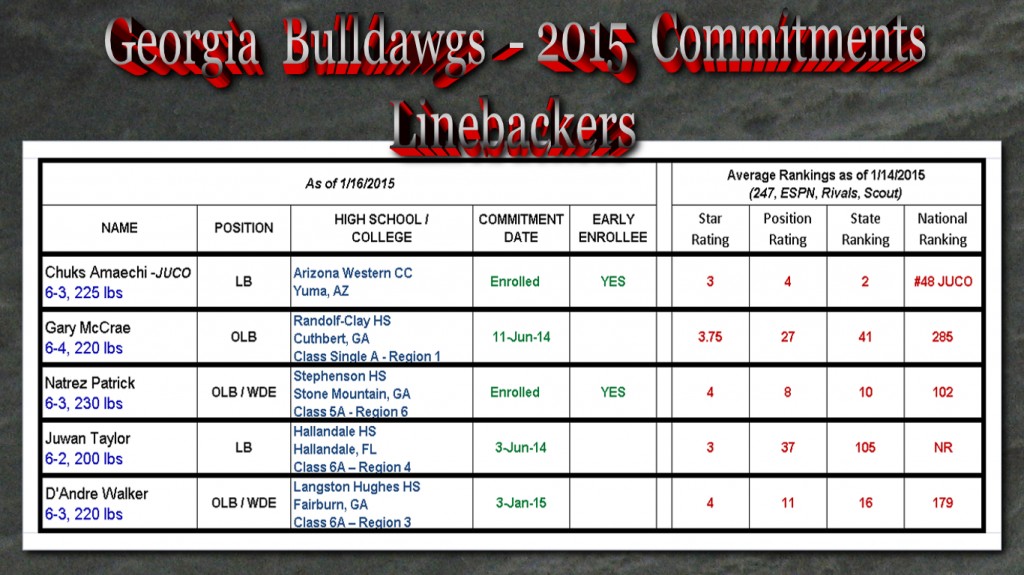 .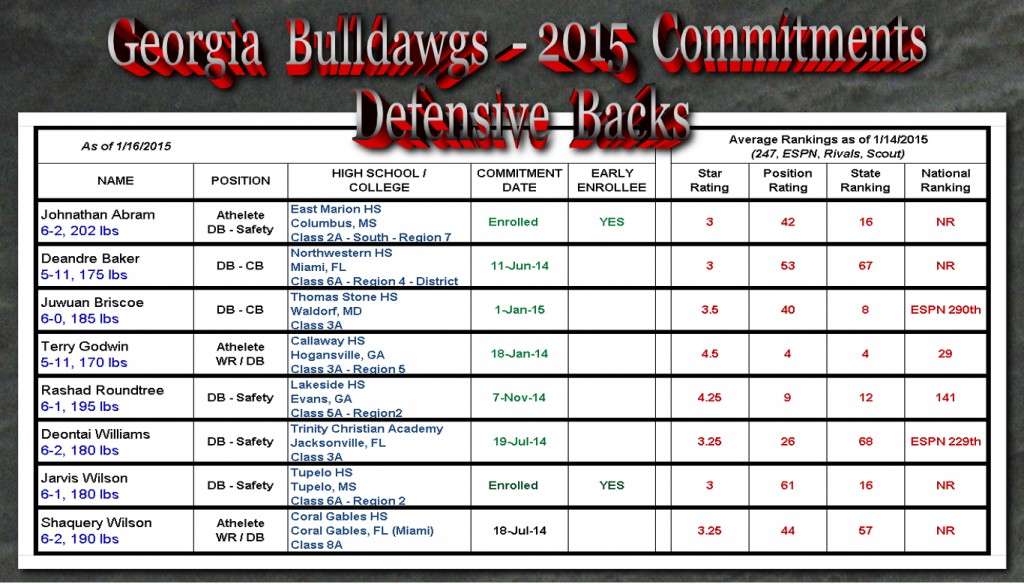 .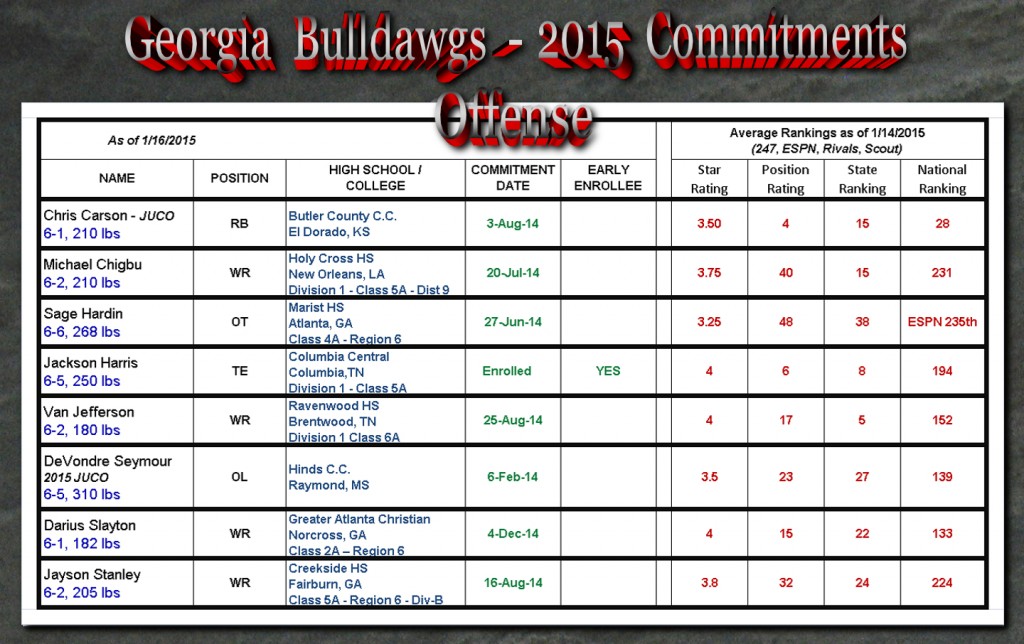 .
Who are some of Georgia's remaining targets?
.
CLICK ON IMAGE TO ENLARGE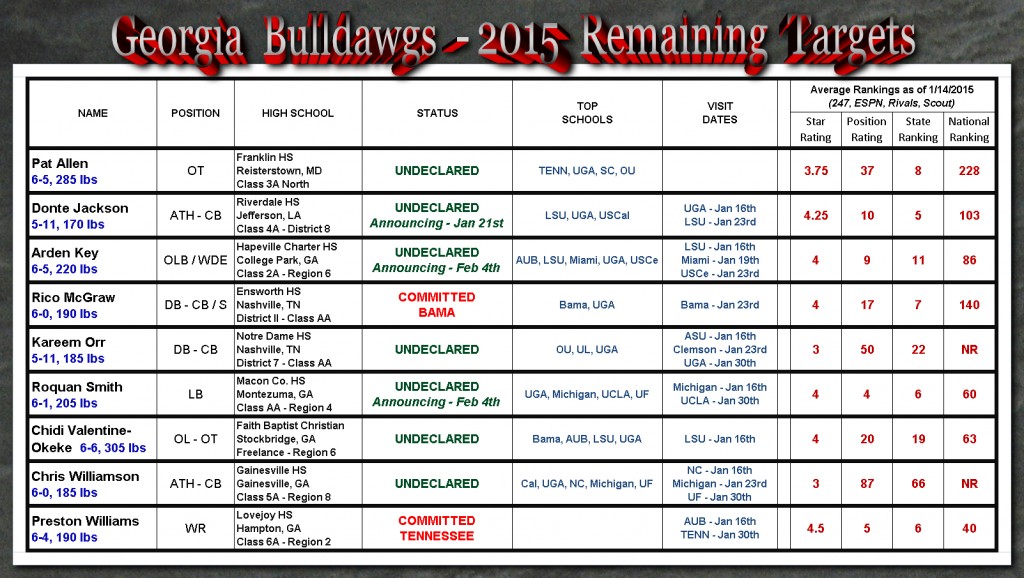 .
How many of those remaining targets will Georgia likely sign and who?
Answer: 4 to 5 
Out of those 9, I am 99% confident in LB Roquan Smith signing with UGA. I am 50/50 on OT Pat Allen and CB Donte Jackson. Georgia and Coach Pruitt have made a lot of headway on recruiting Kareem Orr, and the Dawgs get one of Orr's last visits. Georgia and Coach Pruitt have also recently offered and made a good impression on Gainesville HS CB Chris Williamson.
.
Does Georgia have a chance of flipping any players already committed to another school?
Georgia still has a chance to flip Alabama commit Rico McGraw, who was originally committed to the Dawgs before flipping to the Tide back in July.
.
Are there some other players on Georgia's "radar"?
Safety Kirby Choates – Tri-Cities HS out of Atlanta, GA; Athlete Javarius Davis – Ed White HS, Jacksonville, FL;Tyreik Gray – RB/Return Specialists out of Lamar HS, Houston, TX; and Athlete Dorian Walker – Mount Paran Christian School, Kennesaw, GA.
Georgia coaches are also doing their best to add 1 or 2 more offensive linemen to this year's class since only 2 are currently committed to the Dawgs. A recent name that has popped up is Dunwoody high school's Nick Buchanan who is currently committed to the University of California.
.
[gcal id="49472″]
.
[adrotate banner="4″]
.
[ts_fab]