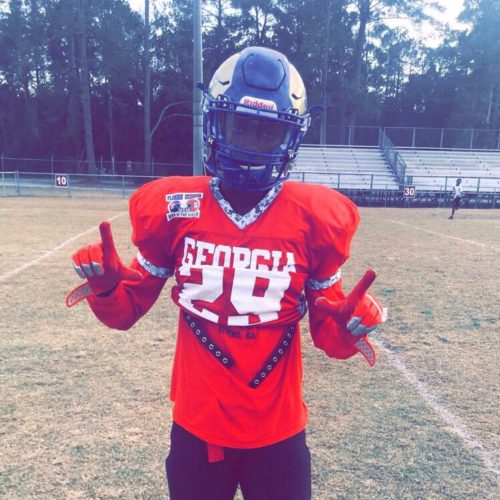 UGA Recruiting Daily Thread
TODAY'S FEATURED PROSPECT: David Spaulding
David Spaulding is a three-star cornerback from Bradwell Institute in Hinesville, Georgia. He stands at 6-2 175 pounds. According to the 247 Sports rankings he ranks as the No. 70 CB and the No. 79 2019 Georgia prospect. Spaulding currently has five offers with the latest coming from Chattanooga on April 13. However, I expect that number to rise by the end of his senior season. He's a Georgia kid and claims Georgia as his dream school. Spaulding is a nice size cornerback that works hard. According to his Twitter, he visited FSU on April 15. Prior to that, he visited Florida and USF around April 8. I expect schools to start noticing him a lot more once he gets a few more camps under his belt. Spaulding, in my opinion, is one of the most underrated corners in the state of Georgia.
David Spaulding Interview:
Q: How is the overall recruiting process going for you?
A: "Recruiting is picking up, just started up in January. I like the way it's going so far."
Q: Do you have any Schools in the running where you'll take your official visits?
A: "I'm waiting it out to decide on my officials."
Q: What do you think of Georgia?
A: "I think of Georgia very highly, and I love what they're doing with the program. Kirby Smart is a great coach."
Q: How hard are they recruiting you? And what are some things they are telling you?
A: "Georgia isn't really recruiting me very hard but I believe that is going to change in a month."
Q: What would it mean to you to get an offer from Georgia?
A: "If Georgia offers me, I would be very honored. Knowing that I have the ability and skill set to play in the SEC, it would be an honor."
Q: What are some goals you hope to achieve this season?
A: "A goal that I want to achieve this year is to succeed in my leadership with my team."
Q: What are the key factors that will go into your decision?
A: "Key factors that will go into my decision is somewhere I feel comfortable, a great relationship with the coaching staff and a great education so after football life, I'm set."
Q: If you could go any school in the country where would you go?
A: "There's a lot of schools I would love to visit first. My recruiting is just building up so I'm kind of having an open mind, getting a feel for things."
Q: Have you decided when you will commit to a school? If so when?
A: "I will commit to a school on National Signing Day."
David Spaulding Film:
---