UGA golfer Jillian Hollis turned in a solid top-10 individual finish to lead the 8th-ranked Georgia women's golf team to a fifth-place finish at the Darius Rucker Intercollegiate. The Bulldogs shot a 9-over par 293 in Sunday's third and final round to finish with a tournament total of 880.



Georgia's counting tallies featured a 1-over 72 from Hollis, a pair of 73s from Harang Lee and Bailey Tardy and a 75 from Rinko Mitsuanga. Mary Ellen Shuman signed for a 78, the Bulldogs' drop score.


"It was a solid day," head coach Josh Brewer said. "We would never celebrate a fifth place finish, but this is a tough course and we moved in the right direction. I think we got better each day."


Hollis completed the 54-hole event at 5-over 218 and tied for ninth. The sophomore from Rocky River, Ohio, notched her third top-10 in six events this season, following ninth- and 10th-place showings at the Cardinal Kickoff and Windy City Collegiate, respectively.


"It was a really good tournament for Jillian," Brewer said. "She played well all three rounds. Rinko had a really good opening round that kept us in it. We'll go to work on what need to work on. We need to have all five scores be there for us. We'll continue to work and find the best five golfers. If we can do that, we have a chance to achieve all of our goals for this season."


No. 5 Alabama captured the team title at 859, two shots better than No. 18 Duke. Rounding out the top 10 in the 17-team field were No. 10 Arizona State at 865, No. 14 South Carolina at 876, the Bulldogs at 880, No. 6 Furman at 883, No. 19 Baylor at 890, No. 11 Wake Forest at 892, No. 16 Oklahoma State at 895 and North Carolina at 897.
Alabama's Cheyenne Knight shot 65 on Sunday en route to capturing medalist honors at 8-under 205.
For Georgia, Tardy tied for 17th at 220, Lee and Mitsunaga both tied for 21st at 221 and Shuman tied for 81st at 240.
FINAL TEAM STANDINGS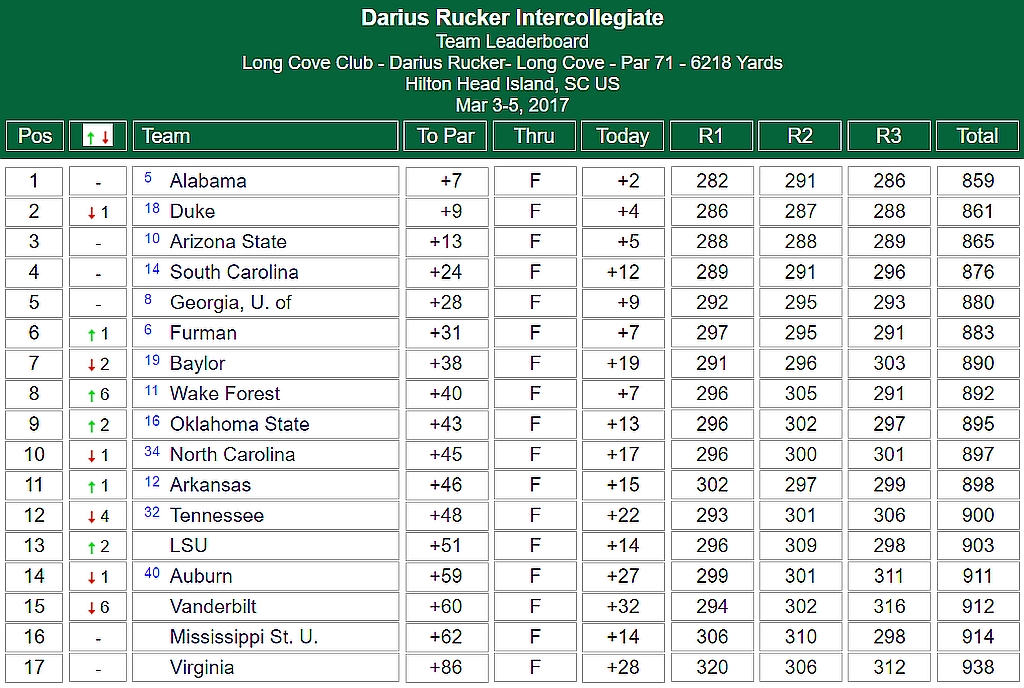 FINAL PLAYER STANDINGS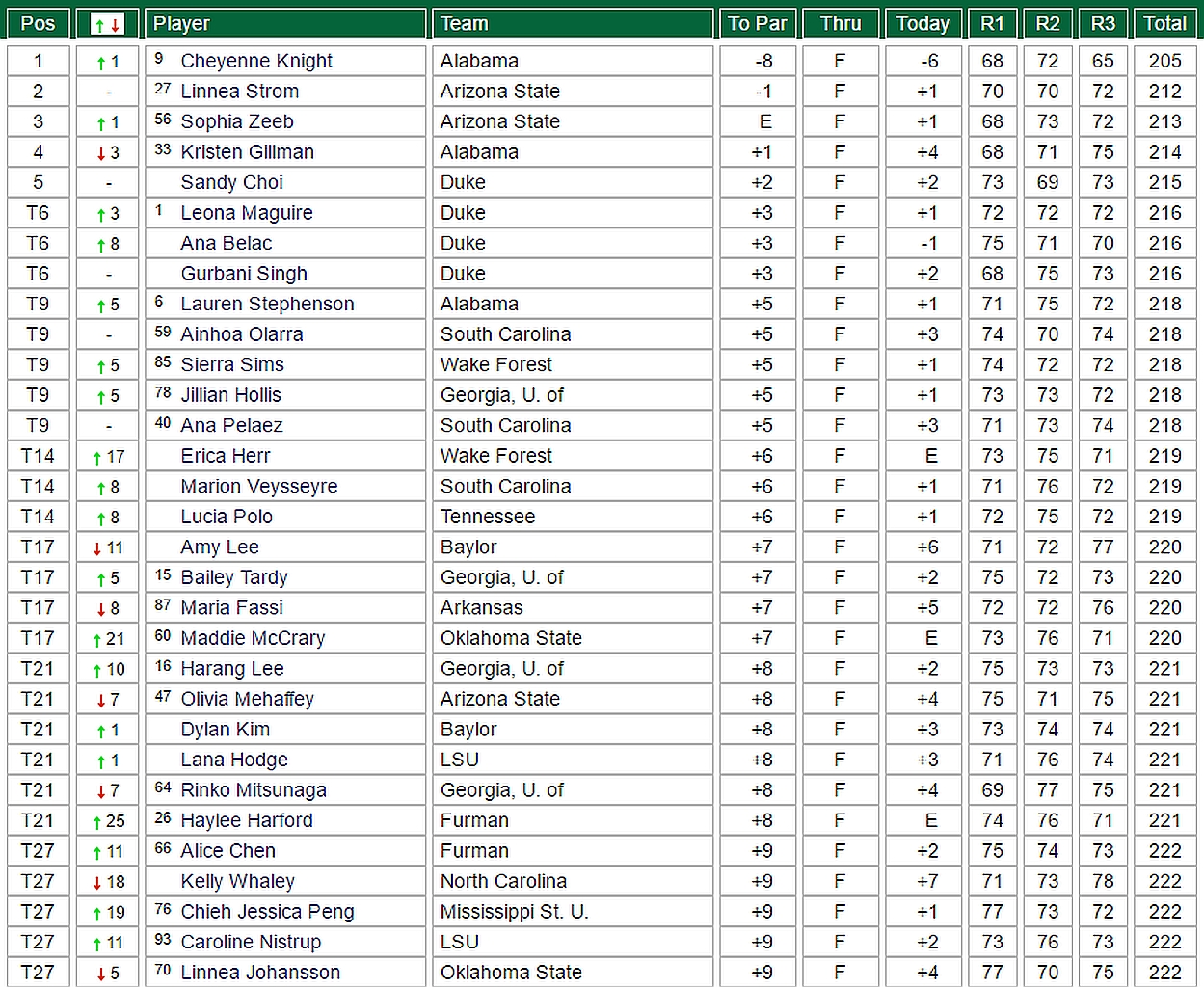 Georgia will return to action when the Bulldogs travel to Los Angeles to compete in UCLA's Gifford Great 8 Match Play Championship next Monday and Tuesday. The eight-team event at Brentwood Country Club includes the Bulldogs, the Bruins, Colorado, Ohio State, Oregon, Oregon State, Purdue and Southern California.