[break] Georgia soccer head coach Billy Lesesne announced the team's schedule for the upcoming spring season on Monday, Feb. 16, which includes two home matchups for the Bulldogs.
The Bulldogs also opened spring practice on Monday, getting underway with formal team practice at the Turner Soccer Complex.
[break]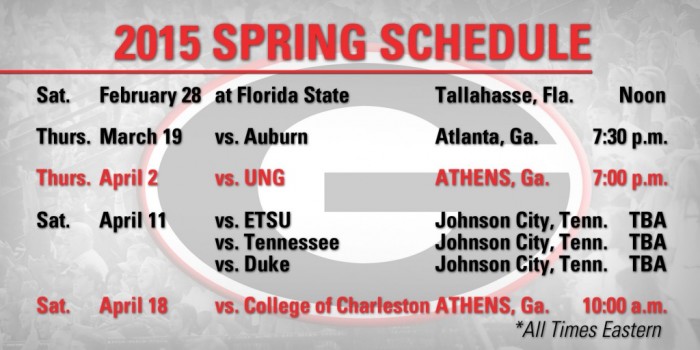 [break] Georgia will kickoff its spring season on Feb. 28 when the Bulldogs travel to Tallahassee to take on the 2014 NCAA Champion Florida State Seminoles. The Seminoles finished the 2014 season with a 24-1-1 record and defeated Virginia 1-0 to capture their first national championship in program history.
Georgia will take on SEC rival Auburn at the Georgia State soccer field in Atlanta on March 19 at 7:30 p.m. Lesesne will get his first taste of being in front of a home crowd on April 2 when the Bulldogs host the University of North Georgia at the Turner Soccer Complex at 7 p.m.
The Bulldogs will then play three shortened games against ETSU, Tennessee and Duke in Johnson City, Tennessee on April 11, before finishing up the spring season with another home matchup against the College of Charleston on April 18 at 10 a.m.
Georgia is coming off a 10-8-2 campaign in 2014 with a 5-5-1 record in Southeastern Conference play. The Bulldogs reached the quarterfinals of the SEC Tournament and earned a berth in the NCAA Tournament for the first time since 2011.
Earlier this month, Lesesne announced the first signing class of his tenure at Georgia, adding five new players to the team. The incoming class will add to an already strong returning group of players that includes five rising seniors, 12 rising juniors and 16 rising sophomores.
Photo by Sean Taylor/Georgia Sports Communications