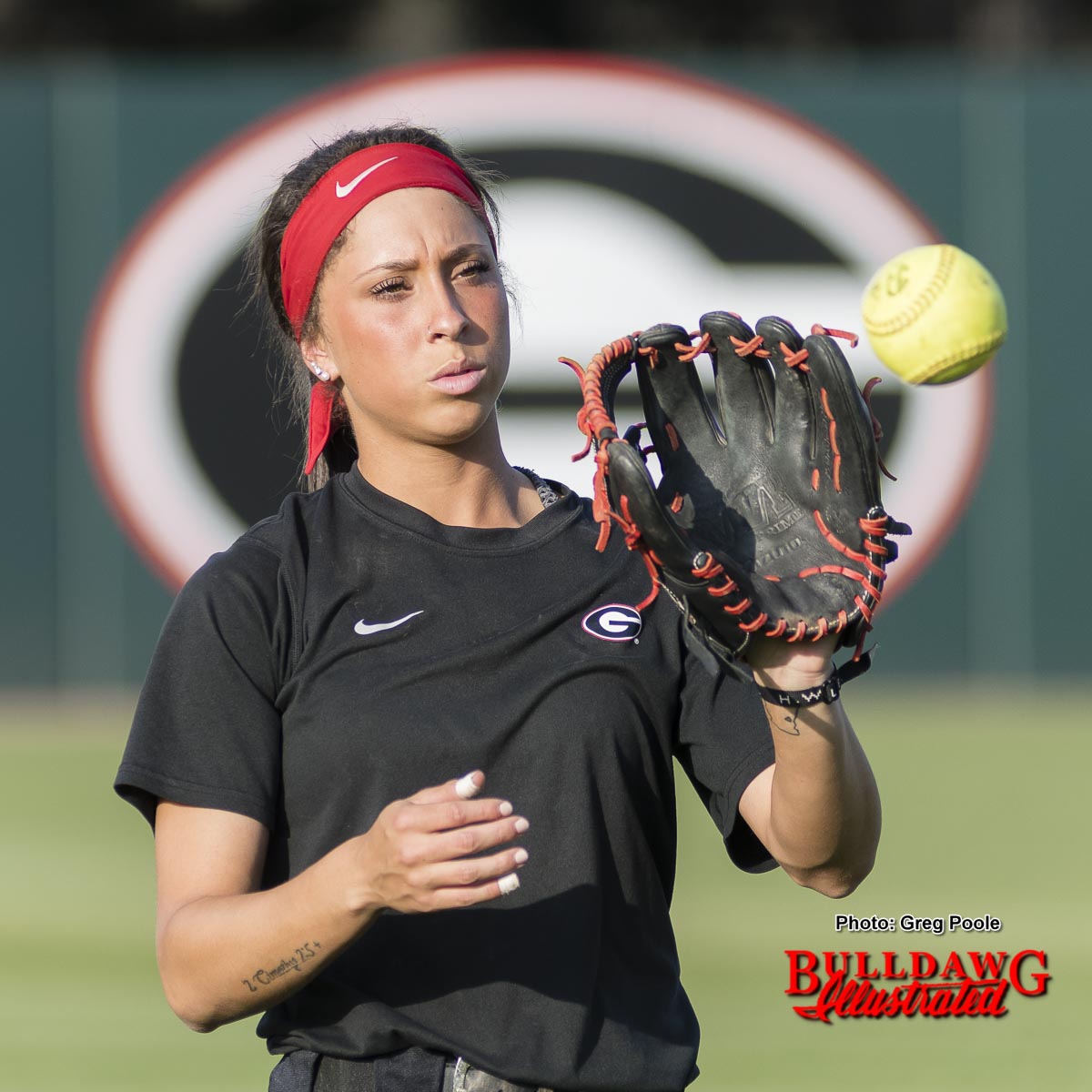 Offensive catalyst, Justice Milz, and pitching ace, Brittany Gray, propelled No. 17 Georgia softball to a 10-2 win over Samford and an 8-0 shutout versus Evansville, respectively, Saturday in the Red & Black Showcase at Jack Turner Stadium.
Georgia improved to 8-1 on the season and has only conceded two runs in the four-team weekend tournament that also features Winthrop and continues Sunday.
In game one against Samford (0-8), Milz (4-4, 5RBI, HR) finished a triple shy of the cycle. The second baseman's four hits tied her career-high set against BYU last weekend and the five RBIs set a new career mark. Adding to her first game total, the sophomore (1-2 HR, 2RBI, BB) drilled a two-run home run off of the left-field scoreboard against Evansville.
Against Evansville (2-3), Gray fanned career-high 12 batters en route to her third complete game of the season and continued her unblemished earned run mark. The Greenwood, Ind. product struck out the first four Purple Aces to start the game and didn't surrender a hit until the third inning – Evansville's only hit. The senior right-hander improved to 3-0 on the season and upped her season strikeout total to 29.
"We're very excited for Brittany (Gray), a career-high strikeout day and she controlled the hitters with her different speeds," Georgia head coach Lu Harris-Champer said. "But the offense also excelled, you have to be happy when you hit five bombs in one day. Justice (Milz) had a big RBI day and really pushed us through."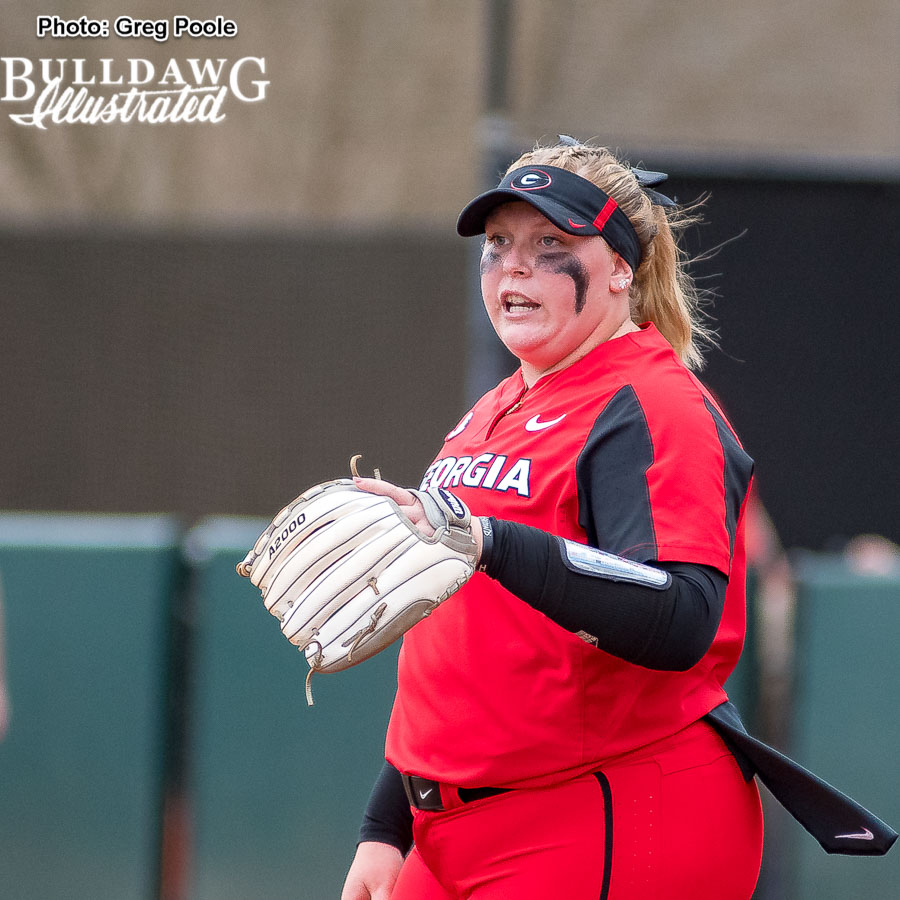 Off the bat in the first inning against Samford, Milz hit the left-center field light pole with a towering home run. Milz struck again in the third inning with a two-run double in the left-center field gap. Alyssa DiCarlo drew a walk in the next at-bat, which chased Samford starter Emily Barnett (0-1) out of the game. Georgia's four-hole hitter Alysen Febrey promptly roped a single to load the bases, and then a wild pitch plated Milz. Two batters later, sophomore Ciara Bryan tripled to deep right field, scoring DiCarlo and Fabrey and strengthening Georgia's lead to 6-0. Two more runs off a Milz single in the fourth made it an 8-0 Georgia edge.
In the top of the fifth, the visiting Bulldogs put up two runs and loaded the bases. Entering from the bullpen, sophomore right-handed Mary Wilson Avant ended the threat with a strikeout.
An off-the-wall two-run double by sophomore Mahlena O'Neal in the sixth inning enacted the run rule, securing Georgia's first win of the day. Scoring on the play was Milz after her second single of the game and DiCarlo after her second walk of the game.
Georgia starter Lauren Mathis (2-0) picked up the win after tossing four scoreless innings with four strikeouts and yielding two hits. Avant threw 1.1 innings of perfect relief, strikeout out three of the four batters faced.
Outside of Gray's one-hitter, the scoreless tie was broken in the third with two doubles. With one out, Emanuel found the left-center field hole, while DiCarlo's two-out drive down the right field line plated Emanuel. In the next at-bat, Febrey cleared the left field fence with a two-run home run, handing Georgia the 3-0 lead.
A four-run fifth featured Milz' homer after Emanuel's second double of the game, followed closely by Febrey's two-run blast – this time over straight-away center field. Sophomore third baseman Jordan Doggett lined her first career home run into the trees over the right field fence to seal the second Bulldogs' win of the day at 8-0.
Febrey, a first baseman from Peachtree City, Ga., finished game two going 3-for-3 with four RBIs and two runs in addition to her first career two home run game.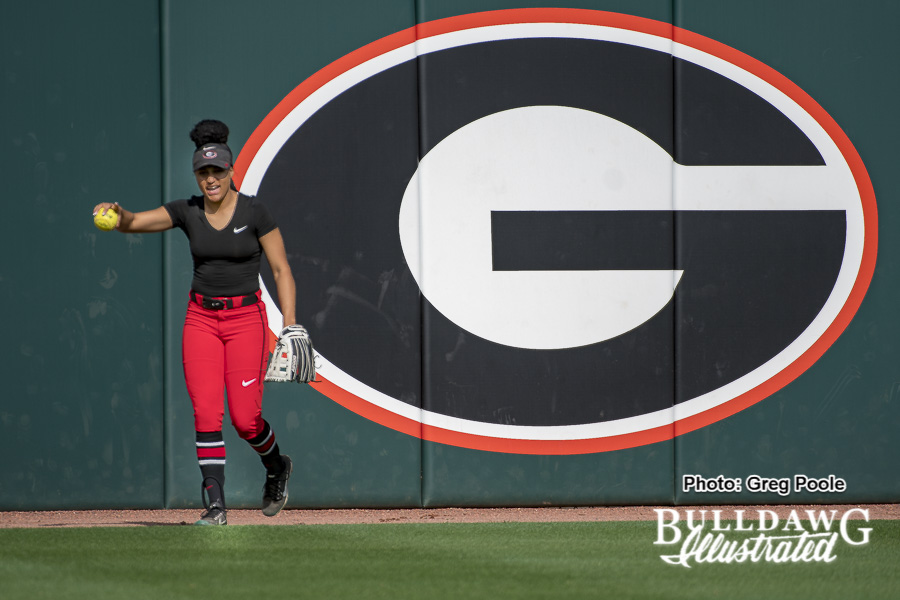 "We're looking at every game as an opportunity to band together and to get better," Harris-Champer added. "We're really looking to work on bringing our training to the games."
Georgia concludes its play in the Red & Black Showcase against Evansville at Jack Turner Stadium Sunday at 1 p.m. Meanwhile, Samford faces Evansville at 10:30 a.m. and Winthrop at 3:30 p.m.
Player Quotes
Senior RHP Brittany Gray
"I think the first game went really well for us. It was great to see some of our freshmen start and get to experience the atmosphere at Jack Turner. I think our defense was excellent and our hitting has been improving all season long."
"It's easy to pitch for a team that has such a great defense. I think we just need to keep making adjustments and giving it our all but we're playing Georgia Softball."