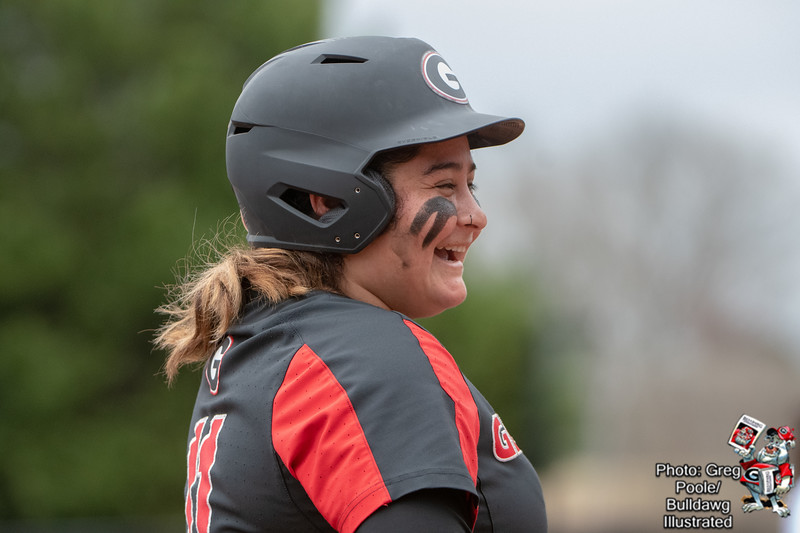 The Georgia softball team clenched two wins Friday, increasing their overall record to 7-1. The Red & Black Showcase is being held in Athens, Georgia, and the Bulldogs have won 3-of-3 games.
Georgia played an all-around good game against both Winthrop and Omaha. The Bulldogs held Winthrop to five innings, defeating the Eagles 11-0. Later on that Friday they held the Mavericks to only three runs, winning 8-3.
The Bulldogs had 19 runs on 18 hits, with Justice Milz, Lacey Fincher and Ciara Bryan having three hits each. Milz and Alyssa DiCarlo drove in four runs each and Lacey Fincher recorded three RBI on the day.
"I thought we started off the day really sharp and had a really good approach. We had a great mindset and really got off and running early. We had the same mindset in the second game and then had a little lull I think, and the pitcher did a good job of changing her speed and location and throwing us off balance a little bit. I'm proud of the way they got it back and put together some good at bats there in the last inning," associate head coach Tony Baldwin said.
The women in the circle played equally as tough. So far this season the Bulldogs have only allowed very few runs. Alley Cutting has a S-ERA of 2.74, which means she only gives up around three runs per game. Against Omaha, Cutting struck out three batters and only let up one run.
Cutting did not play against Winthrop earlier Friday, but Mary Wilson Avant and Amanda Ablan each struck out three batters and only allowed three hits combined. Georgia's pitching this year has been one of the important factors in their success.
"I think that's today's game now, just running one person out there for a weekend has passed and we've got some depth and some variability. They're all starting to grow their game and taking advantage of their opportunities. It was good to see all of them get out there and do well today," Baldwin said.
Due to rainy weather, the schedule for the Red & Black Showcase has been altered. Georgia is slated to take on both Winthrop and Omaha again Saturday, 11:30 a.m. and 2 p.m. respectively.