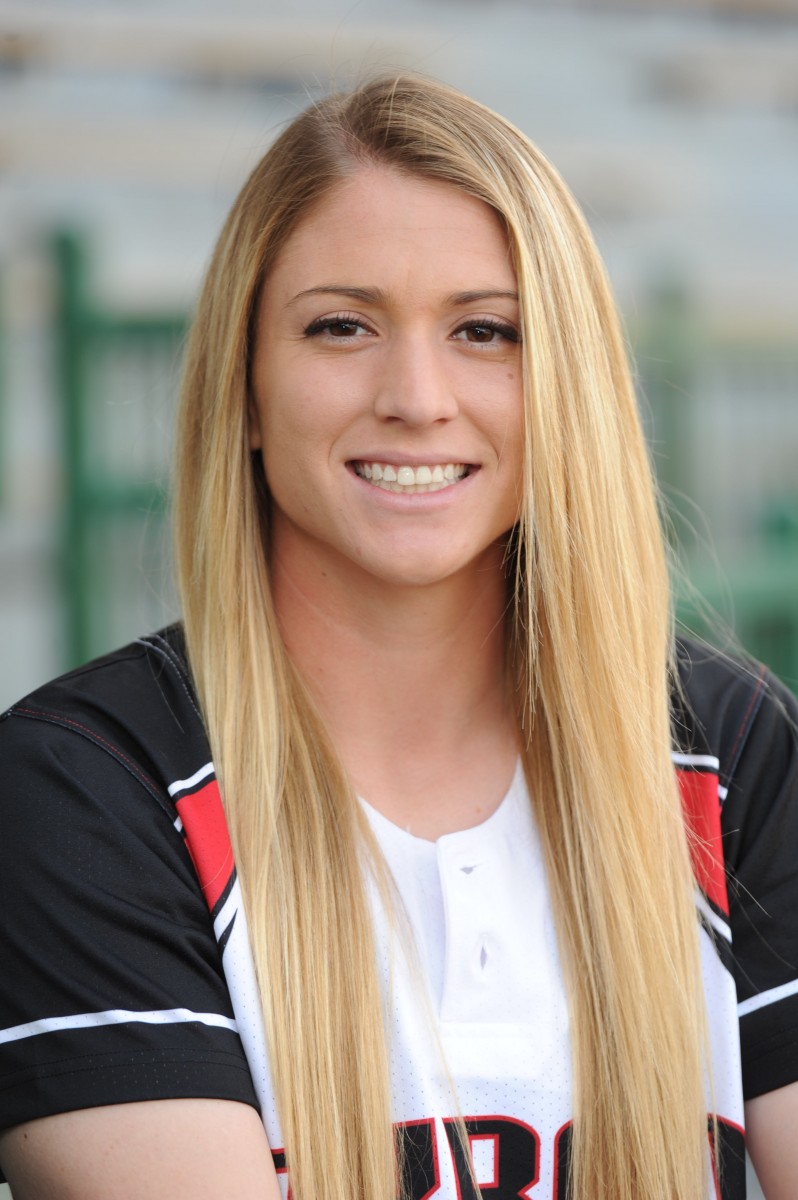 [su_spacer size="20″] With a career that boasts accolades of a two-time National Fastpitch Coaches Association All-American and hailing as the No. 1 draft pick in the National Pro Fastpitch Draft, former LSU standout Rachele Fico joins the Georgia softball staff as an assistant coach for the 2016 season.
"We are excited to have Rachele Fico joining our softball staff," said head coach Lu Harris-Champer. "She is a fierce competitor with great passion for our game. She has experience both on and off the field as a pitcher and pitching coach. Her ability to communicate with her pitchers and teach the feel of each pitch are outstanding."
Fico's experience will add to Georgia's pitching staff that ranked 16th in the nation with a 2.19 ERA in 2015. The upcoming season will see All-American and 2014 Southeastern Conference Tournament MVP Chelsea Wilkinson return for her senior campaign after ranking in the top 20 nationally in victories (28), strikeouts (266) and shutouts (9) last year.
"First I want to thank Coach Lu Harris-Champer for the opportunity to be a part of this program," Fico said. "I'm excited to work with these talented student-athletes and help develop a pitching staff ready to compete for a championship."
Fico served as an assistant coach at top-25 program South Alabama during the 2015 season where the Jaguars took the Sun Belt Conference crown and advanced to its fourth-straight NCAA Regional. Under Fico's guidance, the USA pitching staff held a 2.51 ERA that was top 30 in the NCAA while the trio of pitchers was each in the top 150 individually. Outside of ERA, Fico helped freshman Devin Brown rank fourth nationally in strikeouts per seven innings (10.9) and senior Farish Beard finish seventh in the NCAA in hits allowed per seven innings (4.04). Beard and freshman Kalen McGill earned All-SBC honors.
The Oxford, Conn., native was the No. 1 draft pick out of college, playing the last three seasons with the NPF's Akron Racers. An All-NPF Team selection in 2014, Fico has pitched over 220 innings on her way to 20 wins during her professional career.
While at LSU, Fico was a two-time NFCA First-Team All-American, three-time NFCA All-South Region First-Team member and three-time all-Southeastern Conference honoree.
"We are so excited to have one of our own back in the SEC and involved with such at quality program like the University of Georgia," said LSU head coach Beth Torina. "Rachele is one of the best young pitching minds in the game and will surely make an immediate impact in any program. She has always been a student of the game with knowledge far ahead of her time. She was a game changing student-athlete and an amazing teammate who played with undying passion on the field. I know she will continue to pride herself on these same core values as a coach and just continue to excel. We are so proud of Rachele and wish her the best of luck."
[su_spacer size="40″] During her freshman season with the Tigers in 2010, Fico was named SEC Co-Freshman of the Year in addition to making the all-SEC Freshman and Defensive Team lists. A year later, she led her club to the 2011 NCAA College Station Regional where the Tigers ultimately fell to Syracuse, but not before the right-handed hurler earned a spot on the All-Regional team behind an 18-strikeout performance against the Orange, a feat which tied for second-most in LSU history.
[su_spacer size="40″] Fico also brings Women's College World Series experience after leading the Tigers to Oklahoma City as a junior in 2012 when she earned both wins over No. 9 national seed Missouri at the NCAA Columbia Super Regional. Prior to that, she was unanimously named the NCAA College Station Regional MVP after compiling back-to-back shutouts versus Texas State and No. 8 national seed Texas A&M.
[su_spacer size="40″] Fico completed her collegiate career among LSU's top five in appearances (149), starts (104), complete games (82), innings pitched (774.0), wins (78), saves (8), opposing batting average (0.195), shutouts (32), strikeouts (797) and strikeouts per seven innings (7.21).