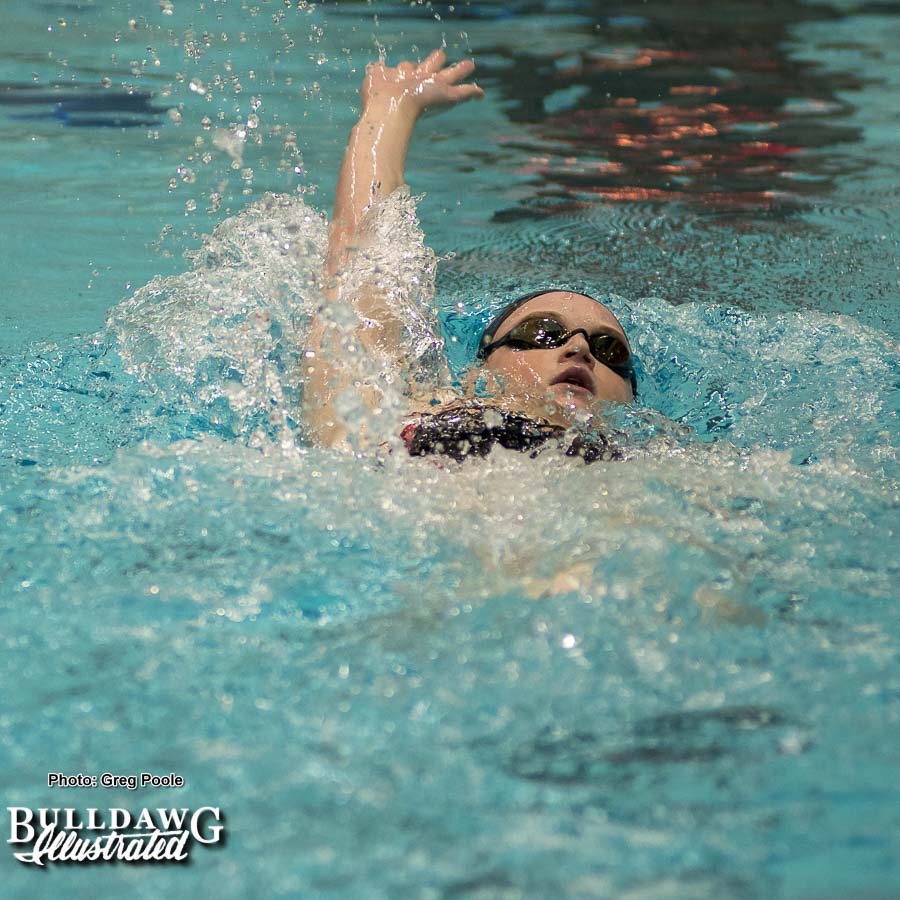 Highlighted by trio of home dual meets against longtime rivals, the University of Georgia swimming and diving team announced its 2020-21 season schedule Tuesday afternoon.
The season will begin with a dual meet at South Carolina on Friday, Oct. 23, followed by the home opener with Florida the following Friday, Oct. 30 at Gabrielsen Natatorium.
In compliance with social distancing protocols during the COVID-19 pandemic, all dual meets will be split into separate sessions for the women's and men's teams. The women will compete at 10 a.m., followed by the men at 2 p.m.
Specific event logistics, including the allowance of spectators at Gabrielsen, are still being evaluated and will be announced at a later date. Additionally, all scheduled events and times are subject to change if necessary.
"We are excited to announce our 2020-21 schedule," said Tom Cousins Swimming and Diving Head Coach Jack Bauerle. "We want to thank our administration, staff, and student-athletes for their efforts that have given us the opportunity to compete. While our circumstances have caused some adjustments, I believe this will help us prepare for the championship season. Our athletes are excited to compete and have been training well during the fall."
The Bulldogs will remain home for a dual against Auburn on Friday, Nov. 6, followed by the return of the Georgia Fall Invitational running Wednesday, Nov. 18 through Friday, Nov. 20. In its lone non-conference competition of the regular season, Georgia will be joined by Florida State and Georgia Tech over the three-day event.
In the new year, competition will begin with the Georgia Diving Invitational on Sunday, Jan. 3 through Tuesday, Jan. 5. The Bulldogs will then host South Carolina on Saturday, Jan. 16 before traveling to Tennessee for the season finale on Saturday, Jan. 23.
Last month, the SEC announced scheduling protocols stating meets could begin on Oct. 1 and must be completed by Jan. 25.
The 2021 SEC Swimming & Diving Championships will be held at the Mizzou Aquatic Center at the University of Missouri in February, but the dates have not yet been determined. The Bulldogs will close their home campaign with the Bulldog Invitational/Last Chance Meet on Saturday, Feb. 27 and Sunday, Feb. 28.
Following the NCAA Zone B Diving Championships on March 8-10, the season finally culminates with the NCAA Championships. The women's championships will be held in Greensboro, N.C. on Wednesday, March 17 through Saturday, March 20, while the men's meet is scheduled for Wednesday, March 24 through Saturday, March 27. The men's championships were originally set to be held at the University of Iowa, but that location is being shifted following the cancellation of the Hawkeyes' program in August.
Broadcast details for specific meets on SEC Network+ will be announced in the near future.
2020-21 University of Georgia Swimming & Diving Schedule
Oct. 23 South Carolina Carolina Natatorium – Columbia, S.C.
Oct. 30 Florida Gabrielsen Natatorium – Athens, Ga.
Nov. 6 Auburn Gabrielsen Natatorium – Athens, Ga.
Nov. 18-20 Georgia Invitational (FSU/GT) Gabrielsen Natatorium – Athens, Ga.
Jan. 3-5 Georgia Diving Invitational Gabrielsen Natatorium – Athens, Ga.
Jan. 16 South Carolina Gabrielsen Natatorium – Athens, Ga.
Jan. 23 Tennessee Jones Aquatic Center – Knoxville, Tenn.
Feb. TBA SEC Championships Mizzou Aquatic Center – Columbia, Mo.
Feb. 27-28 Bulldog Invitational/Last Chance Gabrielsen Natatorium – Athens, Ga.
March 8-10 NCAA Zone B Diving TBA
March 17-20 NCAA Women's Championships Greensboro Aquatic Center – Greensboro, N.C.
March 24-27 NCAA Men's Championships TBA
Home events italicized
Dual meets: women's meet at 10 a.m. / men's meet at 2 p.m.
All times and dates are subject to change