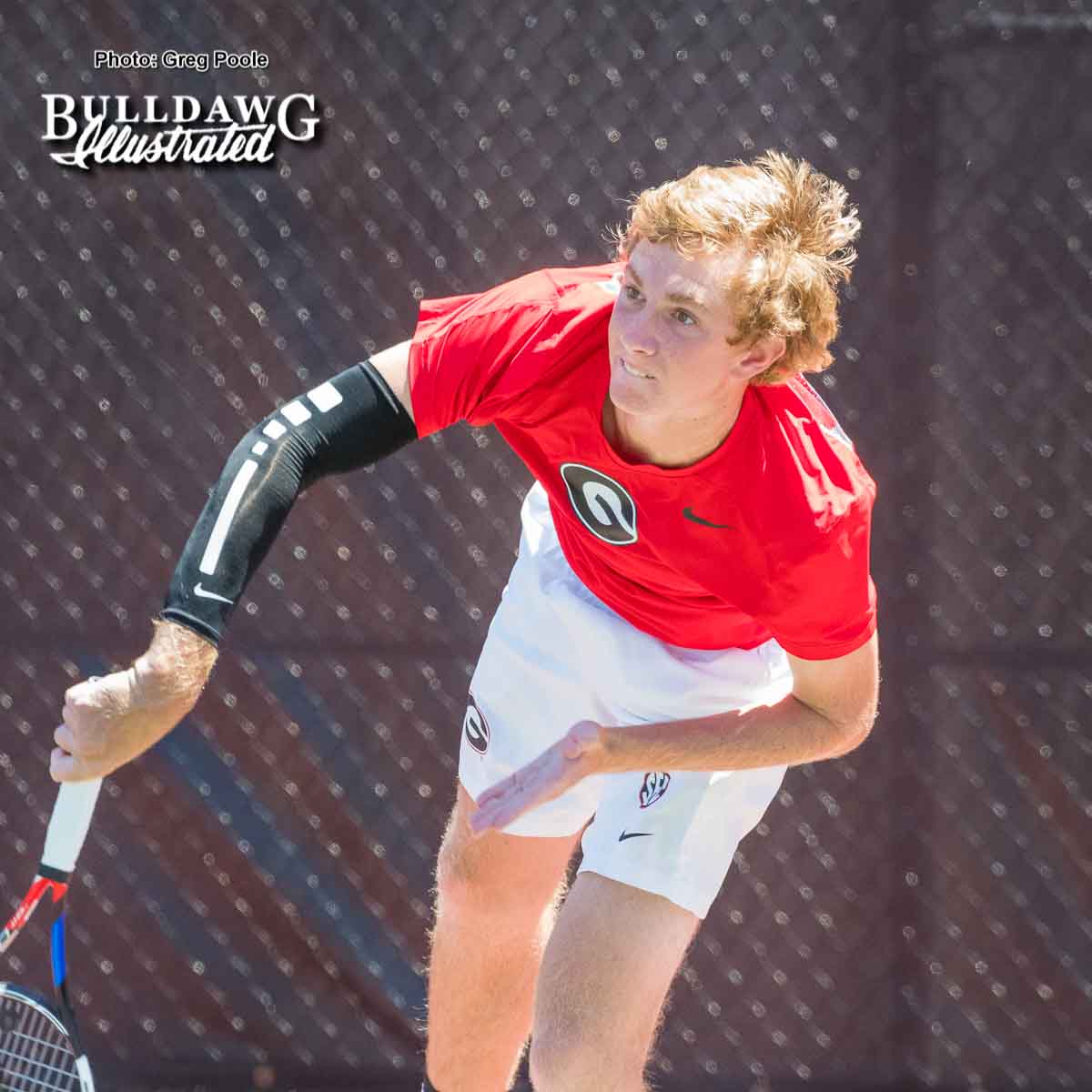 COLUMBIA, S.C. – A trio of consecutive Georgia singles wins were matched by three Gamecock singles victories, handing South Carolina the 4-3 edge at the Carolina Tennis Center on Sunday afternoon.
"South Carolina just played a great match against us – they played extremely well in doubles," Georgia head coach Manuel Diaz said. "We've got to find a way to turn it around, and we've got to find a way to be more resilient and play more confidently and soundly. We are going to prepare for Ohio State and Texas A&M next week the very best that we can. We're not expecting any less from ourselves that I know we're capable of. We've got to stay tough, and we've got to move forward."
In doubles, the Walker Duncan-Wayne Montgomery tandem jumped ahead 1-0 on the second court, but Paul Jubb and Thomas Mayronne returned with a 3-1 margin. The junior-senior Georgia (6-4, 0-2) pair tacked on another set before Jubb and Mayronne sealed the first doubles match at 6-2.
On the first court, the 48th-ranked team of Gabriel Freidrich and Yancy Dennis topped the 12th-ranked pair of Robert Loeb and Jan Zielinski, supplying the Gamecocks (10-3, 1-1) the first point of the match.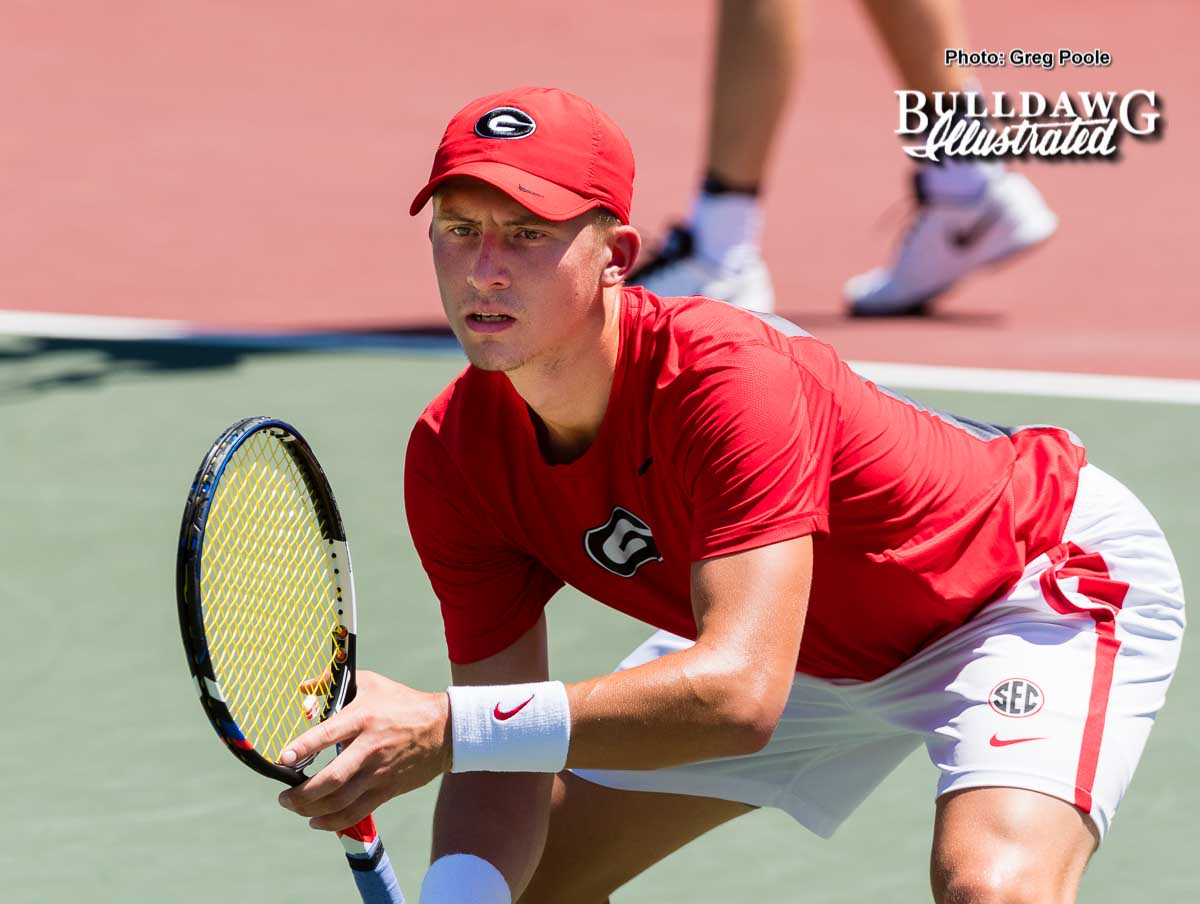 Georgia came out with three-straight singles wins, propelled by Robert Loeb in his first appearance at the fifth court since the 2016-17 season. Loeb breezed to a 6-4, 6-1 victory against the Gamecocks' Harrison O'Keefe, knotting the match at one.
No. 19 Duncan handed Georgia the 2-1 edge and improved to a perfect 7-0 in singles dual play, this time on the fourth court, easing by Thomas Mayronne 6-2, 6-2. On the next court over, Duncan's consistent counterpart No. 28 Zielinski commanded a 6-2 first set, before taking a 7-5 tiebreaker to secure the 7-6 frame and the 3-1 Bulldog lead.
The Gamecocks came back on courts one and two, with the 66th-ranked Freidrich besting 11th-ranked Montgomery with a 7-5, 6-3 showing. On the second court, after winning the first set 7-5, South Carolina's Jubb came back from a 3-0 Nathan Ponwith lead in the second to out the Georgia sophomore 6-4.
Tied at three, the match came down to the sixth court, where sophomore Alex Phillips made his dual play debut against Wood Benton. The redshirt sophomore fought back from a 1-3 deficit in the first set to tie the match at three, four and five before Benton took the opening frame 7-5. Benton took a similar second frame, 7-5, to finalize the 4-3 score.
Georgia returns home to the Dan Magill Tennis Complex for a mid-week showdown with the Ohio State Buckeyes on Wednesday at 2:30 p.m. ET. Admission is free.
RESULTS
Columbia, S.C. // March 4, 2018
Carolina Tennis Center
#29 South Carolina 4, #17 Georgia 3
Singles (5, 4, 3, 1, 2, 6)
1.     #66 Gabriel Freidrich (SC) def. #11 Wayne Montgomery (UGA) 7-5, 6-3
2.     Paul Jubb (SC) def. #89 Nathan Ponwith (UGA) 7-5, 6-4
3.     #28 Jan Zielinski (UGA) def. #98 Yancy Dennis (SC) 6-2, 7-6 (5)
4.     #19 Walker Duncan (UGA) def. Thomas Mayronne (SC) 6-2, 6-2
5.     Robert Loeb (UGA) def. Harrison O'Keefe (SC) 6-4, 6-1
6.     Wood Benton (SC) def. Alex Phillips (SC) 7-5, 7-5
Doubles (2, 1)
1.     #48 Friedrich/Dennis (SC) def. #12 Loeb/Zielinski (UGA) 6-3
2.     Jubb/Mayronne (SC) def. Duncan/Montgomery (UGA) 6-2
3.     O'Keefe/Benton (SC) vs. Diaz/Ponwith (UGA) 5-4, uf