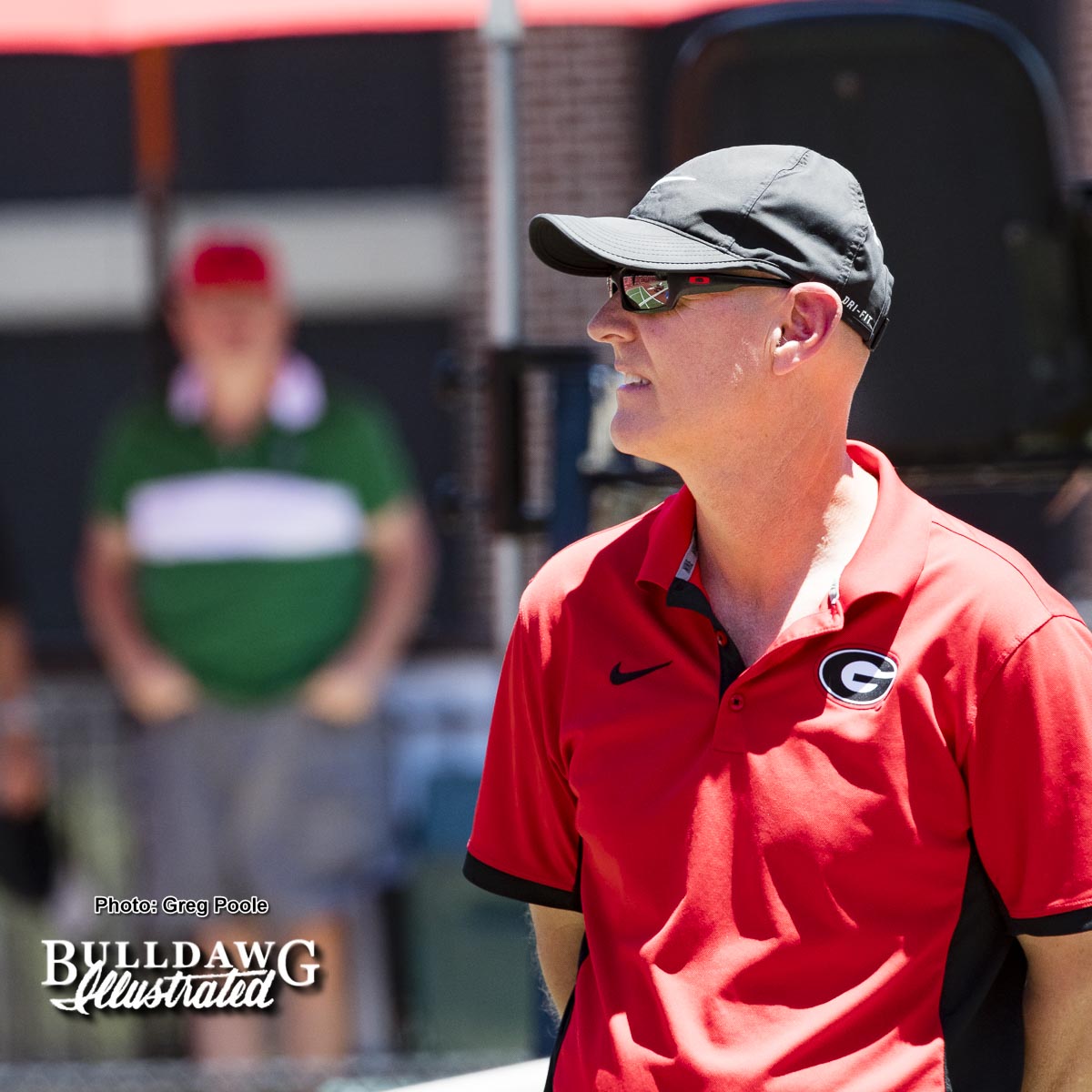 In the Southeastern Conference opener, the No. 2-ranked Georgia Bulldogs swept No. 30 Tennessee, 4-0, Saturday afternoon at Barksdale Stadium.
For the second match in a row, Georgia obtained the doubles point and fueled it into three-straight singles victories to seal a shutout. Coming into the match, the Volunteers were on a six-match win streak and had taken all but one doubles point in their season.
Georgia improves to 9-0 on the season, which marks the best start since 2007 when the Bulldogs went 12-0. The Volunteers fall to 9-3 on the season and 0-1 in conference play. In the all-time series, Georgia now leads 47-9, including eight in a row.
"It was a good, tight, solid-hard doubles point and we got the win," Georgia head coach Jeff Wallace said. "We even had match point against that No. 9 team in the country, before we got the clinch. I thought they played good and our doubles are definitely getting better, but there is more to be done. Then we had some great battles in singles. Lourdes [Carle] and Elena [Christofi] got off the court quick. In the first four games of Christofi's match it was 2-all and hard-fought tennis. We talked about a few things and then she was relentless with the game plan and rolled. Everybody else was in good matches until Kat [Jokic] got it done."
In doubles, Georgia switched it up at No. 3, pairing freshman Meg Kowalski with junior Marta Gonzalez and the duo were first off the court with a 6-4 win over another freshman-junior twosome, Rebeka Mertena and Johanna Silva. The victory is the first for Kowalski/Gonzalez as they went 0-2 in the fall.
Clinching their second-consecutive doubles point in their second-career match together was Elena Christofi and Vivian Wolff on court two. The junior-sophomore tandem defeated sophomore Tenika McGiffin and freshman Maia Haumuller, 6-4.
At the time of the doubles clinch, the ranked matchup on court one was nearing completion with the No. 54 Bulldog team of Katarina Jokic and Lourdes Carle up 6-5 on UT's undefeated No. 9 Sadie Hammond and Kaitlin Staines.
With the 1-0 lead, Georgia kept the edge by taking four first sets in singles and rebounding on one of the dropped first sets to force a third. Carle, ranked No. 83 in ITA singles, defeated the Vols' lone ranked player, No. 121 Silva, 6-2, 6-1, on court three. Shortly after, No. 110 Christofi made it a 3-0 Bulldog lead by handing McGiffin her first dual loss of the season with a 6-3, 6-0 win on court five.
The clinch came on court one from the nation's top ranked singles player, Jokic, as she recorded her seventh win in a row and improved to 17-2 overall. The sophomore defeated Hammond, 6-3, 6-4 for her fourth match clinch of the season.
The clinch could of just as easily come from court four where Wolff, who took the second set after dropping the first, was leading 5-0 in the third. Also going unfinished was Kowalski up in the second set after taking a first-set tiebreaker and Gonzalez trying to force a third set on court two.
"I think she [Wolff] has to do some things different in the first set, which we talked about, but she turned it around and ended up playing some high-level tennis," Wallace added.
Next, Georgia plays host to No. 12 LSU and No. 24 Texas A&M next weekend at the Dan Magill Tennis Complex. The match against the Tigers is Friday, March 8 at 3 p.m., while the Aggies match is Sunday, March 10 at 2 p.m.