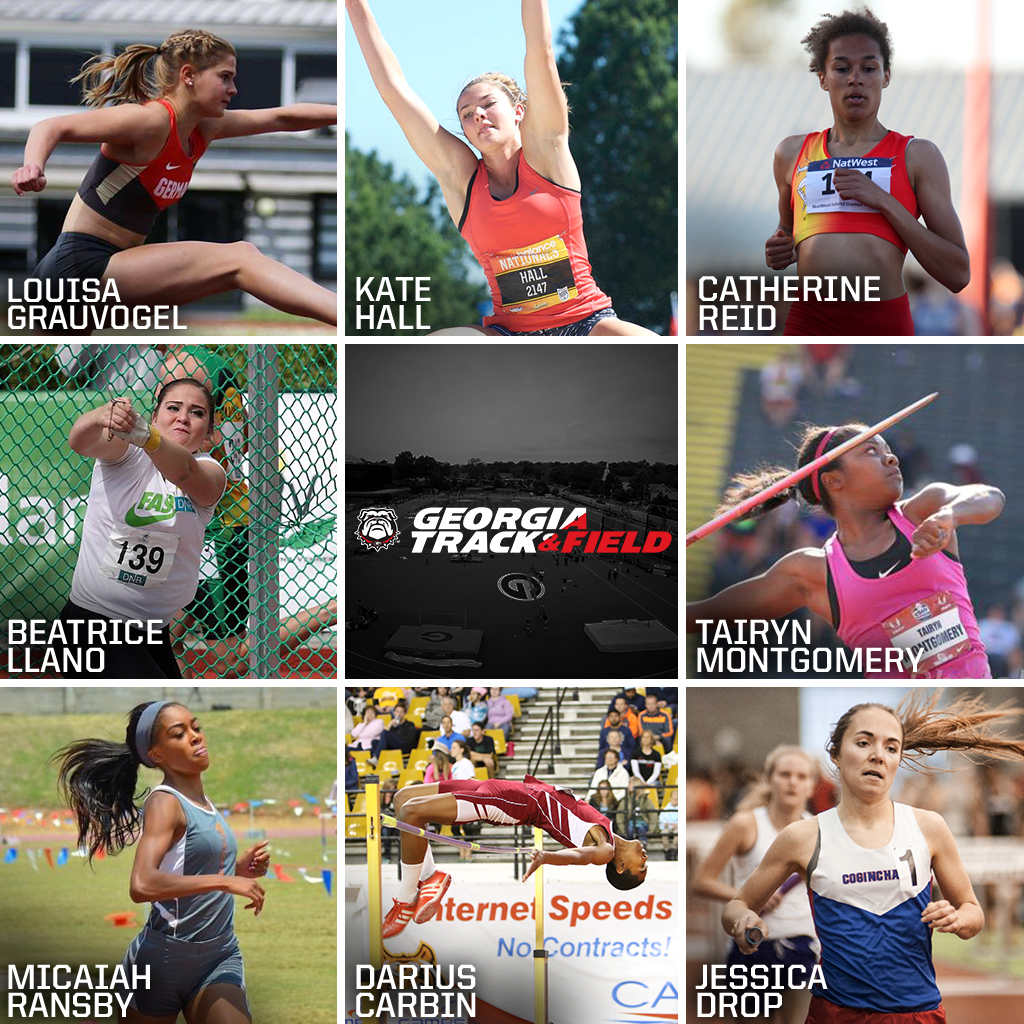 Georgia's track and field teams have added yet another "tremendous" signee with the arrival of Catherine Reid's National Letter of Intent, according to an announcement from Bulldog head coach Petros Kyprianou.


Reid, a native of the Isle of Man in the British Isles, highlights her resume with a bronze medal finish in the 400-meter dash at the 2015 IAAF World Youth Championships and caps an extraordinary Bulldog signing class.


"This week, we received the best news possible as Catherine has decided to join our wonderful group of signees," Kyprianou said.  "We are thrilled and honored to add her to this amazing list of world-class student-athletes who will continue our tradition in elite performance.  Catherine is a tremendous competitor with international experience, a winning attitude and a terrific personal best in the 400m at 52.25.  Coach (Ken) Harnden did a great job luring her talents to Georgia."


Reid hit radars around the world by her bronze medal performance at the 2015 IAAF World Youth Championships in Cali, Colombia, in July.  The Manx Harriers club team member clocked a personal record of 52.25 to finish third in the 400-meter dash.  This came on the heels of Reid running a 53.20 during the semifinal round and improving her time three seconds over her last year of competition.  Reid earned her spot on the World Youth team by taking second at the National trials.  She is aiming for an Olympic berth this summer prior to her enrollment at Georgia.


The 2015 Isle of Man Sportswoman of the Year hails from an island in the Irish Sea between Great Britain and Ireland.  Reid is one of nearly 90,000 residents on the island that has temperatures ranging from the upper 30s to the mid 60s year-round.


Here are the four signees Georgia inked earlier during the spring signing period:


Kate Hall, a Maine native who was homeschooled and competed for Lake Region High School, is transferring to Georgia after spending her first year at Iowa State (she is redshirting the outdoor season). Hall set the U.S. high school long jump record, topping a 39-year-old mark, as well as the American Junior record with a mark of 22 feet, 5 inches to win the 2015 New Balance Nationals in Greensboro, N.C. This soared past the 2016 Olympic automatic qualifying mark of 21-11 and was a foot and a half longer than her winning jump at last year's high school indoor national championship.


Hall completed her prep career with six New England titles, four New England records and two national meet records. In 2016, Hall finished 12th in the long jump (20-1) at the NCAA Indoor Championships for Second Team All-America honors and also qualified for Nationals in the 60m for the Cyclones (chose to focus on long jump).


Beatrice Llano, a native of Bergen, Norway, has a personal-best hammer throw (4kg) of 220-8. In 2015, Llano earned Silver medal honors at the European Juniors in Eskilstuna, Sweden. She also set the Norwegian Junior national record in 2014 and then won the 2015 European Cup (U-23) Winter Championships. In addition, Llano has placed in the top five at both the World Junior Championships and the World Youth Championships.


Louisa Grauvogel, a native of Saarbrucken/Saarland, Germany, has scored 5,741 points in the heptathlon during her career and 3,860 in the pentathlon. She has won Bronze medals at both the European Junior Championships and the World Youth Championships and has been a finalist at the World Junior Championships.


Virginia Moore, a student at Deerfield-Windsor in Albany, Ga., is the defending GISA cross country individual champion and helped lead Deerfield to the team title. She won the 2015 3200m (12:00.34) state track crown by 16 seconds and was second to her future Lady Bulldog teammate Ruthie Powell the 1600m as well as the 800m. In fact, Moore has 11 top-five finishes at the state cross and track meets combined in her career. Moore has won region titles in the 800m, 1600m and 3200m every year of high school. She has posted personal-best times of 59 seconds (400m), 2:20 (800m), 5:16 (1600m) and 19:17 (5k).


Last fall, the Bulldogs began to put together their class with 13 elite signees:


Darius Carbin – Mt. Pleasant High School, San Jose, Calif. Event: High jump. Bio: IAAF World Youth bronze medalist after clearing 7 feet, 1 inch in Colombia…Reached 6-11 to win the 2015 USATF World Youth Trials…Cleared 6-9 to earn runner-up honors at the California state meet…Also personal-best marks of 47-4 in the triple jump and 21-11.75 in the long jump.


Cejhae Greene – Princess Margaret High School (transfer from Florida State and redshirting at Georgia in 2016, eligible for 2017 seasons), St. John's, Antigua & Barbuda Event: Sprints. Bio: Finished fifth in the 100-meter dash at the 2015 IAAF World Junior Championships…Competed for the Seminoles for two seasons…Advanced to both the 2014 and 2015 NCAA Outdoor Championships in individual and relay events…Part of FSU's winning 4x100m team at the 2015 ACC Championships…Posted personal bests of 10.25 in the 100m, 20.90 in the 200m and 6.64 in the 60m…Bronze medal winner at the 2011 World Youth Championships and a semifinalist at the 2012 World Junior Championships.


Denzel Comenentia – Amsterdam, Netherlands (Arrived January 2016; 2016 NCAA Indoor First Team All-American in the shot put) Event: Throws. (Hammer-Shot-Discus) Bio: 2014 World Junior Championships silver medalist in the shot put…Won the Dutch indoor and outdoor championship in the 7.26kg shot put…Personal-best marks of 215 feet (5kg hammer), 217-2 (7.26kg hammer), 242-11 (6kg hammer), 194-5 (1.75kg discus), 185-10 (2kg college discus), 64-9.75 (indoor 6kg shot put), 66-2.25 (outdoor 6kg shot put) and 63-6.75 (outdoor 7.26kg shot).


Davis Stockwell – Lakeside High School, Atlanta, Ga. Event: Distance. Bio: 2014 GHSA 6A cross country state champion…Finished second in the 1600 meters and sixth in the 3200m at the state track meet…Was 58th at the 2014 Foot Locker South Regional meet…Personal-best times of 4:15 (1600m) and 9:26 (3200m).


Tairyn Montgomery – Redondo Union High School, Redondo Beach, Calif. Event: Throws. (Javelin) Bio: Won the javelin (157 feet, 9 inches) as a sophomore at the 2014 New Balance Outdoor Nationals and was the runner-up (156-8) a year later…Finished fifth (153-6) at the US Junior Nationals…Personal-best javelin mark of 168-1.


Amber Tanner – Ravenwood High School, Brentwood, Tenn. Event: Heptathlon. Bio: Won the 2015 Tennessee AAA state 300-meter hurdles title with a time of 42.90 and was third in the 100m hurdles (14.16)…Personal-best marks of 14.68 (100m hurdles), 25.37i (200m) 42.68 (300m hurdles) and 2:11.77 (800m).


Emily Savage – Weston High School (transfer from the University of Oklahoma who arrived in January 2016 and has competed for Georgia indoors and outdoors in 2016), Weston, Conn. Event: Pole Vault Bio: Penn Relays record holder…2013 high school national champion…Personal-best pole vault mark of 13 feet, 2 1Ž2 inches…Connecticut state and New England region record holder…Gatorade Connecticut Athlete of the Year nominee as senior in high school…Earned All-American honors as a senior…Connecticut Athlete of the Year as a senior…Connecticut Post Women's Athlete of the Year…Named to the All-Academic as a freshman and a senior.


Micaiah Ransby – North Springs High School, Atlanta, Ga. Event: Sprints. Bio: Part of fastest 4×400-meter relay team in state history…Holds No. 5 state ranking and No. 28 national ranking individually…Won the 2015 GHSA AAAAA 400m title and was second in the 200m…Personal-best 400m time of 54.22 and 200m time of 23.89.


Janaya Chambers – Stanton Prep, Jacksonville, Fla. Event: Sprints. Bio: Personal-best 400-meter dash time of 54.17 while winning the 2015 FHSAA AAA state title.


Makenzi Kopp – Providence High School, Jacksonville, Fla. Event: Sprints/Hurdles. Bio: Personal-best high school times of 15.64 in the 100-meter hurdles and 46.81 in the 300m hurdles, finishing in the top six in both events at the 2015 FHSAA A state championships.


Chelsea Zoller – Holy Innocents' Episcopal School, Atlanta, Ga. Event: Sprints/Hurdles. Bio: Ranked as high as No. 6 nationally in the 400-meter dash and in the top 20 in the 60m hurdles….Captured three state 400m titles so far in her career…Personal-best marks of 54.13 in the 400m and 43.91 in the 300m hurdles.


Jessica Drop – Coginchaug High School, Durham, Conn. Event: Distance. Bio: Personal-best times of 4:55 (1600 meters), 4:52 (1600m – DMR split), 2:55 (indoor 1000m) and 2:15(800m)…Won Emerging Elite Mile and anchored Emerging Elite DMR champion team at 2015 New Balance Outdoor Nationals…Runner-up in New England Championships in the mile.


Samantha Drop – Coginchaug High School, Durham, Conn. Event: Distance. Bio: Finished sixth at the New England Championships…Finished third for All-State honors at Connecticut state meet…Champion of Connecticut SS Division…Personal-best times of 5:07 (1600 meters) and 11:17 (3200m)…Ran 1200 meters on DMR that won Emerging Elite race at New Balance Outdoor Nationals and on the 4x800m team that was third at the New England Championships.


The Bulldogs have their final regular season meet of the year at home with the Georgia Invitational in Athens on Saturday.


Live stats and full results from the Georgia Invitational will be posted at georgiadogs.com.


Updates from Georgia's track and field and cross country teams can always be found on Twitter/Instagram (UGATrack) and Snapchat (ugatrack).


---