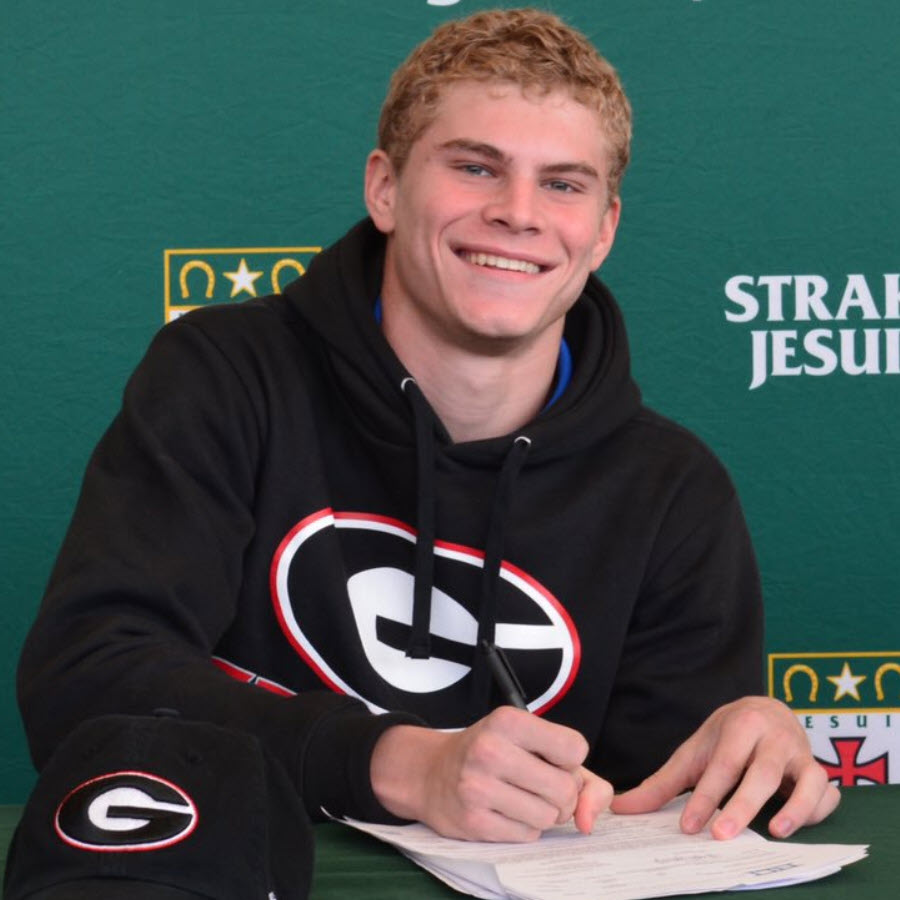 Freshman Matthew Boling tallied the Bulldogs' third school record of the weekend to headline Georgia track and field's second day at the Tyson Invitational in Fayetteville, Ark., on Saturday.
Boling, a native of Houston, Texas, clocked the nation and world's fourth-best 200-meter dash time this year and topped an 11-year-old school record to take second. Boling sped to a 20.66 to pass the late great Torrin Lawrence on the UGA all-time top-10 list after Lawrence registered a 20.77 in 2009.
Senior Amber Tanner (800m) and freshman Haze Farmer (pole vault) notched at least a share of school records in their respective events on Friday.
Full Results: For results to the Tyson Invitational, please visit: http://gado.gs/4d4
For results to the Husky Classic, please visit: http://gado.gs/4d2
"This weekend proved to me that we have some high-quality student-athletes who know how to respond to high-level competition," said head coach Petros Kyprianou. "While we were training through these meets and didn't quite look super sharp, we had some world-class marks that give us some confidence going in to the championship season.
"The clear highlights of the weekend of course was Amber (Tanner's) massive personal best and school record (in the 800m), Matthew Boling's explosive 200m run, placing himself in the top group in the NCAA. Also Haze (Farmer) tying an old school record in the vault, and that makes me really happy to see this young group responding to the challenge we have set out in front of them.
"We are far from what we can be given some experience, but I know this group of young Dogs are hungry, honest and very hard working. Those are the ingredients to building champions. Now it is time to get healthy and find the best strategy to keep our Dogs sharp and ready for the NCAA Championships. I am also proud of Jasmine (Moore's) comeback in the last effort of the long jump to break her personal best and show she is a potential dual scoring threat for us at Nationals."
Senior Micaiah Ransby, freshman Arria Minor, sophomore Sterling Lester and senior Amber Tanner were fifth in the 4x400m relay after clocking the third-best time in school history. The Lady Bulldog quartet registered a 3:36.17 with special thanks to Tanner's anchor split of 51.64.
Reaching at least 7 feet, 3 inches for the fourth consecutive meet this year, senior Darius Carbin reached exactly 7-3 to take second in the high jump.
Sophomore Titiana Marsh continued her consistency in the triple jump after traveling 43-0.50 on her second try to take fourth.
Sophomore Elija Godwin was also fourth in Boling's heat in the 200m and ninth overall after running a 21.09.
Both clearing 13-8.50, senior Kayla Smith tied for fourth in the pole vault with an early miss while freshman Julia Fixsen finished eighth with a late miss.
Senior Tiffany Yue completed her laps in the 3000m in a career-best mark of 10:01.43 for fifth place to lead another pair of teammates in the top 10 (Grace Clements – 7th – 10:08.80; Sara Bailey – 9th – 10:20.54).
Fellow senior Michael Hans was one of five Bulldogs in the top 10 in the 5000m, topping his teammates with a 14:57.64 for third place.
Another fifth-place finish came from sophomore Courtney Long, who cleared a pole vault height of 12-1.50, while freshman Shelby Tyler cleared 5-9.75 for fifth in the high jump.
Also of note in the women's 200m, Minor (24.22) and Ransby (24.24) had season-best times to finish in the top 10.
During the Husky Classic in Seattle, Wash., on Saturday, sophomore Anna Marian Block shaved six seconds off of her personal record in the mile to finish 20th with a 4:46.12. This moved her to seventh on the school's all-time top-10 list.
After entering into Georgia's all-time top-10 list in the 3000m on Friday, redshirt freshman Sam Bowers improved his collegiate personal best to 4:11.74 in the mile.
The Bulldogs return to action at the Southeastern Conference Indoor Championships in College Station, Texas, on Feb. 28-29.