Thanksgiving is one of the happiest/most terrifying weeks for Georgia fans. Why? Because on one side, it's a week of thanks and gratitude. Thanksgiving is the one day you get to savor delicious food and the company of the ones you love. However, it's also the week of the much anticipated Georgia versus Georgia Tech game.
I'm always impressed with Georgia Tech's balance their school's ratio of nerds to semi-qualified athletes. Yeah, yeah they've had their fun beating us a few times, but listen- win or lose, it's always great to be a Georgia Bulldog. This holiday season, we're providing you with a few of our favorite family recipes to help you get fat, happy, and well rested before the big game on Saturday.
So test them out, tell us what you think (but not if you don't like them), and let's rally for the dawgs. I'm in the mood to squash a few yellow jackets. How about you?
---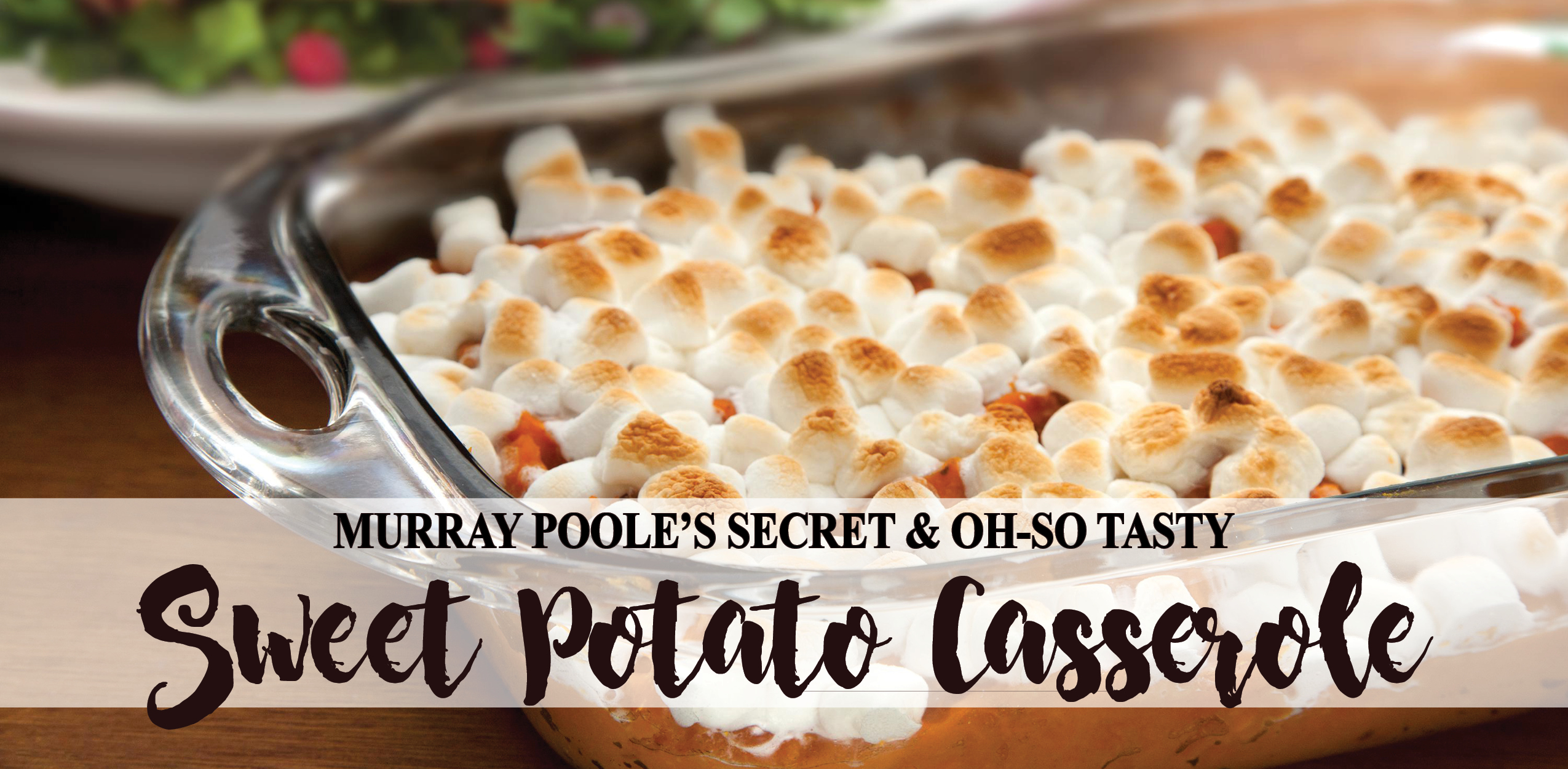 Ingredients
4-5 sweet potatoes
1 egg
1 stick butter (melted)
1 cup sugar
1 tsp vanilla
3/4 cup milk
1/2 tsp nutmeg
1 tsp cinnamon
1/8 tsp salt

Topping:
1 stick softened butter
1 cup brown sugar
1/2 cup self-rising flour
1 cup chopped pecans
Directions
Cook and mash sweet potatoes and add other ingredients. Pour into buttered baking dish. Cover with topping and pat down. Bake at 350 degrees F for 40-45 minutes or until top is golden brown.
Murray Poole is a Sports Writer for Bulldawg Illustrated and has been with the company since it started 14 years ago and with the Leavy family at The News in the Golden Isles prior to that for decades.
---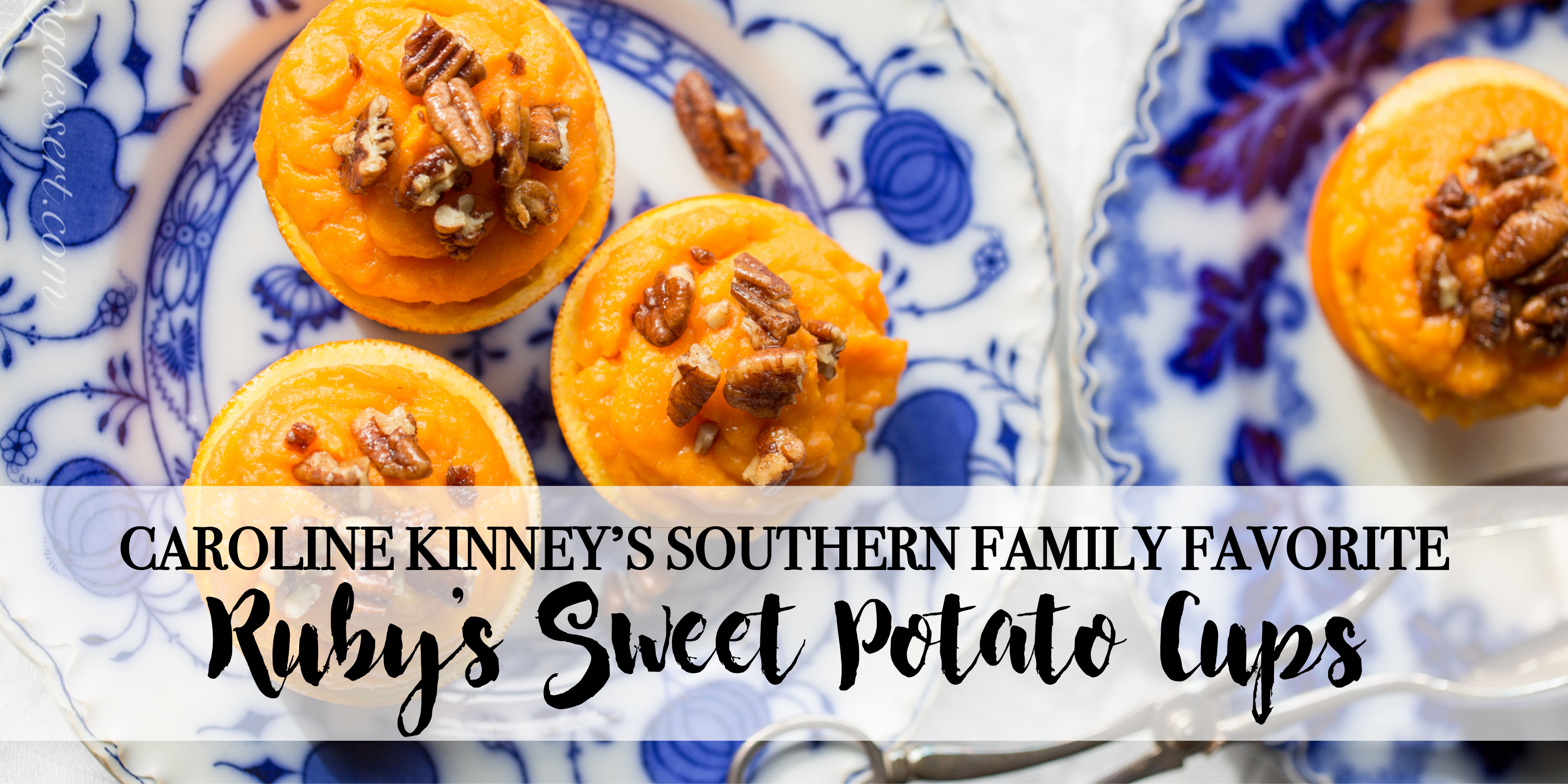 Ingredients
4 sweet potatoes
4 to 5 oranges
1 stick of butter
1/2 cup of sugar
Cinnamon to taste
Vanilla (2-3 drops to taste)
1/2 cup of pecan pieces
Large marshmallows (1 each orange cup)
Directions
Wash potatoes. Boil the sweet potatoes (place in pot and cover with water. Boil until fork sticks inside easily) *you can also microwave the sweet potatoes instead of boiling them. Peel the potatoes or scoop out the insides. Put potatoes in a bowl and mash with all ingredients listed above except the marshmallows. Set the bowl aside. Slice the oranges in half (across the middle). Scoop out the insides of the oranges (I keep the orange insides to eat separately). Place the orange halves in a pan and fill with sweet potatoe mixture, mounding them up a bit. Top each orange cup with one large marshmallow (or several small marshmallows). Press the marshmallow into the potato mixture halfway. Bake at 400degrees just to melt/brown the marshmallow (if the marshmellow is not pressed into the mixture enough, it may slide off as it melts). This dish can be prepared ahead and refrigerated. Then when ready to serve, cook to melt the marshmallow. 
Caroline Kinney serves as a Sales Associate for Bulldawg Illustrated and has been a vital part of its growth for the last five years.
---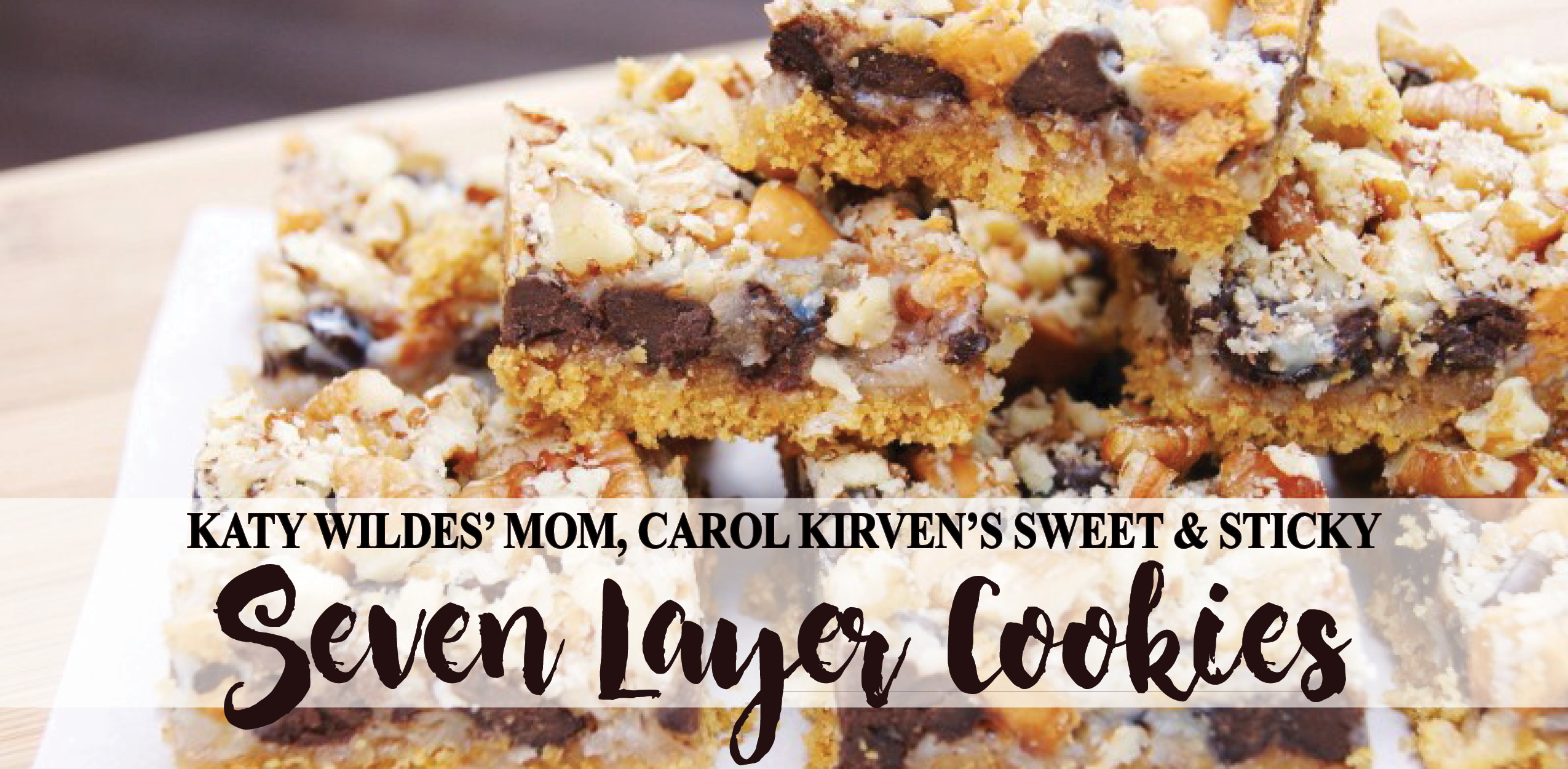 Ingredients
1 stick of butter
1 cup graham cracker crumbs
1 package of chocolate chips
1 small can coconut
1 package butterscotch chips
1 cup pecans (chopped)
1 can of eagle brand condensed milk
Directions
Melt butter in a 9 inch pyrex dish. First, put the graham crackers in the melted butter, next add in the coconut, chocolate chips, butterscotch chips, and chopped pecans one layer at a time. Last, pour the condensed milk over the layers. Bake in a 350 degree oven and cook until light brown.Cool and cut into small squares.
Katy Wildes is on the Digital Media team at Bulldawg Illustrated and is the main voice of BI's instagram feed.
---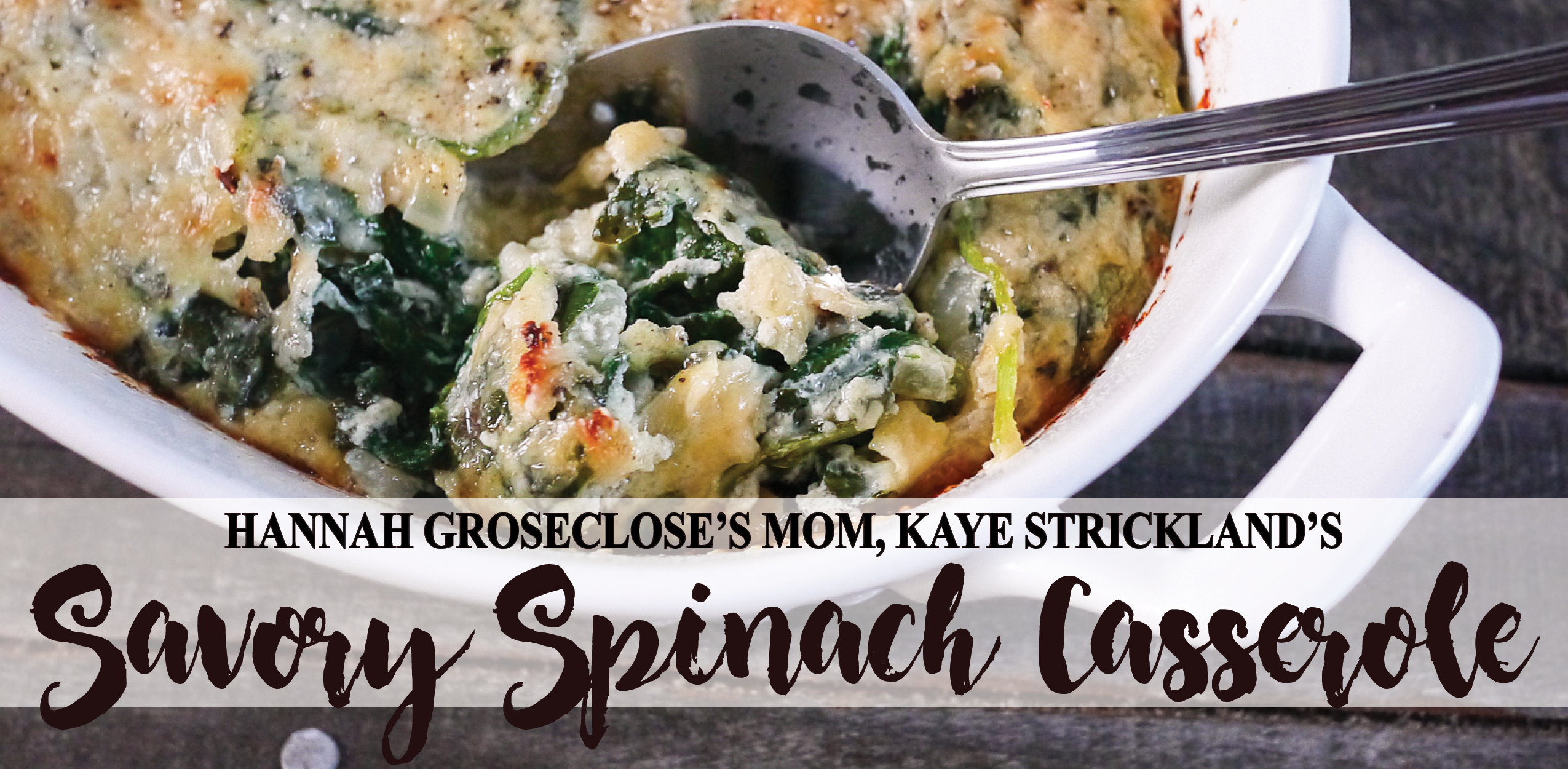 Ingredients
1 Box frozen chopped spinach
1 cup Vidalia onion (chopped)
3 Large eggs (beaten)
12 oz. can evaporated milk
1/2 stick butter
1 small can mushrooms (optional)
8 oz grated sharp cheddar
8 oz grated mozzarella cheese
4 oz grated swiss cheese
Directions
Preheat oven to 350 degrees. Butter 9×13 casserole dish. Thaw spinach enough to break apart(no large clumps). Whisk eggs and milk. Sauté onions in butter until translucent. Mix together all the cheeses and spinach in large bowl. Then add onions,egg mixture and mushrooms to spinach and cheese. Pour into dish and bake in middle of the oven for about 45 minutes or until brown around the edges.
Hannah Groseclose is the new Art Director for Bulldawg Illustrated and the talent that designed this year's new glossy magazine with the Leavys.
---
This recipe is from my mom's side of the family and her mother, Marilyn Bozeman, whose wisdom, skill and love in the kitchen we all miss.
Ingredients
1 envelop [1/4 oz.] active dry yeast 
2 tablespoons warm water [105 to 115 degrees]
5 cups of all purpose flour
1 tablespoon baking powder
1 teaspoon baking soda
1 teaspoon salt
½ cup shortening
½ cup butter
2 cups buttermilk
3 tablespoons honey
Directions
Combine yeast and warm water in a 1 cup measuring cup and let stand for 5 minutes. Combine flour, baking powder, baking soda, and salt in a large mixing bowl. Cut in shortening and butter with a pastry blender or 2 knifes until mix is crumbly. Combine yeast mixture, buttermilk, and honey. Add dry ingredients, stirring just until moistened. Turn dough out on to lightly floured surface and knead for 1 minute. Don't handle dough any more than necessary. Dough will be soft. Gently roll dough to ½ inch thickness, cut with a 2 inch round cutter, and place on ungreased baking sheet. Bake at 400 degrees for approximately 10 minutes or until golden brown. Serve with honey butter./ Yields 4 dozen. | Note: If you want to make a smaller batch of biscuits or if you want to make the dough ahead of time, it can be stored in refrigerator for up to 1 week.
HONEY BUTTER RECIPE
Ingredients
½ cup honey
½ cup butter (or margarine), softened
Directions
Combine honey and butter in a small bowl, stir until well blended. Makes 2/3 cup
Bob Miller is part of the Digital Media team and invaluable to keeping the website current and getting the e-newsletters out.
---
MEET THE TEAM
…