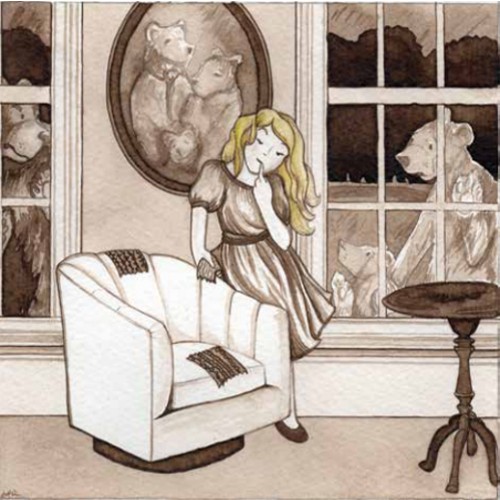 [su_spacer size="20″]
Art by Jess Dunlap
Fairy tale concept and interview by Dominique Paye
[su_spacer size="20″] Growing up in the small town of Americus, Georgia, Athens' designer
Lisa Ellis
developed an appreciation of aesthetic design and historic preservation that eventually led her to study history at The University of Georgia and Oxford University in England. Lisa's interest in history and design grew into the business of selling English and European antiques through her storefront,
Hawthorne House
, a fine furnishings and lighting gallery located in Athens.
[su_spacer size="20″] The product selection at Hawthorne House incorporates a level of detail that is magical. We sat down with Hawthorne House to ask a few questions about design, fictional break-ins, and how they choose the extraordinary products that fill the store.
[su_spacer size="20″]
G2A​:
Originally in this scene, Goldilocks struggles with one chair being too large, one being too small, and one that is just right. Proper scaling is a design consideration that is critical, but often under appreciated by non-designers. What are some others?
[su_spacer size="40″]
Ellis​:
We find that quite a few people, new homeowners especially, undervalue the importance of light. Of course, it is great to have a beautiful fixture or a great pair of lamps, but does the light they provide do what it's supposed to? We started our lighting design service to help our customers make sure they have the right light in the right place.
[su_spacer size="40″]
G2A​:
In our reinterpretation, Goldilocks has entered with fabric swatches in hand. Not shown is her Pinterest board dedicated to fabrics. How has the popularity of interior design-heavy apps like Pinterest and Houzz (and even Instagram, to an extent) affected how your clients approach design?
[su_spacer size="40″]
​Ellis:
Social media has definitely had an impact on the way clients can organize their design thoughts and communicate them in a way that is helpful. It also helps to make the whole process much more collaborative.
[su_spacer size="40″]
G2A​:
Fairy tales characteristically involve enchantment, which is exactly how we feel when we walk through the furnishing and lighting gallery at Hawthorne House. What do you look for in a product line before you will consider carrying it in your store?
[su_spacer size="40″]
​Ellis:
There are really three things we consider. Design–how does it look? Is it what our customers and clients are looking for? Quality–is this something we would have in our own homes? How is it going to hold up, not just for a year or two, but for five or 10 years. Value¬-while a piece may not be inexpensive, can it bring good value to our customers? Are they going to have to replace it in a year? It's much more cost effective to get a well made, quality piece of furniture at the start instead of being dissatisfied with a cheaper piece of furniture you picked up just to fill a need.
[su_spacer size="40″]
G2A​:
If you could break into anyone's home, past or present, real or fictional, and spend 24 hours there without fear of being caught, who's home would it be?
[su_spacer size="40″]
​Ellis:
Diana Vreeland. She was such a character and on the forefront of so many influential style shifts in the 20th century. She had such a zest for life and art and design and an eye for 'what's next'.
[su_spacer size="40″] Visit
athens.guide2s.com
for the interview and more information about our contributors Jess Dunlap and Dominique Paye.
[su_spacer size="40″]
JESS DUNLAP
will be showing this Fairy Tale Athens Series with more of her artwork at The Grit/p>
September 13 – October 3
instagram: @gneissmouse
[su_spacer size="40″]
Many thanks to Hawthorne House for taking the time to talk with us and to Jess Dunlap, who so artfully reinterpreted this classic tale.
[su_spacer size="40″]
About Dominique Paye
[su_spacer size="20″]
Dominique Paye is a social media and marketing strategist who lives in Athens, Georgia. Since graduating from Washington & Lee University in Virginia, she has worked in project management across a variety of industries–graphic design, military, telecommunications, web development, real estate, retail, and interior design–in Washington D.C., San Diego, and Houston. Dominique and her husband moved to Athens in 2011 for his job at UGA's Terry School, and she has enjoyed working with Athens' creative entrepreneurs to market their businesses through social media and specialized content creation. You can contact Dominique at dominique@dominiquepaye.com or online at www.dominiquepaye.com.
[su_spacer size="80″]