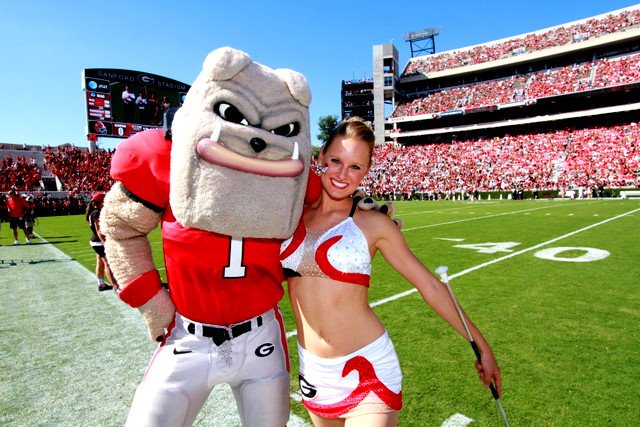 The University of Georgia nurtures and educates some of America and the world's top athletes, entrepreneurs, and artists. Therefore when asked to find the perfect one to feature, it can be hard. There are so many, how do you choose?  In the case of Nicole Jensen, it was easy. During her time at UGA, you could find Jensen front and center at Sanford, as she was a head feature twirler and majorette. We desperately wanted to know more about this world champion twirler and UGA alumna, so without further ado — this is Nicole Jensen.
Years at UGA: 2011-2015
School/Degree: Terry College of Business/Marketing
Years as Feature Twirler: I was extremely honored to hold the position of feature twirler for the University of Georgia Redcoat Band from August 2011 to July 2015. During this time, I had so many amazing experiences! Not only did I have the time of my life twirling 'tween the hedges at every home game, but I also twirled at the 2011 Chick Fil A Kick off game, two SEC Championships, and 4 bowl games. The most rewarding part of twirling for the University of Georgia was not only performing for the best fans in college football, but also giving back to the community; twirling at UGA Relay for Life, UGA Miracle and teaching at clinics across the state. As a feature twirler, I had the opportunity to meet so many incredible people, including Governor Deal and his staff, two Presidents of UGA, sport commentators Erin Andrews and Chris Fowler, and celebrities Willie Robertson from Duck Dynasty and Georgia Florida Line to name a few.
Accolades: I am so proud to be able to leave my legacy at UGA. As a freshman, my UGA twirling coach Ashley Clark challenged me to leave my mark. I wanted to challenge myself not only with my field performances, but to raise the bar each year in competition. I still can't believe I was able to achieve those goals! During my freshman year, I won both the Twirlmania Collegiate Classic Championship and the Women's National Collegiate Championship. But I still had one more goal.  The highest honor in college twirling is the coveted title of College Miss Majorette of America. Only two former University of Georgia Feature Twirlers had ever held this title: Pam Lewis in 1974 and Ashley Clark in 1999. It was a dream come true when I won the prestigious College Miss Majorette of America title in 2014 while representing the University of Georgia. There was no greater feeling to be just the 3rd twirler in the history of UGA to win the title, and to bring such a high honor back to the Bulldog Nation and the school I love so dearly. Also during my senior year, I was thrilled to be a co-recipient of the Phyllis Dancz Auxiliary Memorial Award for excellence in leadership and school spirit.
Best Game Memory:  Wow! There are so many it's hard to pick!  My first home game in Sanford Stadium is certainly a stand out. From the age of five years I dreamed of becoming a Feature Twirler. As I stood on the Big G in the center of field getting ready for my pregame feature twirler performance with Hairy Dawg, it was completely surreal. I remember standing, hand in hand with Hairy Dawg soaking in all the energy of 92,000 fans. It was an adrenaline rush I will never forget. I also loved the reaction of the crowd and student sections every time I twirled fire.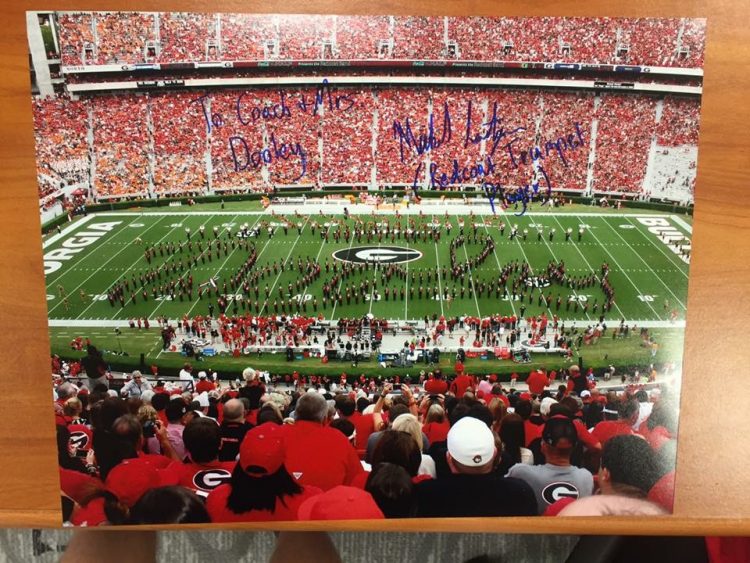 What Advice would you give to a future twirler?
Baton twirling is a unique combination of artistry and skill, but like every college sport, it requires training, hard work and practice. While I spent hours in the gym since age 5 practicing baton twirling, gymnastics and dance, I absolutely loved performing and competing.  As a feature twirler, you are able to interact with a large audience, but you are also a role model to fans and young people. My advice to future twirlers is to never lose sight of your goals and dreams, practice hard, be a role model, and twirl because you love it!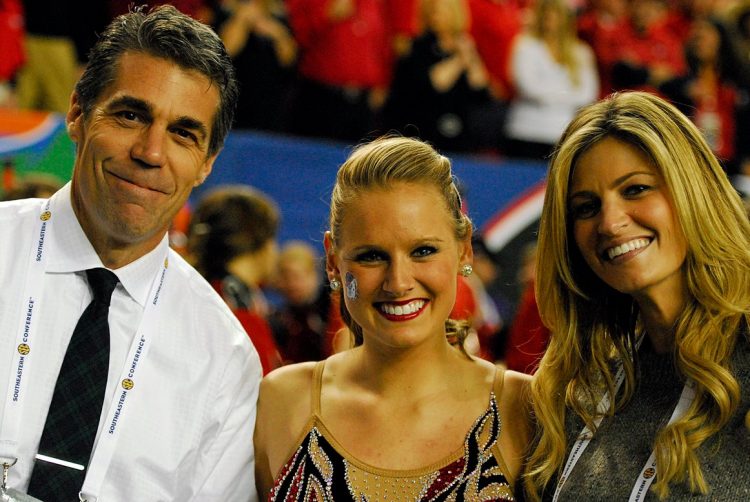 What did you learn as a feature twirler that you still use in everyday life?
Standing 'tween the hedges and wearing the G on such a large stage is a huge responsibility; not only to those that came before us, but to those that will follow us. It gives us the unique ability to influence younger generations. The poise, confidence, and professionalism I learned as a feature twirler have carried over into my success in the business world and in my current job at Oracle Corporation.  I also learned the importance of helping young twirlers with their dreams and aspirations, and I continue to teach, mentor, and find ways to give back.
Favorite Quote: Associate Director of Bands, Brett Bawcum, always told us before we performed, "Today someone will watch you for the first time, and someone will watch you for the last time." This taught me to always put my heart into everything I do and try to leave a lasting impact on those whose paths I cross.
Favorite Halftime Show: One of my favorite halftime shows was the 2014 Georgia vs. Tennessee Game. During halftime, the great Vince Dooley was honored for his achievement of winning the National Championship in 1980. The band performed a musical medley of '80s greatest hits. The fans sang along to the classics and it was so much fun to have the crowd so engaged. Afterwards I was honored to meet this amazing legend!
Where are you now?
As a Terry Grad I'm so thankful for the amazing resources and mentors I had as a Marketing major. Today, I am an Application Sales Representative for Oracle in Washington D.C. I love working for a company that is impacting our world through innovation and technology. I'm also a member of DC Dawgs, the UGA Alumni Association in our Nation's capital that boasts over 6500 members, and I serve a Terry Mentor to current business students. I remain very involved in twirling as coach, instructor and judge.
…
Keep up with the talented Nicole Jensen on Facebook and Instagram!