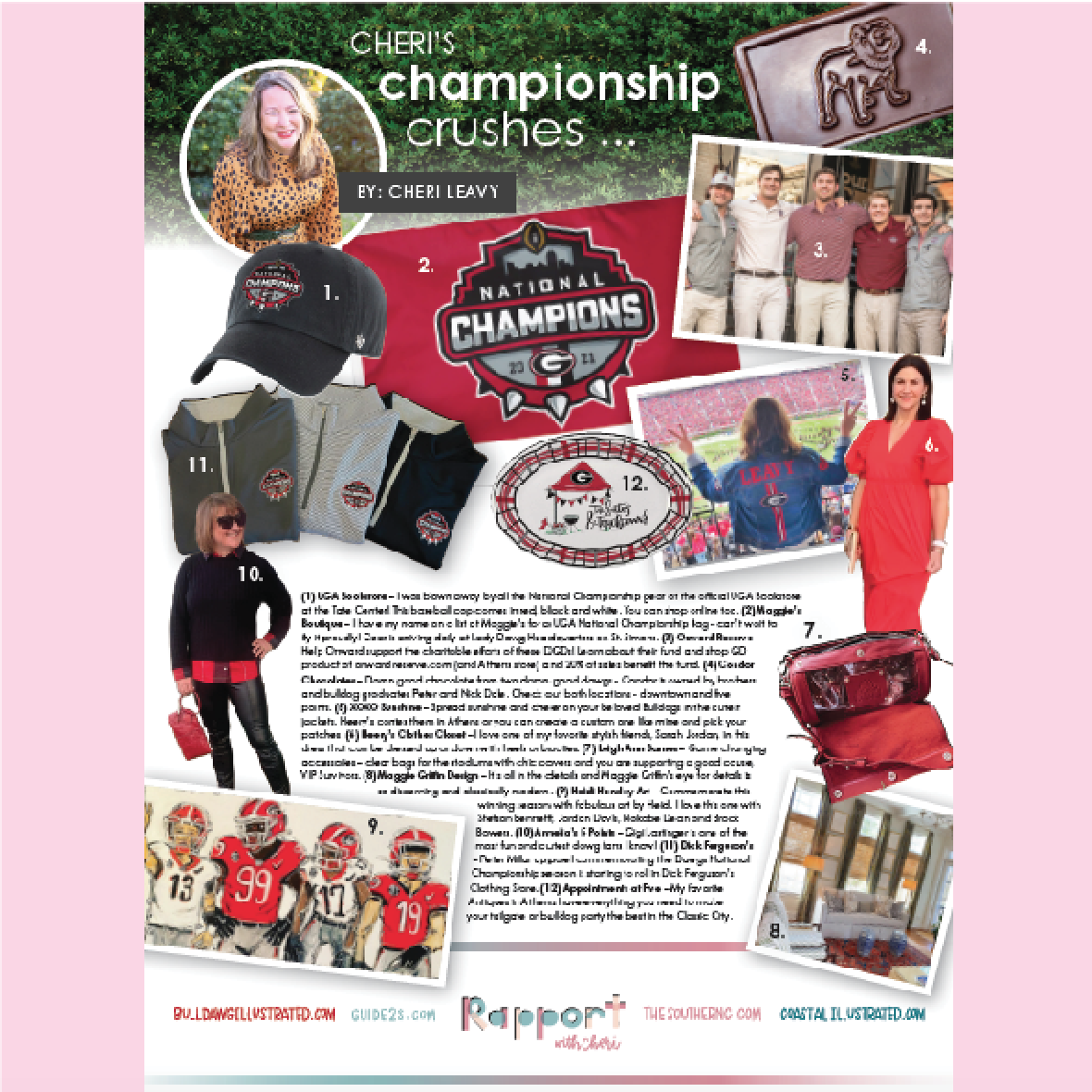 (1) UGA Bookstore – I was blown away by all the National Championship gear at the official UGA Bookstore at the Tate Center! This baseball cap comes in red, black, and white. You can shop online too.
(2) Maggie's Boutique – I have my name on a list at Maggie's for a UGA National Championship flag – can't wait to fly it proudly! Gear is arriving daily at Lady Dawg Headquarters on St. Simons.
(3) Onward Reserve – Help Onward support the charitable efforts of these DGDs! Learn about their fund and shop GD product at onward reserve.com (and Athens store) and 20% of sales benefit the fund.
(4) Condor Chocolates – Damn good chocolate from two damn good dawgs – Condor is owned by brothers and bulldog graduates Peter and Nick Dale. Check out both locations – downtown and five points.
(5) XOXO Sunshine – Spread sunshine and cheer on your beloved Bulldogs in the cutest jackets. Heery's carries them in Athens or you can create a custom one like mine and pick your patches.
(6) Heery's Clothes Closet – I love one of my favorite stylish friends, Sarah Jordan, in this dress that can be dressed up or down with heels or booties.
(7) Leigh Ann Barnes – Game changing accessories – clear bags for the stadiums with chic covers and you are supporting a good cause, VIP Survivors.
(8) Maggie Griffin Design – It's all in the details and Maggie Griffin's eye for details is so discerning and classically modern.
(9) Heidi Hensley Art – Commemorate this winning season with fabulous art by Heidi. I love this one with Stetson Bennett, Jordan Davis, Nakobe Dean and Brock Bowers.
(10) Amelia's 5 Points – Gigi Lastinger is one of the most fun and cutest dawg fans I know!
(11) Dick Ferguson's – Peter Millar apparel commemorating the Dawgs National Championship season is starting to roll in Dick Ferguson's Clothing Store. (12) Appointments at Five – My favorite Antiques in Athens have everything you need to make your tailgate or bulldog party the best in the Classic City.