Today's Contents – Click to Read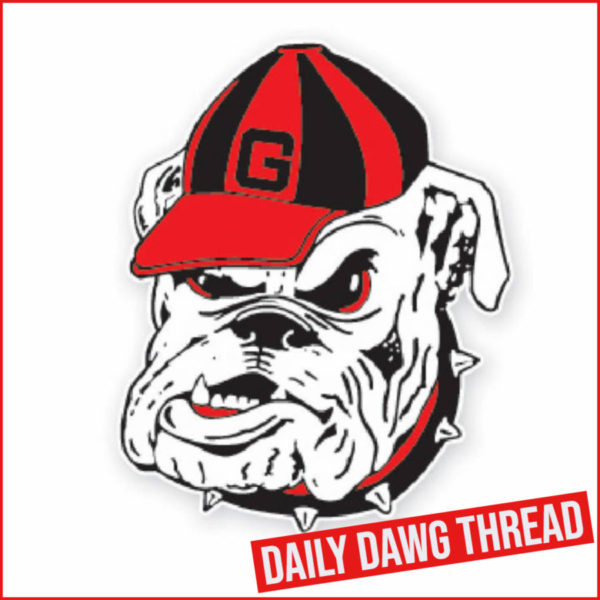 ---
S&D: SEC Championships Begin Today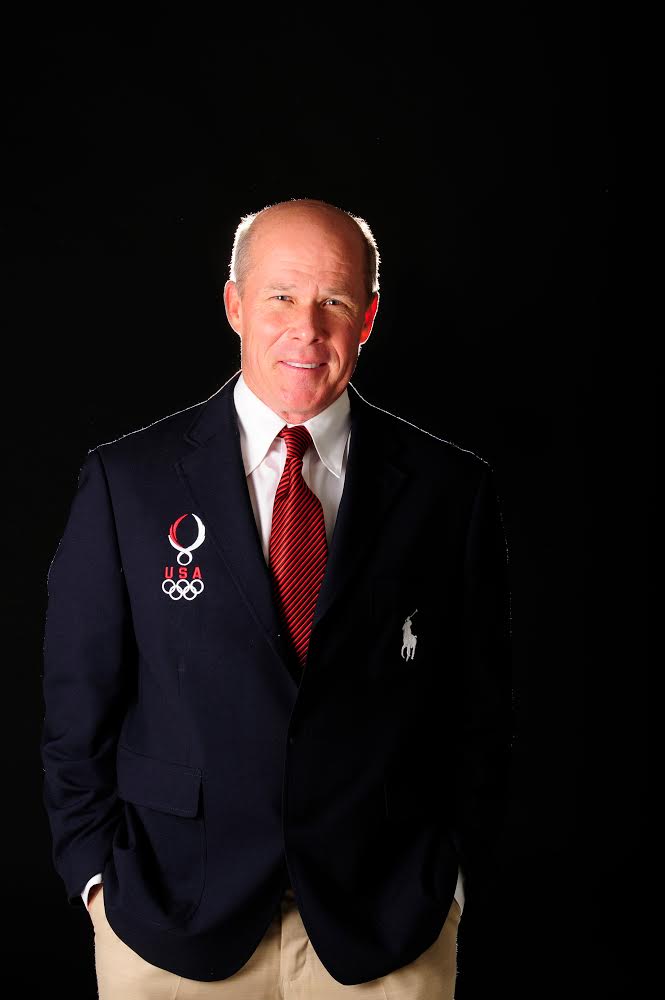 The University of Georgia swimming and diving teams look to add to its long legacy of titles as it heads to the 2021 SEC Swimming & Diving Championships, running Tuesday, Feb. 15 through Saturday, Feb. 19 at the Allan Jones Aquatic Center in Knoxville, Tennessee.
Meet Information
The five-day meet includes morning prelims sessions beginning at 10 a.m. on Tuesday and at 9:30 a.m. each day afterward, as well as finals sessions opening at 5:30 p.m., except for Tuesday. Live coverage will be available on SEC Network+ with results available on UTSports.com and to paid subscribers on the MeetMobile app. Friday and Saturday's evening sessions will air in an edited broadcast on SEC Network on Monday, Feb. 21 at 7 p.m.
Bulldogs Looking Strong
Georgia, ranked 12th in both the CSCAA men's and women's rankings, looks to improve upon last year's second (men) and third-place (women) finishes at SECs. The Bulldog men placed second at Missouri with a program-record 1,324.5 points, pushing rival Florida until the final events of the meet. The Georgia women have won 12 conference titles, while the men are looking for their first crown since 1955.
Crowded Field in Knoxville
Once again, the SEC Championships features one of the nation's strongest fields, with multiple top-ranked swimmers competing for 12 institutions. Six Bulldogs enter SECs with top-three times in the conference, including junior Dillon Downing, who ranks second in both the 50 and 100 freestyle. Senior Dakota Luther (200 butterfly), junior Zoie Hartman (200 IM), sophomores Jake Magahey (1,650 freestyle) and Luca Urlando (200 butterfly), and freshman Abby McCulloh (1,650 freestyle) each enter as the No. 2 seed in their events. Entering SECs, the women have earned 49 individual B-cuts and three relay B-cuts, while the men have tallied 29 individual B-cuts and two A-cut relays.
What to Watch For:
Hartman has swept the breaststroke titles in each of her first two seasons. With another sweep in Knoxville, she would become the first female swimmer since Bulldog great Kristy Kowal to win both breaststroke golds at three consecutive SECs. Kowal swept the breaststroke events in each of her four seasons at Georgia (1997-00).
Luther is looking for her third-consecutive title in the 200 butterfly, having posted an SEC Championship-record time of 1:52.04 last year in Athens. With a win, Luther would become the first Georgia swimmer to win three straight golds in the event since Mary DeScenza won four consecutive from 2003-06.
Powered by Luther, Urlando, and former Dawg Camden Murphy, Georgia has won both the men's and women's 200 butterfly titles in each of the last three seasons. Last season, Georgia won three of four butterfly golds, only missing out on the women's 100 fly.
Magahey returns to SECs after a phenomenal debut performance last year at Missouri, where he won gold in the 200 freestyle with a late charge. Earlier in the meet, Magahey battled defending champion and eventual Olympic bronze medalist Kieran Smith in the 500 freestyle, finishing second with a school-record time of 4:06.71 as Smith posted an American record in victory. Magahey's time went down as the second-fastest mark in American history. He closed the meet with another silver medal in the 1,650 freestyle, finishing second to Olympic gold medalist Bobby Finke.
Georgia's roster has been added strengthened by the addition of two South African Olympians in Matthew Sates and Duné Coetzee. Sates finished 14th in the 200m IM and 32nd in the 100m butterfly in Tokyo, foretelling an outstanding performance in October at the 2021 FINA Swimming World Cup. Sates led the entire field with 18 total medals as he set junior world records in the 200m IM, 200m freestyle, and 400m freestyle. In his only meet with the Bulldogs so far, he earned a dual win in the 200 freestyle with a B-cut time of 1:33.89, earning SEC Freshman of the Week honors and immediately claiming the No. 7 time in the program's all-time top-10 rankings.
Coetzee has been one of the top performers in a strong female freshman class, earning B-cuts in three events. She posted four top-five finishes at the midseason Georgia Tech Invitational and was named SEC Freshman of the Week after winning two dual events in her first weekend as a Bulldog.
Fifth-year seniors Gabi Fa'amausili and Danielle Della Torre, along with graduate Peyton Palsha, are each pulling off the rare feat of making five appearances at the SEC Championships. Fa'amausili has earned All-SEC honors at three of her first four championships, winning the gold medal last season in the 400 medley relay, while Della Torre earned silver in both breaststroke events in 2020. Palsha is also a veteran of the SEC podium, winning bronze medals last season in the 500 and 1,650 freestyle events while swimming at Arkansas.
The Georgia record books will almost certainly be rewritten by the end of the SEC Championships. Downing already set a new school record this season in the 100 freestyle with a time of 42.19 at the Georgia Tech Invitational, while teammates Sates and Harrison Wayner (twice) have also posted top-10 times this season. The Bulldogs also posted top-10 relay times at Tech in the 400 freestyle relay and 200 medley relay. Last season, the Bulldogs set a new school record in the 200 freestyle relay at SECs.
Tom Cousins Swimming and Diving Head Coach Jack Bauerle is currently in his 43rd season as women's head coach and 39th season as men's head coach. Bauerle is now the dean of SEC coaches, passing former LSU gymnastics coach D-D Breaux this season for the league record in coaching longevity. Bauerle has won 12 SEC women's team championships and has produced 162 SEC title-winning individuals and relay teams.
Today's Contents – Click to Read
---
MGOLF: Dawgs Setting Records in Puerto Rico Classic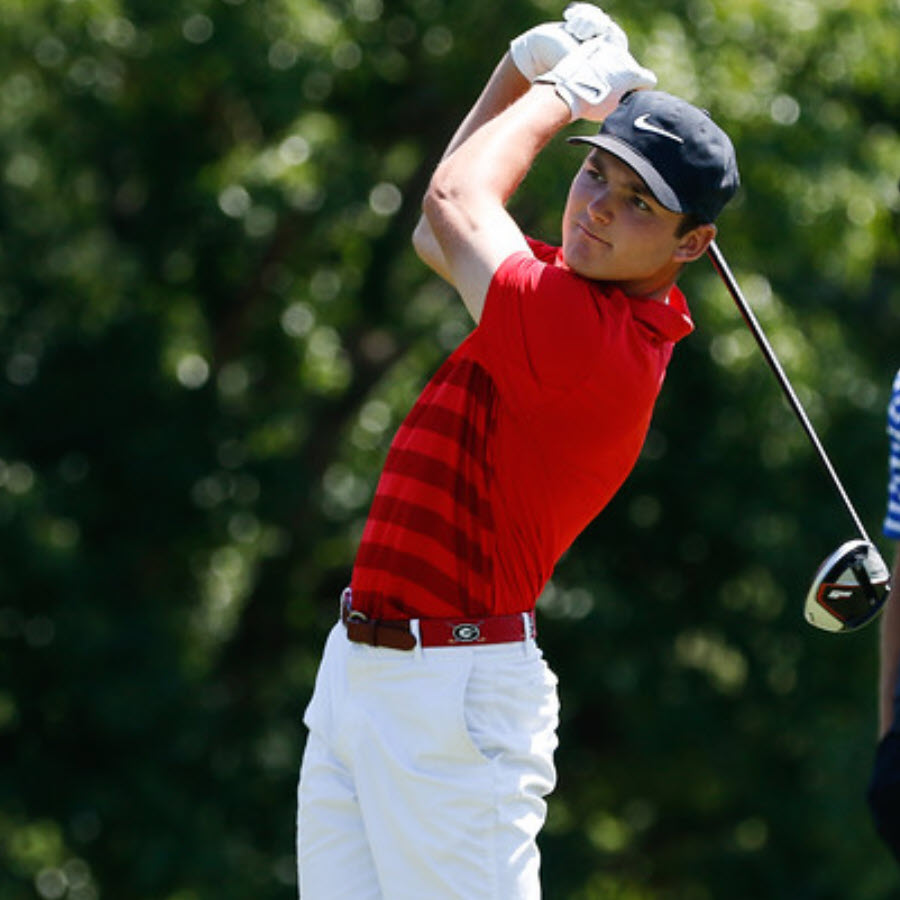 The No. 12-ranked Georgia men's golf team continued its assault on the school record book in maintaining its lead Monday in the Puerto Rico Classic.
The Bulldogs fired a 20-under 268 in the second round on Grand Reserve Country Club's par-72, 7,506-yard layout to move to 43-under 533. Georgia is four clear of Oklahoma and 11 ahead of Tennessee heading into the final round.
Monday's 20-under matches the second-lowest round in school history. Entering the Puerto Rico Classic, 20-under had been the Georgia mark for two decades, but the Bulldogs eclipsed that with an opening-round 23-under 265, which also set the tournament record.
Senior Trent Phillips and freshman Buck Brumlow paced the Bulldogs on Monday as each signed for a 6-under 66. Phillips registered seven birdies, while Brumlow had an eagle and five birdies during his career-best day. Freshman Maxwell Ford matched his career low as he posted a 5-under 67 with a clean card featuring an eagle and three birdies. Junior Ben van Wyk added a clean card as well with three birdies for a 3-under 69. Junior Nicolas Cassidy had the Bulldogs' non-counting score of 2-under 70.
Phillips stands second individually at 13-under 131, one shot in back of Chris Gotterup of Oklahoma. Ford and van Wyk are sixth at 10-under 134, Brumlow is eighth at 9-under 135, and Cassidy is 19th at 6-under 138.
Playing as individuals, junior Connor Creasy and senior Will Kahlstorf posted a 2-under 70 and a 1-over 73, respectively, on Monday. They both moved to 3-under 141 for the tournament.
"Our guys just continue to play at a high level," Georgia coach Chris Haack said. "Based on the work they've put in and the way they approached this tournament, it's not surprising. As a coach, all you want is for your guys to play their best to give the team a chance to win. That's where we are after two rounds. We're excited about the opportunity and the challenge on Tuesday."
Today's Contents – Click to Read
---
Jump To Comments