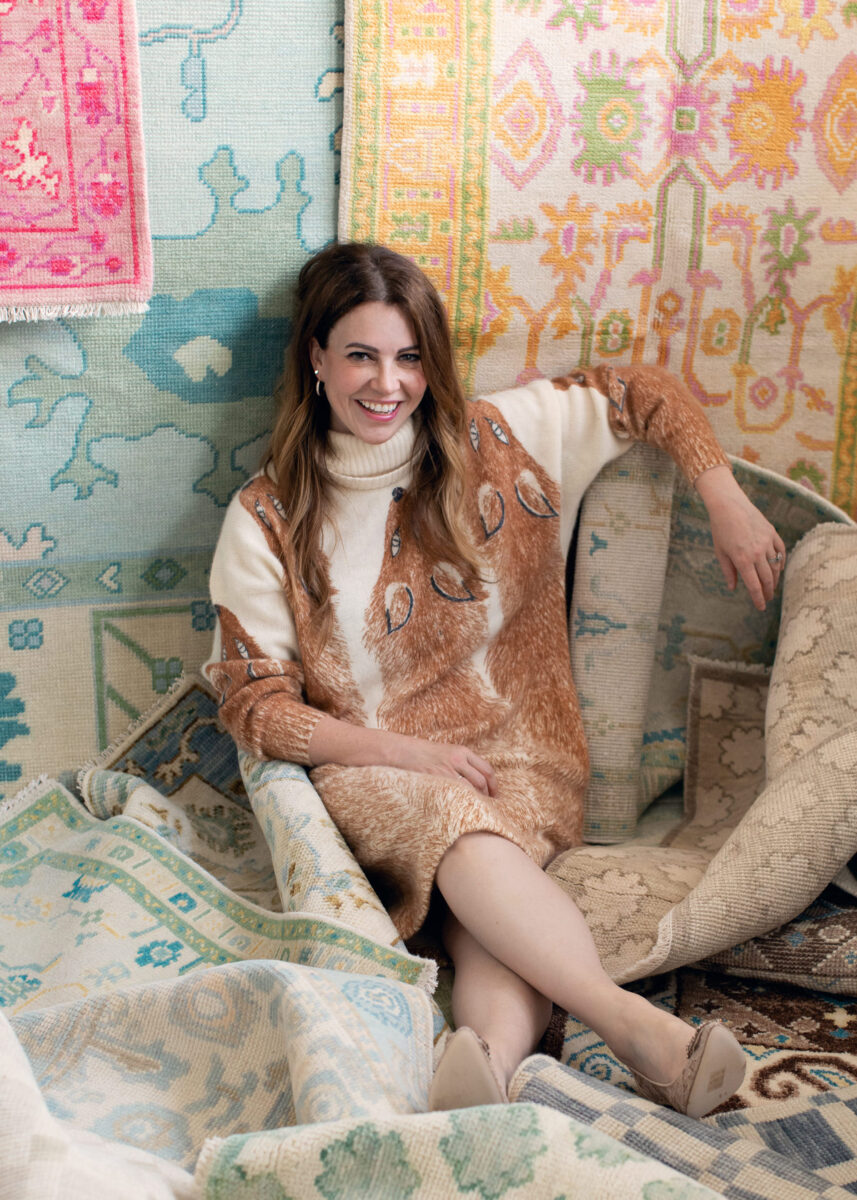 Name: Angie Burge
Family: Husband: Tucker; two daughters: Carlton (5) and Mary Franklin "Frankie"(2); and two dachshunds: Lulu and Rosie
Hometown: Kennesaw, Georgia
Current Town: Birmingham, Alabama
What Years at UGA: 2004-2008
School/Degree: B.S. History
Profession: English Village Lane began in December of 2021 while I was still working full time in corporate America. I've been all in on E•V•L since September of 2022 and have never looked back. Our brand focuses on producing original designs inspired by vintage techniques. You can customize any of our rugs in any shape or color and get your sizing down to the inch. We love working directly with consumers and also have a trade program for designers! Check us out on IG @englishvillagelane
Featured in Luxe Mag "One to Watch." Featured in 1st ever Flower Magazine Atlanta Showhouse & Birmingham Home & Garden Magazine Inspiration Home.
Book: I love a good British crime audible.
Magazine: Tea Time Magazine: I aspire (and fail) to be the kind of woman who can make those epic tea sandwiches. (1)
Podcast: My Morning Devotional – Five minutes to get my mind right each morning.
Blog: I should be better at reading!
Instagram: Probably not the answer to your question, but I've made so many instagram turned real life friends through this venture. It can be such an incredible community.
Brand: Kendra Scott for her relatable approach to retail (2)
Fashion designer: Alemais is a new fave but my closet is almost all BURU. (3)
Interior designer: Too many to name. Local to Birmingham, I obsess over Hundley Hilton's soft maximalism. (4)
Chef: Whoever got my takeout order correct. 🙂
Historical figure: Rosa Parks. I love a woman who can not be moved. (5)
Quote: 
"Whether you think you can or you can't, you're right."
Describe Athens in five words or less: This is hard! Electric, chic, timeless, precious.
Restaurants and bars: Last Resort, Blue Sky, Georgia Theatre.
Shops: Heery's.
Athens/campus landmark: Alpha Chi Omega. (6)
Memory while in school: Late night Snelling visits.
Professor/class: Chana Kai Lee- she opened a last dissertation course for graduating seniors, where I met my husband.
‌Gameday ritual/plan: I like to be in the passenger seat on game days/tailgates. Wherever my friends go, I go.
Tailgate Recipe: Buffalo Chicken Dip